The Loop
Computers say there's a 97.8-percent chance Henrik Stenson or Phil Mickelson will win the Open
We hope none of the players trailing Henrik Stenson and Phil Mickelson entering the final round of the 145th Open Championship read The Economist. If they do, they're not going to feel too good about their chances of mounting a comeback at Royal Troon.
The publication has a new model for predicting golf tournaments call EAGLE (Economist Advantage in Golf Likelihood Estimator) and its forecast is as bleak as Sunday's weather if you're not in the final group. According to EAGLE, Stenson (12 under) and Mickelson (11 under) have a combined 97.8-percent chance of claiming the claret jug entering the day.
Of course, it's no surprise these two are the overwhelming favorites. In second place, Mickelson is five shots clear of Bill Haas in third. What may come as a bit of a shock, however, is how much more the model (which is based heavily on the Official World Golf Ranking and more than two BILLION simulated golf holes) favors Stenson. At 64.2 percent, EAGLE says the Swede is nearly twice as likely to win on Sunday. Here's the full chart: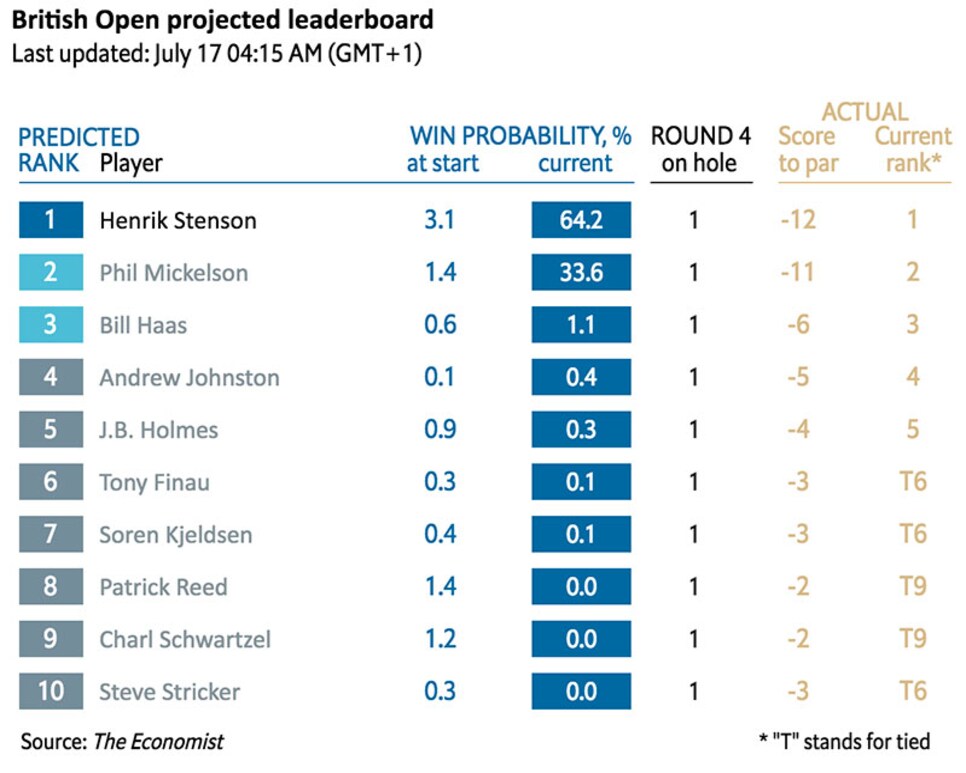 As you can see, it looks bad for those chasing. Haas has the next best chance at a scant 1.1 percent and then it gets really ugly with Andrew Johnston at 0.4, J.B. Holmes at 0.3 (lower than his chance to win at the start of the event despite the fact he's in fifth place), and Tony Finau and Soren Kjeldsen at 0.1.
According to EAGLE, the rest of the guys have no chance. As in, 0.0 percent. Rough. Hasn't EAGLE heard of Paul Lawrie? The Scot came from a record 10 shots behind in the final round to win the 1999 British Open. Going off that number, that would keep the group at two under (Sergio Garcia, Patrick Reed, Charl Schwartzel and Keegan Bradley) in play.
Then again, Lawrie was chasing Jean van de Velde and not two of the world's best players holding cushy leads. EAGLE is probably right that the winner will come from that final group. But the system can't predict how either Stenson or Mickelson will win. And in that, there's still plenty of hope -- at least, for golf fans -- we'll see some drama.