The Loop
Compton in, Villegas out in last Q School
LA QUINTA, Calif. -- This was the last day of the last Q School, so maybe it was appropriate that Mac O'Grady was there to pay homage. A local resident, O'Grady was the standard bearer of Q School futility and an example the requisite perseverance.
None has persevered to the degree that Erik Compton has. Compton, 32, retained his PGA Tour exemption on Monday, even threatening the lead at one point, 4 1/2 years following his second heart transplant.
"Six rounds of tour school is hell week," said Compton, who played the PGA Tour this year, but finished 165th on the money list to precipitate a return to Q School, as the PGA Tour Qualifying Tournament is called. "For me to be able to have a chance to win tour school, six rounds, four years after what I went through, you can't even dream a story like that. Maybe I made it look easy, but it's not."
Compton shot 67 on the Stadium Course at PGA West in the last of six rounds and eventually finished tied for seventh, three strokes behind medalist Dong-hwan Lee. The top 25 and ties from a field of 172 earned PGA Tour exemptions for 2013.
Among them was Lee, one of three South Koreans to qualify, but not the most notable. That distinction goes to Si Woo Kim, 17, the youngest player in the field, who won't be eligible for PGA Tour membership until his 18th birthday, June 28, 2013.
Kim, who tied for 20th, can play as many as 12 tour events as a non-member (via sponsor exemptions or top 10s).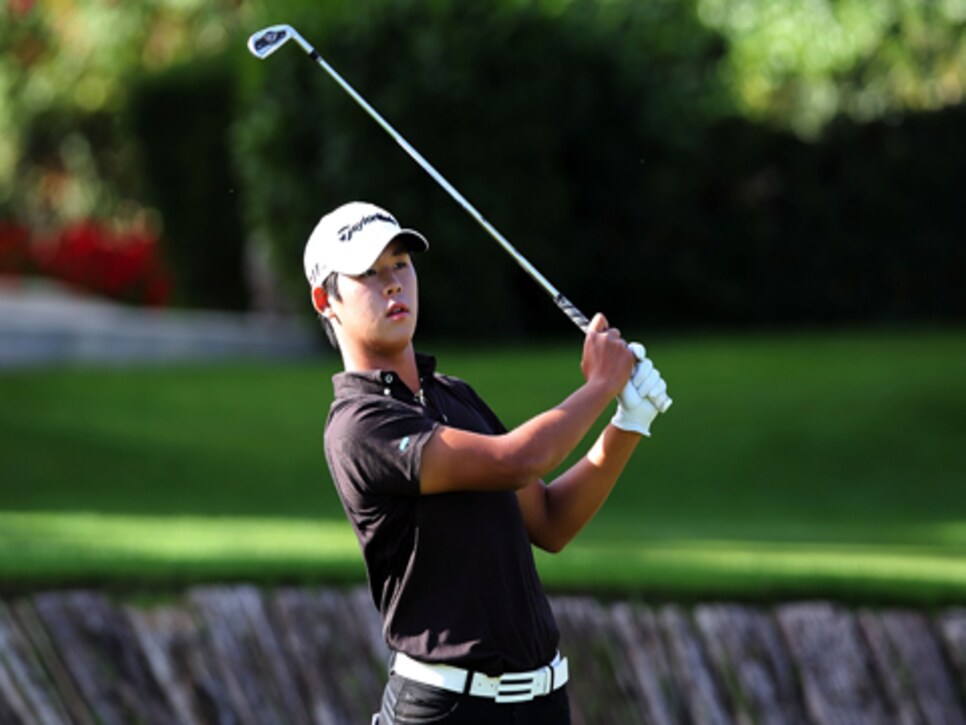 Si Woo Kim became the youngest Q School qualifier ever on Monday. Photo: Victor Decolongon/Getty
As is often the case, this Q School was at least as noteworthy for who failed to qualify as who succeeded. Included in the former group is three-time PGA Tour winner Camilo Villegas, who closed with a 69 on the Stadium Course, but came up two strokes short and tied for 32nd. He will have to rely on sponsor exemptions to play the tour in 2013.
"I still have conditional status, so hopefully I'll get in some tournaments next year," he said. "I've always tried to be very polite and good with sponsors, and if that's the case it'll be good. I'm going to need a little love from them. At the end of the day if you're good enough to be on the PGA Tour you'll be on the PGA Tour."
He called it a reality check, as it was as well for Patrick Cantlay, 20, once the No. 1-ranked amateur in the world. Cantlay tied for 95th here, which gives him conditional status on the Web.com Tour next year.
"It is disappointing," Cantlay said. "But it's just one week of golf. I just played badly."
England's Ross Fisher, meanwhile, tied for second, the difference a tee shot in the water at 18. Fisher is a four-time winner on the European Tour, who drew inspiration Monday from his playing partner, Compton.
"It's absolutely a privilege to play with such an inspirational player as Erik Compton," Fisher said. "When you think that times are hard or you're down you have to look at a guy like Erik."
To a lesser degree, one might want to draw as well on the example of O'Grady, who went to Q School 16 times before earning PGA Tour membership on his 17th attempt.
Heath Slocum, who has played the tour full time every year since 2002 and has won four times and more than $15 million, understands the equation, even if he failed to produce the correct answer here. He tied for 32nd, two strokes short.
"The best players find their way out there," he said pragmatically. "If I'm in that class, I'll be back out there soon."
The 26 players who earned exemptions: