The Loop
Compounding interest: Spieth and Rose, plus McIlroy, heighten U.S. Open anticipation
When the USGA took a wrong turn, landed in a waterfront quarry in an unfamiliar corner of the country, and planted a U.S. Open flagstick, intrigue was close behind.
How would this artificial links course, a neophyte called Chambers Bay, hold up to the scrutiny a U.S. Open engenders? Even as the word "farce" carelessly surfaced weeks in advance, interest was piqued.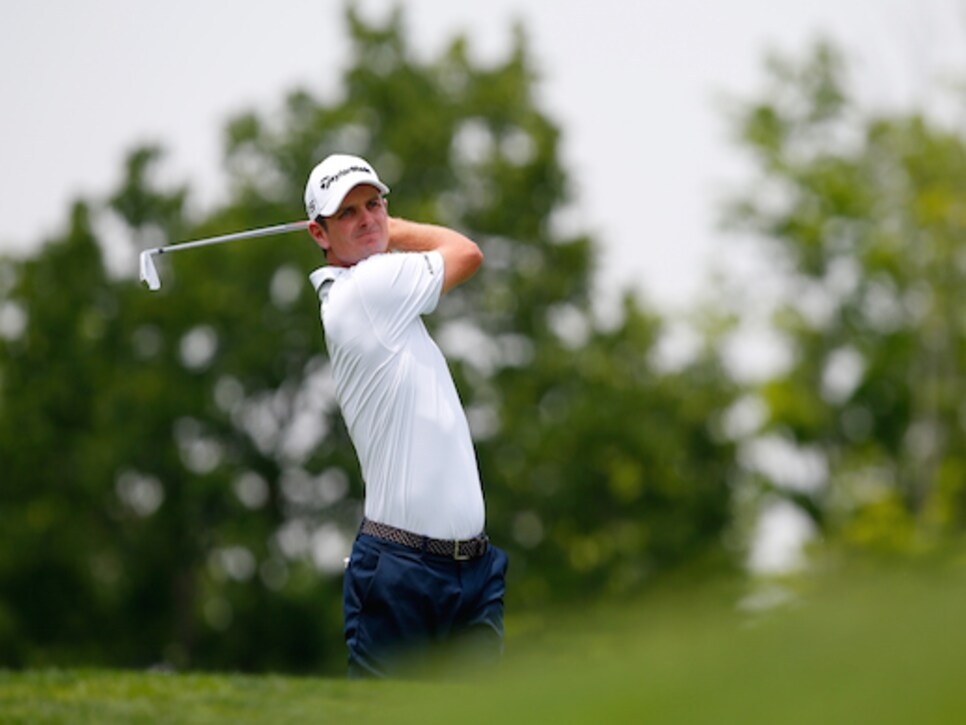 Justin Rose in the final round of the Memorial (Getty Images)
Now it appears as though the stars are aligning themselves, compounding interest in advance of the Open's Pacific Northwest debut.
On Sunday, Jordan Spieth shot 65 at Muirfield Village Golf Club and threatened to scramble the afternoon proceedings. Ultimately he came up two shots short, and Sweden's David Lingmerth won in a playoff with Justin Rose. Spieth finished tied for third.
"This is one of the better rounds I've played in a long time," Spieth said.
"His definition of a long time is a lot different than mine," tournament host Jack Nicklaus replied.
Indeed, only a week earlier, Spieth shot 64 at the AT&T Byron Nelson, and the week before that, he had one round of 65, another of 64 in the Crowne Plaza Invitational at Colonial.
The point is not that Spieth, at 21 already a Masters champion, has a short memory, though that seems to be an asset common to the game's greatest players. What it says is that his top 10 assembly line is functioning at full capacity with the Open on the horizon.
Spieth, No. 2 in the World Ranking, has finished in the top four in six of his last 10 starts. If that doesn't get your attention…
The only player ahead of him in the World Ranking is Rory McIlroy, who won two of his last three PGA Tour starts. If we're allowed to discount consecutive missed cuts on the European Tour as an aberration partly the result of his having served as the host of the Irish Open, his form on the cusp of a major that he won in 2011 supports his position as a 6-to-1 betting favorite.
Then there's Rose, also a former U.S. Open champion, who flirted with a victory that would have thrust him to No. 3 in the World Ranking. In his last five starts, he has a tie for second at the Masters, a victory in the Zurich Classic of New Orleans, and a playoff loss at the Memorial.
If Chambers Bay is up to the task first espoused by former USGA President Sandy Tatum more than 40 years ago, that the goal isn't to embarrass the best players, it's to identify them, well, then this U.S. Open promises not to let down, however the ball bounces on this unfamiliar terrain.