The Loop
Comparisons between Woods and McIlroy inevitable at Bethpage
FARMINGDALE, N.Y. -- Comparisons may be odious, but as for Rory McIlroy and Tiger Woods they are also obvious.
When golf's current prince and its long-reigning king play together in the first two rounds of the Barclays on the Black course at Bethpage State Park's this week, they will be inevitable.
We should enjoy the moment, because they appear to be, the 23-year-old on the competitive ascent, the 36-year-old treading waters only he seemed able to swim.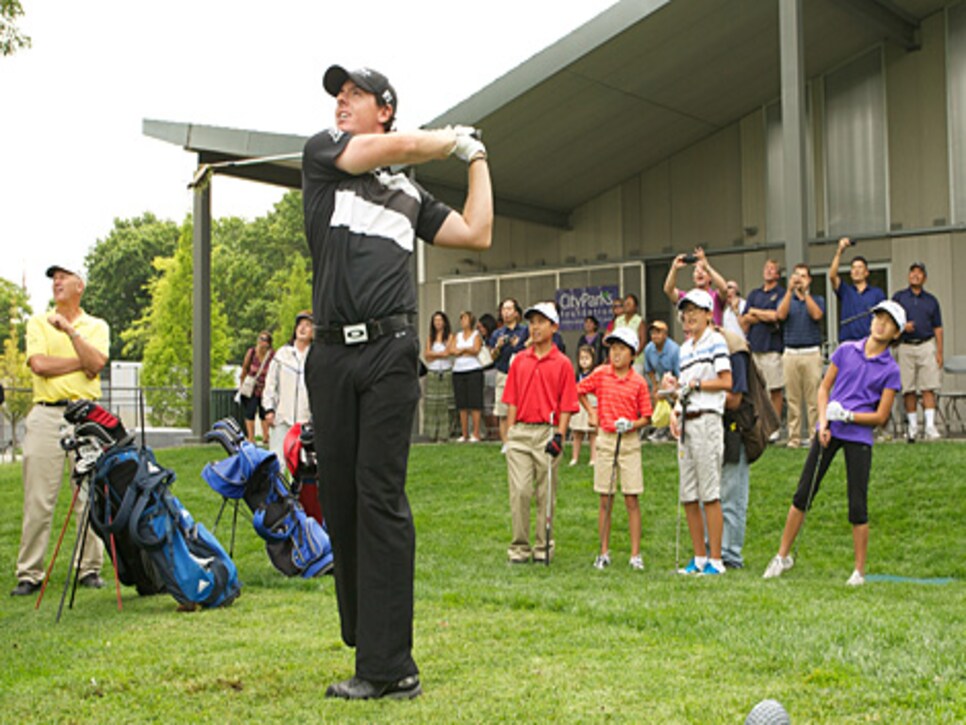 Photo by Alan Roche; contributed by the City Parks Foundation
A moment: McIlroy in a Wednesday news conference noticing Woods had arrived in the back of the tent and a question about whether he wanted to face in singles at the Ryder Cup next month. "Yeah, I'd love to go out there," McIlroy said. "I'd love Tiger to go out first and kick his ass."
The best humor is always underpinned by the truth.
A Thursday morning in the first tournament of the 2012 FedEx Cup playoffs isn't Sunday at the Ryder Cup or certainly at a major championship, but it is what's available. The best against the best at their best, a la Tom Watson and Jack Nicklaus 35 years ago, is what we can hope for while knowing golf is historically stingy with such marquee showdowns. When they happen, they're extra special.
There is mutual respect between McIlroy and Woods, just as there was between Watson and Nicklaus when the younger man began to show what he could do. Throughout his career most of Woods' challengers -- Vijay Singh, Phil Mickelson, Ernie Els -- have been older, but in this curly-haired hurdle to continued domination,  Woods has a different kind of foe.
When he was young, Woods made a very hard game look easy. McIlroy, as evidenced by his recent runaway victory in the PGA Championship at Kiawah Island (and a similar rout at the 2011 U.S. Open at Congressional), can do the same.
"There are a few guys that I've actually grown up playing against that once they get rolling, they get rolling," Woods said. "Calc is one of them, Johnny Ray was another one. These guys could just go ungodly low. And I think that Rory has that ability, once he gets rolling, he just makes birdie after birdie after birdie -- not afraid to keep trying to push it, to try to shoot lower scores. Some guys have a little governor on them and they'll back off, but there are a few players that just don't have that."
Mark Calcavecchia and John Huston were solid players, the former a major champion, but McIlroy's skills have made him something more. McIlroy may not have been born to rewrite the record books, may not project the steel will that has been Woods' calling card, may not yet be an iconic figure around globe.
But he can play brilliant golf and often has a joyful time doing so, his capacity to enjoy his work as full as his flowing golf swing.
"He's a great kid, and it's great to be around him," Woods said. "What an amazing talent he really is. I just hope that everyone lets him grow up and develop as a layer because it's going to be fun to see over the next 20 years how this kid's career is going to pan out."
Woods knows about the long haul, the way Nicklaus did. McIlroy hasn't really rounded the first curve yet, but he has shown the kind of traction that a young Watson did in the 1970s. McIlroy didn't enter the sport with the type of grand plan Woods had -- to try and scale golf's tallest mountain -- but that hasn't kept him from a Woodsian type impact early on.
Although McIlroy deflects the notion of a rivalry with Tiger ("I just want to play good golf"), he also is relishing being able to share the stage with him this week on Long Island.
"It really focuses you from the get-go, a pairing like that," McIlroy said. "I feel every time I've played with Tiger he's sort of brought the best out of me. I really feel focused and obviously want to play well."
Making par after par after par will probably be a good enough at bruising Bethpage Black. This isn't a major, but it will be a formidable test. If McIlroy drives and putts the way he did en route to doing the Charleston two weeks ago, it should put him in good stead. A lot has changed for Woods in the decade since he won the 2002 U.S. Open at Bethpage, but his 2012 record of winning where he had won before could be a harbinger of success.
One man might play better than the other this week, but neither will blink.
"Sure I feel like I'm the best and Tiger feels like he's the best," McIlroy said. "Tiger has been the best player in the world for the last 15 years. Just that people are mentioning my name with the likes of him is a huge compliment."
And in a curious way, if, for the next 15 years Woods finds his name mentioned with McIlroy's, that will be a compliment for him too.
"I always wanted to be part of that conversation," Woods said of being competitive as he ages. "That's the neat thing about what Jack [Nicklaus] had done. Jack competed against Arnold and Gary and Casper and then moved on to Watson and Trevino and Weiskopf and Miller. He crossed generations, and when you're a part of that conversation for the better part of 25 years, that's saying something. I was kind of hoping when I started off my career I'd be part of that conversation for that length of time. I think this is my 17th year on tour, so I've been doing it a while."
Whatever happens this week and thereafter, for both men pride, as well as technique and nerve, will have a lot to do with it.