The Loop
Commemorative plaque confirms just how amazing U.S. Mid-Am champ's winning ace on a par 4 really was
Sammy Schmitz was never going to forget the hole-in-one he made on the par-4 15th hole at John's Island Club's West Course in Vero Beach, Fla., last October, a shot that all but clinched the 2015 U.S. Mid-Amateur title and its accompanying spot in this year's Masters.
And now neither will anyone else who plays the hole.
Last weekend, the club invited the 35-year-old from River Falls, Wis., back to the course to celebrate the victory, at which time a plaque that commemorates the historic shot was unveiled on the tee.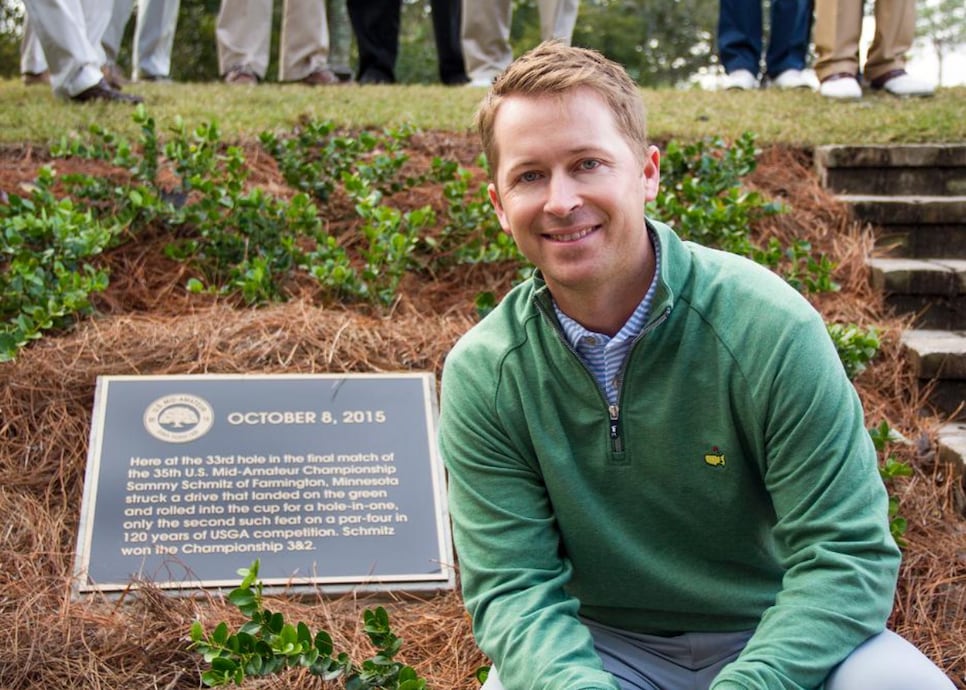 Schmitz appreciated the significance of the club honoring his shot with such a permanent reminder. In golf, guys who have plaques commemorating shots more often than not have Hall of Fame pedigrees. Or have to wait a lot longer than 107 days to be immortalized in bronze type.
To thank John's Island members for their generosity, Schmitz donated the driver head he used to make the ace to the club (the shaft will be on display at Augusta National during the Masters, and the ball was already donated to the USGA).
"I get asked about it on a daily basis, that's for sure. Sometimes multiple times," Schmitz said of the rare double eagle. "I've gotten a lot more recognized locally and around the state."