The Loop
Colt Knost reveals his secret to successfully gambling with Phil Mickelson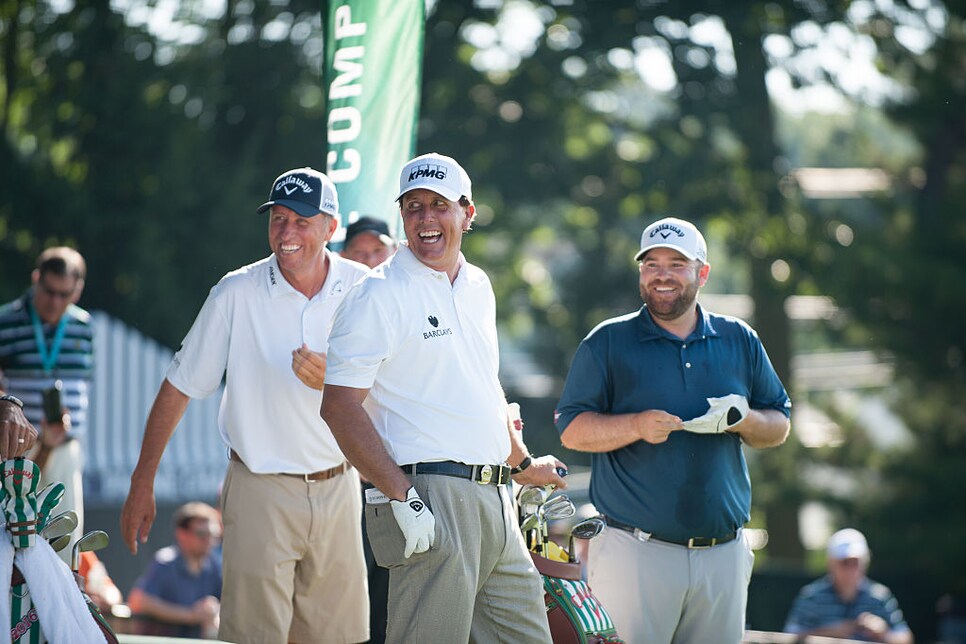 Traci Edwards/PGA of America
We've long heard legendary stories about Phil Mickelson's practice-round money matches. And if there's a common thread, it's that the five-time major champ usually comes out ahead. But fellow PGA Tour pro Colt Knost figured out a way to get into Phil's pockets.
It just has nothing to do with playing golf.
On Tuesday, Knost, who is currently sidelined after undergoing surgery on his left wrist, joined Adam Fonseca on the Golf Unfiltered Podcast. The 2007 U.S. Amateur champ discussed a variety of topics, but a gambling story involving Mickelson at about the 27-minute mark stole the show. You should listen to the entire interview -- especially because there's also a Charles Barkley story that we can't print -- but here's what happened the first time Knost and Mickelson played:
As the story goes, Knost wasn't planning on playing when he ran into Phil at Madison Club in La Quinta one day, but was egged on by Mickelson. "I don't even have my golf shoes," Knost told Phil, who replied, "I don't care. Grab your clubs. Me and you, nine holes for $1,000."
Knost said he was 22 at the time and didn't want to look scared in front of him so he played. And predictably, he lost. Badly. But that's when the story took an unpredictable turn.
"I hear you like to play cards," Mickelson said. "Alright, well, let's go, I'll give you a chance to win it back."
According to Knost, he proceeded to win about $1,400 in 25 minutes playing gin against Mickelson, who then asked him to stick around for dinner and more cards.
"Needless to say, the night went very long and it worked out pretty good for me," Knost said, "and he won't play me in gin anymore."
Let that be a lesson to other tour pros. Loosen Phil Mickelson up with some golf and then take it to him in gin. At least, while he lets you. Even at 46, he's still tough to take on the links.
"Anytime I beat Phil out of money, it's a good bet," Knost said of his best moments gambling on the course. "He's my favorite to beat even though he's beat up on me quite a few times."