News
Colorado State duo channel their inner Patrick Reed, rally to win U.S. Women's Four-Ball title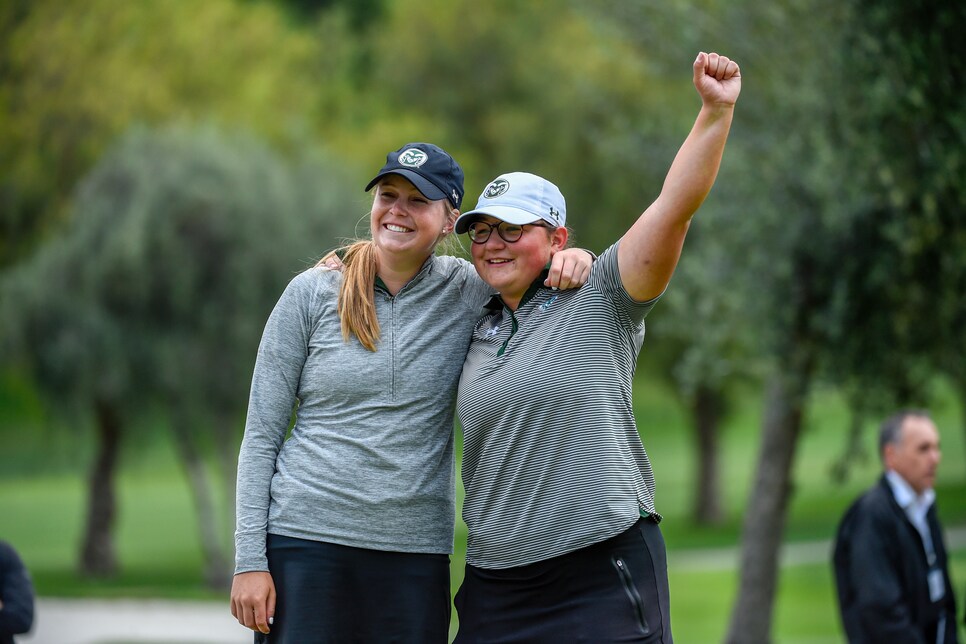 Copyright USGA/J.D. Cuban
No matter how you win a USGA Championship, you're going to have a story to tell. But for Katrina Prendergast and Ellen Secor, the last pair standing at the U.S. Women's Amateur Four-Ball, little did they know how dramatic theirs was going to turn out.
The teammates on Colorado State women's golf team rallied from a 2-down deficit with four holes to play at El Caballero Country Club in Tarzana, Calif., winning the 15th, 16th and 17th holes, to wrestle away the title from teenagers Lei Ye and Yachun Chang.
The 18-hole final in Tarzana, Calif., was a see-saw affair throughout with just five holes halved by the two sides. Prendergast, a 20-year-old from Sparks, Nev., and Secor, a 20-year-old from Portland, Ore., won the first with a birdie to jump to a quick lead and took the lead on two other occasions on the front nine at El Cab. In each instance, however, Ye and Chang, both students at the IMG Academy in Bradenton, Fla., won the next hole to square the match.
All square through the 12th hole, Ye and Chang looked as if they were taking command of the match when they won the 13th and 14th holes to grab their 2-up lead. Prendergast and Secor had reached the round of 16 in this event the previous year, and hadn't trailed in any match during this week after advancing as the No. 9 seed out of stroke-play qualifying. But the specter of falling one step shy in their goal this time around started to crystalize on the 15th tee.
"You know, what was actually interesting was it felt like the crowd was kind of pulling for them, and I think that's really what got us motivated, because we were kind of like Patrick Reed style, just kind of hushed the crowd," Secor said.
They proceeded to win the 15th with a birdie, then both hit their tee shots on the par-3 16th inside 12 feet, making another birdie to square the match, before a third straight birdie, on the par-5 17th, gave Prendergast and Secor the lead.
Stunned by match's quick reversal, Ye and Chang still had an opportunity to send the match to extra holes on the 18th when Secor and Prendergast both missed their birdie chances and Ye faced a downhill seven-foot birdie try. When her putt missed on the low side of the hole, the Colorado State players' comeback was complete.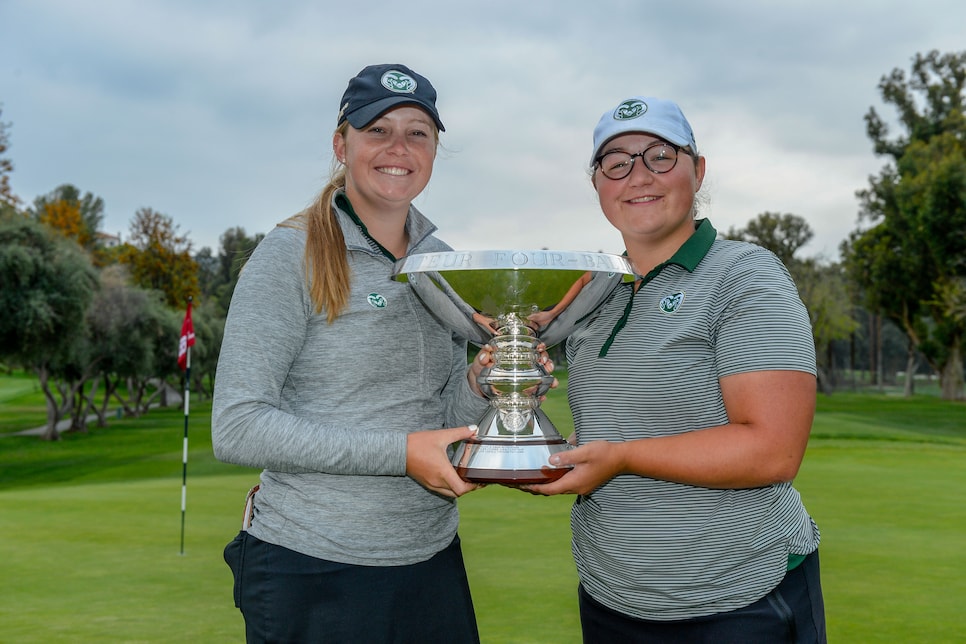 Copyright USGA/J.D. Cuban
Prendergast and Secor are set go from one national championship to another. The duo both qualified as individuals for the NCAA Women's Regionals, and will be playing at the University of Texas Golf Club next Monday in Austin.
"I think just keep the momentum going," Prendergast said. "I mean, we've got two more days and we leave on Saturday, and you know, we might be individual competitors in the event, but we're going to act like a team."
If it ain't broke, don't fix it.