WGC-Workday
Collin Morikawa's stalled breakaway lets big-name contenders back in at Concession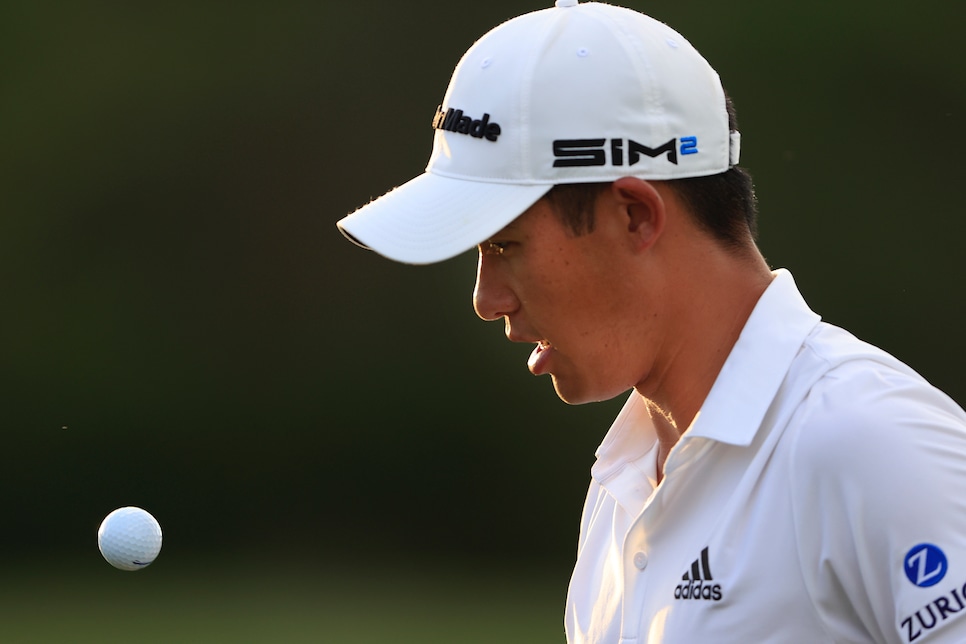 Collin Morikawa tosses his ball up on the 18th green during the third round of the World Golf Championships-Workday Championship.
Sam Greenwood
Comparing a round of professional golf to a bicycle race might be an overused metaphor at this point, which is too bad because it's very apt. So often, you'll see a player do what Collin Morikawa did on Saturday at the WGC-Workday Classic, which is to light up the course to the tune of a 31 on the front nine, carry the momentum into the back, and establish what was, at one point, a six-shot lead on the field.
It's the classic solo breakaway, when a cyclist decides to race away and put so much distance between himself and the peloton that there's no prayer of reeling him back in. The drama always comes when the lead is extended to the breaking point—the threshold at which any further progress by the rogue rider means he's gone for good, or it's still conceivable that he'll tire and the pack chips away at his deficit. Is it a romantic-but-doomed quixotic quest, or something more solid and threatening?
Golf differs from cycling in that there's no team element, but the rhythms on a day like Saturday are the same. The 13th hole was the point of no return for Morikawa, when his birdie on 12 extended the lead to its maximum, his putter was red-hot, and a par 5 awaited him. Birdie that, and you're all but gone. Instead, he flew his drive into the rough, went from there to the bunker, still managed to give himself a reasonable 17-foot birdie putt, but came up woefully short and three-putted for bogey. A hiccup, and a hiccup with the putter, no less—if the momentum wasn't gone completely, he had at least run into a headwind.
Meanwhile, behind him, names like Patrick Reed, Brooks Koepka, Rory McIlroy and Webb Simpson lurked. Not to mix metaphors even more, but a group is the phrase "objects in mirror are closer than they appear" personified. At minimum, the possibilities had changed.
"I still had a birdie putt," Morikawa said of 13, "and if I walked away with par, it still would have been fine. I just kind of psyched myself out, and in my head it was going to be a tough hole. But that doesn't mean I should be three-putting, doesn't mean I should leave my putt five feet short."
It almost seemed like the rest of the field took a moment to realize that there was some vulnerability ahead, and nobody made an immediate charge. When it came, it was a short burst of a charge, and it came from Morikawa's playing partner Billy Horschel.
On 16, Horschel turned his back to the green, faced one of the many ponds that dot the forested wetlands of Concession, and practiced his putting stroke while Morikawa lined up and missed his birdie. When it was his turn, Horschel drilled his 14-footer, and threw his hands up to the sky as if to thank the golf gods, or maybe to admonish them with a single word: "finally."
"Listen, Collin played really good today," Horschel said. "It's nothing unexpected. He got out early and he was making a lot of birdies and I was sort of tasting the fumes a little bit, but not the full fumes ... I just said, hey, if I can make two birdies coming in, maybe get to 12, 13 under par, I would be in a better position going into the weekend. I was fortunate enough to do that. Collin gave one back there on 17, which is unlike him, but yeah, we're in a better spot going into tomorrow."
Horschel recognized how changeable the moment was, and even admitted that the strength of his playing partner affected him.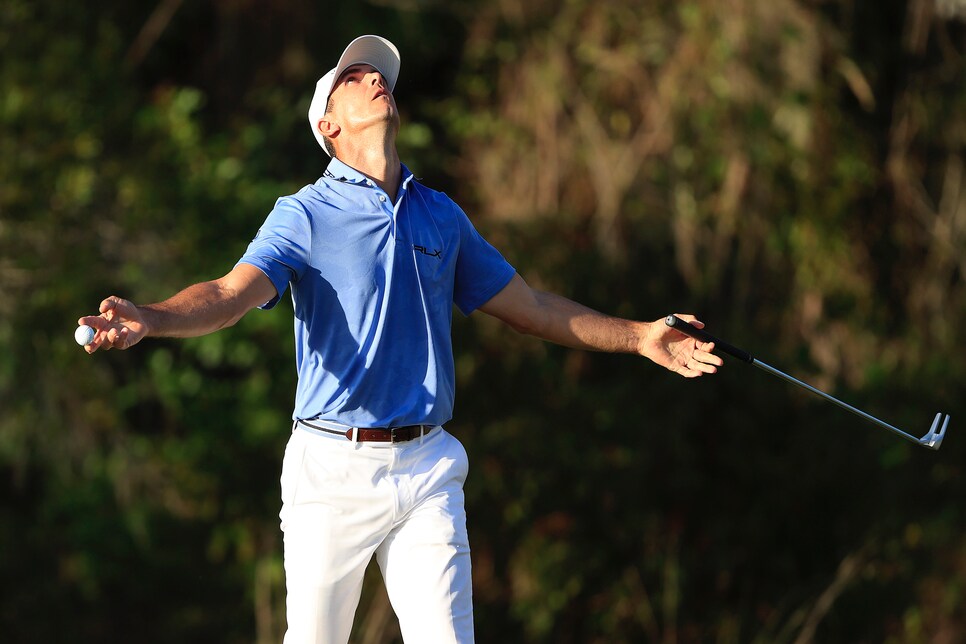 Billy Horschel reacts to making eagle on the 16th green during the third round of the World Golf Championships-Workday Championship.
Sam Greenwood
"It can change in a heartbeat," he said. "I've been out here for 12 or 13 years now. I've seen enough of this and I think that I need to start learning from what I've seen from the positions I've been in. I didn't do a really good job of that at Scottsdale when Jordan (Spieth) was playing really well and shooting a great round of golf. I didn't want to make that same mistake today."
"I would be naive to say that Collin wasn't affecting me," he added. "It doesn't matter what anyone says, it affects you something mentally, it's just the way it is. You're lying if it doesn't ... he was playing really well, making a lot of birdies, I was hitting a lot of good shots and I wasn't making the putts."
Until 16. That birdie pushed him to 11 under for the tournament, but he still wasn't anywhere close to Morikawa. That changed on the next hole, the par-5 17th, when Horschel hit his best shot of the day, a 263-yard second that settled 12 feet from the pin and earned what might charitably be called a roar from the small but adamant crowd. Meanwhile, Morikawa found the bunker on his first and third shots and turned in another three-putt to bogey yet another par 5. When Horschel's downhill eagle poured neatly into the cup, he was suddenly two shots away. The breakaway rider was in sight.
That's how it stayed through the 18th, but the eagle was a round-defining moment. Not only did it retire any thoughts of a breakaway, it also gave Horschel a spot in the final pairing over Koepka, who also sits at 13 under but whose neck pain only seemed to get worse after a morning when he couldn't move it 90 degrees in either direction, and who couldn't think of or talk about much else after his round.
Judging by the rate at which Koepka's popping Advil and Aleve just to stay functional, it's likely up to Horschel to keep Morikawa in his sights for 18 more holes on Sunday. And it's a Sunday that will once again be a ballgame, which is good news for anyone who likes close finishes. Within four shots of Morikawa's lead, Horschel, Koepka, Simpson, McIlroy, and Reed still lurk. The lone rider hasn't quite been caught, but he's certainly lost his teeth.
Morikawa wouldn't say whether he believes in momentum that carries over between rounds, but he does know the value of some good old-fashioned forgetfulness in a position like his.
"You've got to have a mind of a goldfish, right?" he said. "You've got to be able to forget and forgive. Max Homa said it perfectly last week [in his victory at Riviera) ... what his wife told him—you've got to forget, you've got to forgive. We're going to hit bad shots, that's the thing ... it's about moving forward, hitting that next great shot, hitting a great shot after that."
He vowed that he'd learn a lot from the last six holes, but there's no denying that Horschel is the one with the bit in his teeth heading into Sunday. Maintaining momentum is a lot easier than losing and finding it again, and Morikawa's challenge is to prove that his torrid streak didn't come—and go—a day too early.