News
Collin Morikawa is playing a different golf course and four other takeaways from Day 2 at Muirfield Village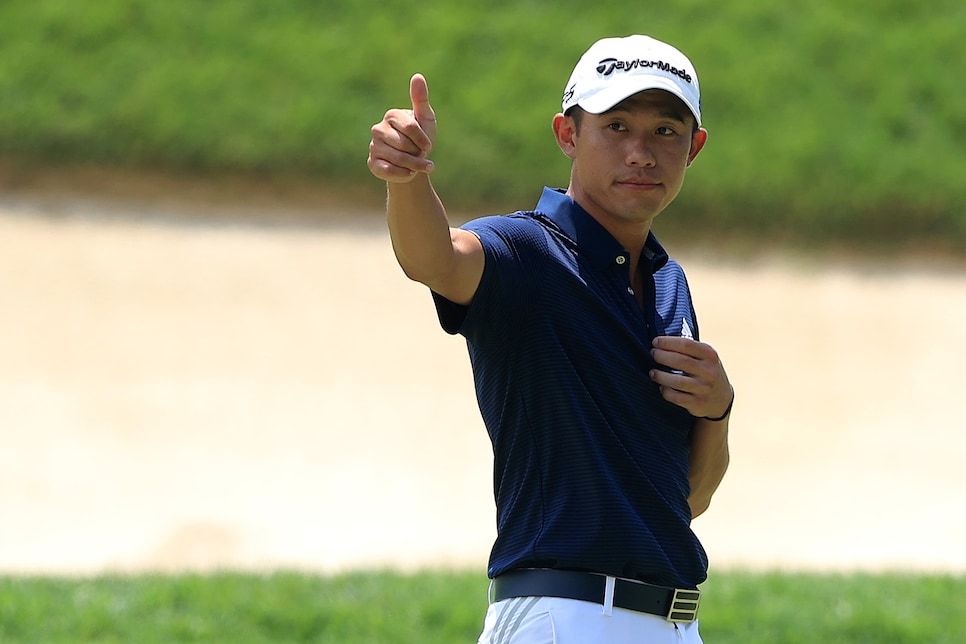 It wouldn't be a PGA Tour event at Muirfield Village without a few weather delays, and we've already had three so far this week in Dublin, Ohio. The two extended delays on Friday have forced players to come back and finish their second rounds on Saturday morning, which should provide some early cut-line drama.
Someone who doesn't have to worry about that is Collin Morikawa, the young, cut-making machine whose streak of made cuts to begin his career ended at the Travelers Championship. This week, another streak has already begun, as Morikawa locked up his spot on top of the leader board with rounds of 65 and 66 on Thursday and Friday. Through 36 holes, nobody has looked better, but plenty of intriguing names will look to hunt him down on the weekend.
Here are our five takeaways from Friday at the Workday Charity Open.
Well, let's see. If Morikawa continues hitting more than 75 percent of his fairways and nearly 80 percent of his greens, and continues putting like Steve Stricker, then yes, this thing is over.
But—there's always a but—there is a ton of golf left (thanks Capt. Obvious). And Morikawa knows better than anyone that it's not easy finishing one of these things off. In the first event post-lockdown at Colonial, Morikawa was similarly machine-like, and put together the best putting week of his career in terms of strokes gained, per Fantasy National. That all meant nothing when he bricked a short putt in a playoff against Daniel Berger to finish runner up.
As you can see, he's recovered from that and the end of his made-cut streak quite nicely. He seems to be playing a different golf course (nine birdies on Friday!) than everybody else. Everything in the bag is working, and this calm, cool, collected 23-year-old already appears more-than equipped to handle the pressures of a 36-hole lead on the PGA Tour. Absurd to think about. There are plenty of strong pursuers (Justin Thomas, Hideki Matsuyama), but how could you not like this guy to run away with it the way he's looked so far?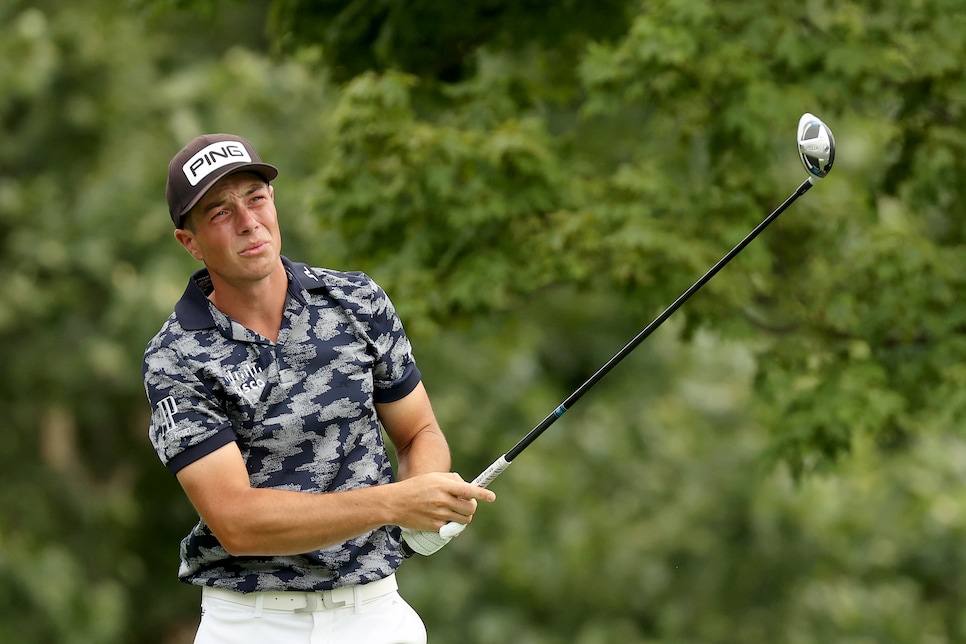 How cool would Viktor Hovland-Collin Morikawa pairing be on Sunday?
Hovland has some work to do to make this happen at eight under, but it's absolutely within the realm of possibility. He's been one of the hottest players on tour of late and still managed to shoot 67 on Friday with three bogeys. If he can clean it up on Saturday and make a move, we might have Morikawa-Hovland on Sunday, which would be just insane, especially a week after Matthew Wolff nearly picked off his second win. This highly touted trio is living up to expectations far faster than anyone could have expected.
Do NOT, I repeat, do NOT let Kevin Streelman get hot
If you thought 2020 couldn't get any weirder, that sentence above is legitimately true. Streelman is on FIRE.
After a pair of missed cuts coming out of the lockdown, Streelman threw up a solo second at the Travelers Championship. And this was no ordinary solo second, Streelman had multiple chances to chase down Dustin Johnson on Sunday in Cromwell, Conn., but couldn't get a few key putts to fall. No one saw it coming, even though we should have given his history at TPC River Highlands.
Based on course history, we should have seen his second-round 64 coming too. In eight career starts at Muirfield Village, the Illinois native has finished inside the top 18 four times, including fourth- and eighth-place finishes. Through two rounds he's in position to top both of those, which would be absolutely massive for his season. Given all the schedule chaos, FedEx Cup points are like gold right now. Streelman's runner-up at Travelers jumped him from 41st to 18th in the standings. Another top five, top 10, or a victory would send him flying up the standings again at week's end. Stay hot, Streels.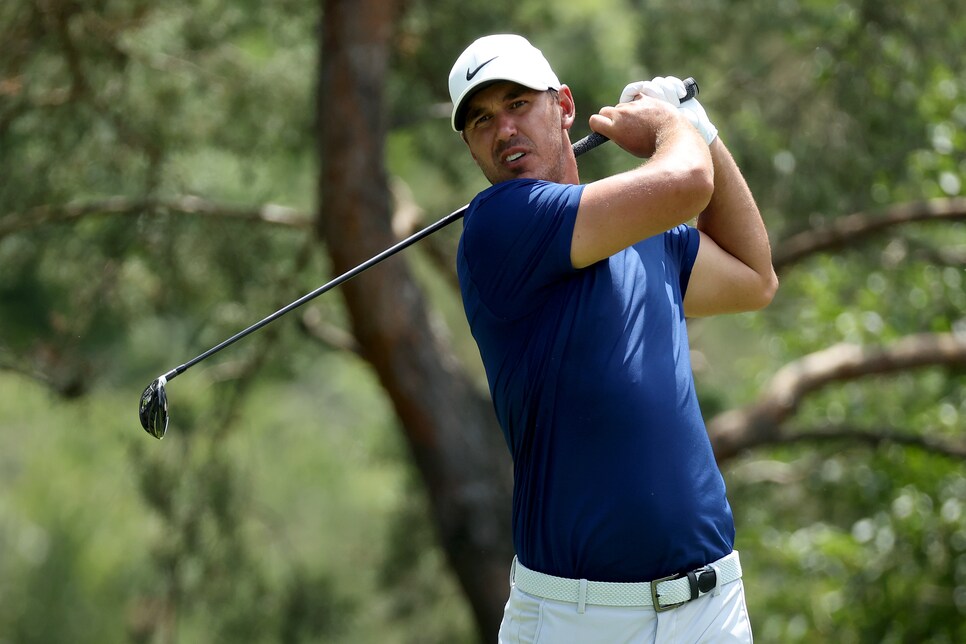 Brooks Koepka was in "warm-up-the-jet" mode on Friday
I've been extremely lucky enough to play Muirfield Village on three separate occasions in my life, and each time was better than the last. It's the type of place you never want to leave.
Apparently, Brooks Koepka does not share that sentiment, at least not on Friday, when he was practically sprinting to the nearest private jet at Usain Bolt-like speed. To be clear, that's how it looked when Golf Channel was still carrying the broadcast. Due to the weather delay, Golf Channel had to go off air at 6 p.m. when Koepka still had a lot of holes left to go. He ended up making a nice little run, but came up just short of the weekend. Based off how he played, the fact he's apparently skipping next week and how he moved at warp speed around the course Friday, we're guessing he high-tailed it outta there.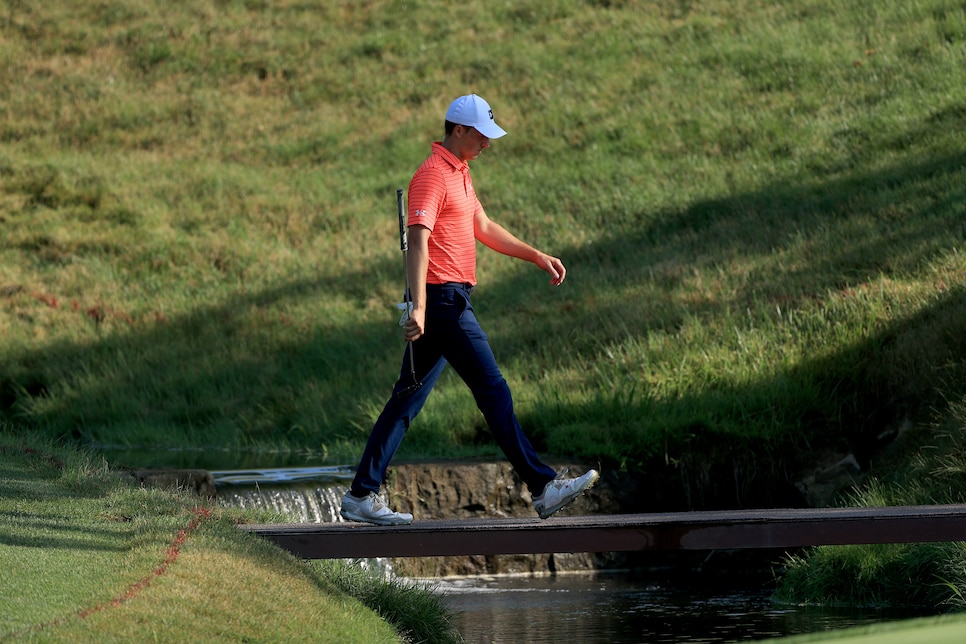 Jordan Spieth … still searching
During the restart, Spieth has shown some serious flashes, particularly at Colonial, where he was in contention in the final round, but ended up in a tie for 10th. Since then it's been a mixed bag. Three strong rounds at RBC Heritage were spoiled by a Saturday 75 (he finished T-68). At the Travelers, he posted four sub-70 rounds, but he finished at six under, not nearly good enough to even sniff the top 10. At Muirfield Village, he grinded his way to a first-round 72, then got it to three under late on Friday, safely inside the cut line. But a bogey at the par-5 fifth and a double at the par-3 eighth (his 14th and 17th holes) dropped him outside the cut line.
To use an awful cliche, it's been one step forward, two steps back for the three-time major winner for nearly three seasons now. The common take is that his game will come around again eventually, but until he can go four straight rounds without a few hiccups, that's becoming harder and harder to believe.