Tour Life
Collin Morikawa's caddie shares funny story about taking the claret jug through customs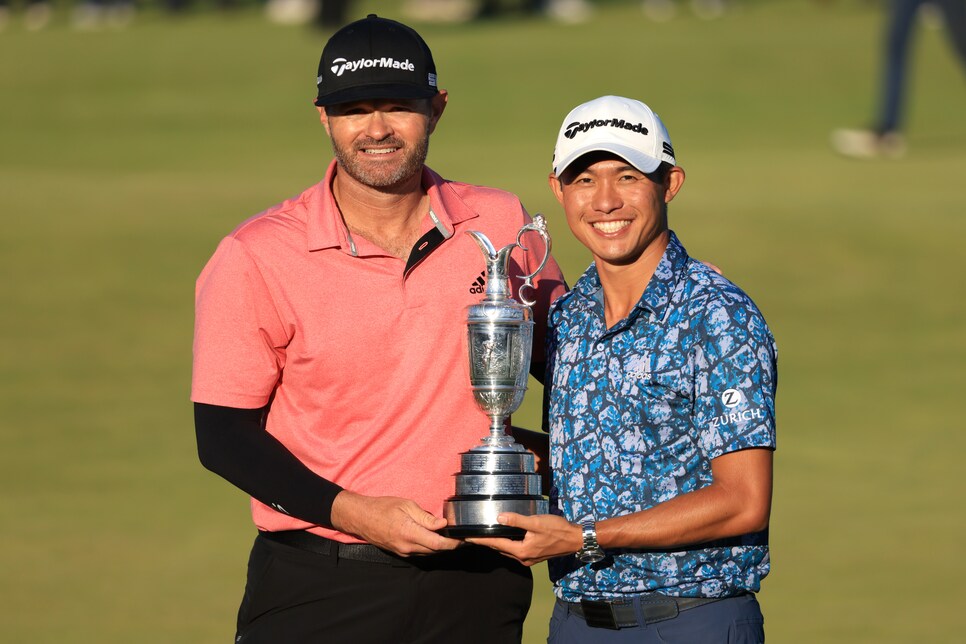 A photo of Collin Morikawa lugging the claret jug in a case around the Atlanta Airport on Monday went viral, but also led to an obvious question: Were there any problems getting that thing through security?
Turns out, not really. Morikawa told Barstool Sports' Pardon My Take podcast that the trophy fit perfectly in an overhead bin and that his return to the United States was a smooth one. But his caddie, J.J. Jakovac, shared the story of a (brief) moment when authorities questioned the golfer's special carry-on. Here's what he told The Caddie Network's Garrett Johnston:
"There was a guy at security when we were in Atlanta," Jakovac told Johnston. "We had gone through customs and one of the customs officers right before you leave the baggage claim he was like, 'what's in that box?'"
"And I was like 'the Claret Jug,' and he was like 'what's that?' and I said it's the trophy they give you when you win the Open.' And he was like 'what's that?' and I was like 'don't worry about it man.' I looked over at them and his co-workers knew what it was and they said, 'don't worry, it's fine, it's fine' so we just walked by."
C'mon, security guy, get a clue. This dude is THE CHAMPION GOLFER OF THE YEAR! In fact, when he was asked if he'd "like to declare anything" at customs, Morikawa should have just yelled that.
Anyway, Jakovac also detailed a pretty hectic Sunday schedule that only allowed for a couple hours of celebrating before leaving for the London airport. And while Morikawa surprised some by taking a commercial flight back across the pond, the two hopped on a private jet for the final leg back to Vegas.
There, they promptly drank Dom Perignon from the claret jug. Sounds like this young golfer is going to have a great year with the game's oldest trophy.