News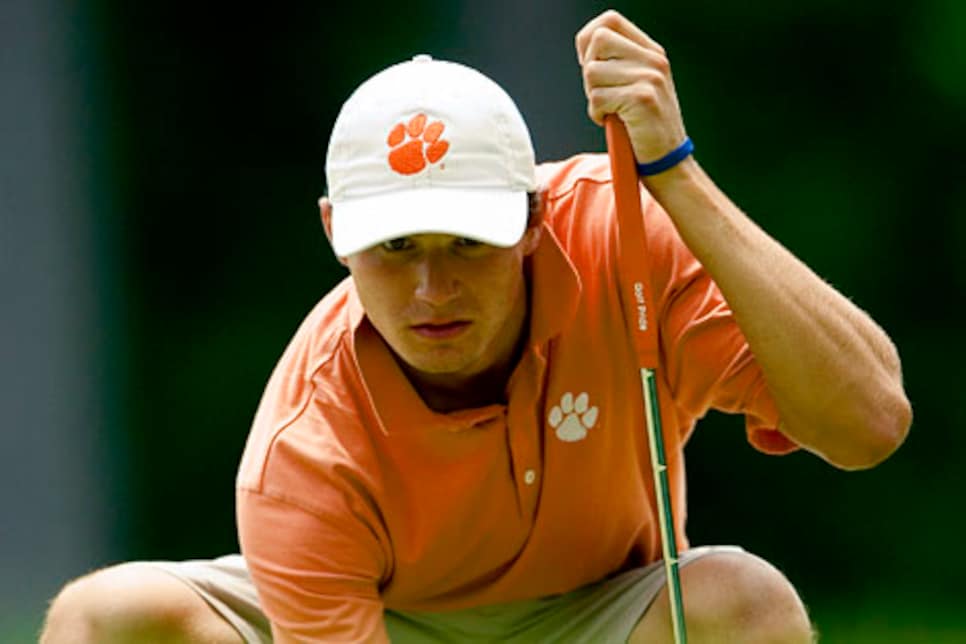 Kyle Stanley of Clemson, one of the schools that will play more three-day events under a new rule.
Summer 2007 is likely to be remembered as the time when "off-season" officially became an oxymoron for Division I college golf coaches. Ask Greg Allen. Within 48 hours of taking the Vanderbilt women's job July 3 -- filling one of the more than half dozen high-profile positions available this year -- the former Arizona coach went to an AJGA event in Ohio to persuade top juniors to forget about becoming Wildcats and consider being Commodores. Since then Allen has spent just eight days in his new Nashville office prior to school starting, the rest of his time split between closing shop in Tucson and accumulating Marriott points on the recruiting trail.
It only gets more hectic in the next few weeks as he acclimates himself to his new players and campus, hosts one of the season's first tournaments (the Mason Rudolph Women's Championship) and holds one of his program's biggest fundraisers, all while trying to move his family 1,400 miles east. (Did we mention his wife is due with their fourth child in January?) "If we can get through the next few months and get settled, we'll be OK," Allen says. "I can catch my breath then."
It's not just coaches with realtors on speed dial who are winded these days. The changing landscape of college golf overall has many running around trying to figure out how to proceed with the 2007-08 school year approaching; most are stepping lightly for fear of an early stumble. In men's golf, where a measure requiring schools have a winning regular-season record to be selected as at-large teams for the postseason is among various new rules in effect, coaches have spent the summer shuffling schedules, guesstimating whether they've lined up enough Ws to get a shot at playing for the NCAA title come June at Purdue's Kampen Course.
As coaches attempt to answer various questions in preparation for the next nine-plus months, *Golf World *offers its own to ponder for the coming season.
1. How will the ".500 rule" impact the men's game?
Prior to this season "regional allocations" guaranteed schools from all areas of the country received NCAA postseason bids. When the NCAA revoked that measure, the .500 rule was conceived to guard against top-ranked schools scheduling tournaments only against each other, leaving other programs (particularly smaller, northern ones) no way to climb in the polls and earn postseason berths.
If having schools with varying profiles compete head-to-head was among the goals, initially it seems to be working. "We're going to see Clemson twice this year, and we haven't seen them in probably five or six years with the exception of regionals," says Todd Satterfield, coach at Furman, which is just 30 miles from Clemson. The Paladins also face Georgia, Georgia Tech and South Carolina in 2007-08. Satterfield knows his team must step up against the tougher competition, but at least it has the chance.
In addition to traveling to tournaments they haven't traditionally played, some marquee schools are participating in new events that invite a mix of programs. One example: Georgia will play the inaugural Brickyard Collegiate in October with Hartford, Troy and Middle Tennessee State in the field. Look for one-day events to pop up as well, as coaches complete their schedules even as the fall season begins.
While fans will see more schools facing each other, they might see fewer coaches experimenting with players early in the season. Alabama's Jay Seawell played four different lineups last fall but says that's not likely this year. "It's going to be hard to put an unproven guy on the course because you're going to be worried about silly things like [how many teams are you beating]," Seawell notes. "It's going to hurt player development."
Also worrisome is whether teams will pull out of events in the spring fearing their record might dip below .500. "It could happen, absolutely," says Georgia's Chris Haack. "And if it does, then that's a real farce."
2. What about other rules changes on the men's side?
A handful of schools -- Clemson, Georgia and Georgia Tech notably -- are using a new provision allowing teams to exceed 24 days of competition provided they play only three-day events and no more than nine. The decision forces all three, however, to miss the fall's Ping/Golfweek Preview, a two-day event at the site of the NCAA Championship. (The rule will be revisited at the NCAA Convention in January.) Coaches also are waiting for the NCAA to review various proposed changes to the postseason structure, including determining the national champion through a medal/match-play format (Bunker, Aug. 3). Only the provision to crown an individual NCAA champ after 54 holes would go into effect this year.
3. How will all the women's coaching changes affect the coming season?
There are plenty of new faces in new places: Allen at Vanderbilt, replacing Martha Richards, who went to Texas; Kelley Hester at Georgia, with Shauna Estes taking Hester's job at Arkansas; Trelle McCombs at Texas A&M, with Randy Keck taking McCombs' post at Tulsa; Kim Lewellen at Virginia; Shelley Haywood at Arizona; and Jill Trujillo at New Mexico.
It's not just programs with new leaders, though, that are likely to get a jump-start. "I think you're going to see more energy everywhere," contends Auburn coach Kim Evans. "You know these new coaches are going to come in and try to raise the bar at their schools. If we're not doing the same at our programs, we're not going to keep up."
4. Which newcomer will have the biggest immediate impact?
Most fingers point to Richards at Texas, where she was an assistant from 1998-2000. In seven seasons at Vanderbilt, Richards built that program into a national contender, finishing in the top six at NCAAs twice in the last four years. The Longhorns also have room for improvement, having missed nationals the past three seasons.
5. Were the NCAA men's champs, Stanford, one-year wonders?
All-American Rob Grube returns for his senior year, sophomore Joseph Bramlett could be college golf's most underrated player and coach Conrad Ray brings in blue-chip recruits in Sihwan Kim (2004 U.S. Junior champ) and Steve Ziegler to keep the roster nine deep. A sleeping giant is very much awake in Palo Alto.
6. What will it take to keep the Duke women from four-peating?
"A bad meal the night before nationals," jokes one rival coach.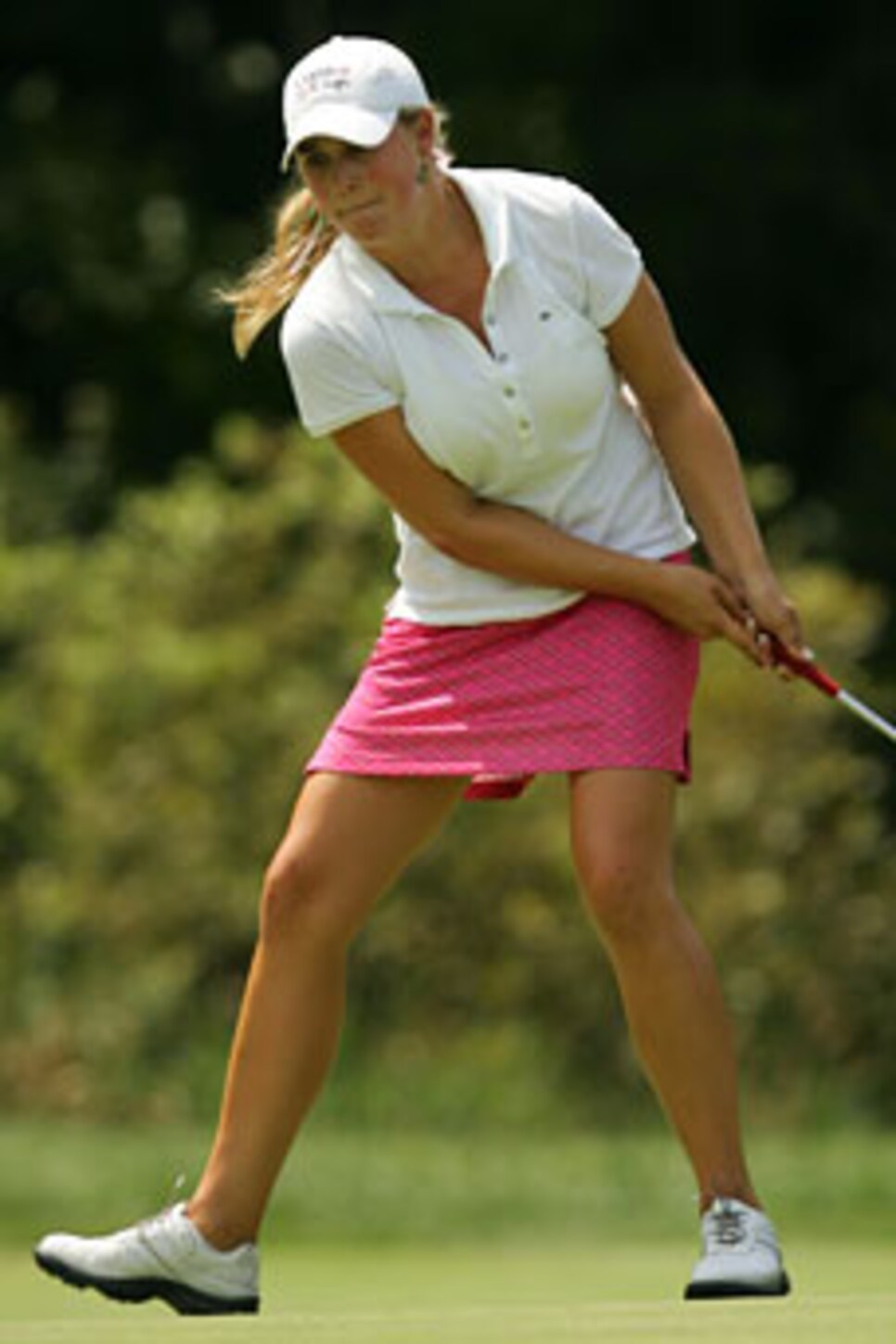 All kidding aside, the best way to combat the Blue Devils' superiority over college golf would be to prove they're beatable early. With second-ranked Arizona State playing in three fall tournaments with Duke, the potential to show the Blue Devils are mortal is there, giving other upstarts hope prior to arriving at New Mexico's Championship Course next May.
7. Which men's mid-major school is set to crack the top 25?
With the recent ascent of Georgia State, Coastal Carolina, Charlotte and Lamar, few should blink if Southern Conference champion Chattanooga joins the crowd this season. The Mocs have a talented twosome in junior Jonathan Hodge and sophomore Derek Rende and come off their maiden trip to NCAA regionals. Third-year coach Mark Guhne has won five team titles thus far and is ready to claim more.
8. Can Duke's Amanda Blumenherst repeat as player-of-the-year?
Why not? If anything, Blumenherst enters her junior year more rested than previous seasons -- she competed in just four summer tournaments -- and more confident, having played superbly in her runner-up finish at the U.S. Women's Amateur.
No other female player who has won national POY twice has stuck around (or had eligibility) to go for No. 3. It's a bit of history not lost on Blumenherst. "That's great motivation," says the 20-year-old, who has never finished out of the top 10 in 21 career college starts. "But I know I need to keep my game sharp because there are so many great girls pushing me. I can't sit around my dorm. I've got to practice."
So do Blumenherst's challengers.
9. Who might be this year's freshmen standouts?
Rickie Fowler already has won two significant amateur titles before moving into his Oklahoma State dorm room. He and UCLA's Philip Francis, the 2006 U.S. Junior champ, look to be the early men's favorites. For the women, UCLA newcomer Maria Jose Uribe showcased her talent in beating Blumenherst for the U.S. Women's Amateur title.
10. Can someone break the NCAA's 18-hole scoring mark (men: 60; women: 62)?
A hot day with the putter from an All-American and one of the two records will be lowered this season. Best bets: Florida's Billy Horschel at the Gator Invitational or USC's Jamie Lovemark at the ASU/Thunderbird Invitational. On the women's side: Blumenherst at the UCF Challenge or Vanderbilt's Jacqui Concolino at the Stanford Fall Intercollegiate.