The Loop
This story of two college students helping a war vet play golf will make you feel better about the world
Move over TaylorMade and Callaway, two college students have created the most innovative and inspiring golf club of the year.
Nicholas Arbour and Adam Peters, who attend SUNY Polytechnic Institute, built a golf club that has a retired Army sergeant un-retiring from golf. Rick Yarosh, 32, had stopped playing after a horrific explosion in Iraq in 2006 that burned 60 percent of his body and cost him his nose, ears, leg and several fingers.
But in a ceremony at Sitrin Health Care Center in Utica, N.Y., on Oct. 28, Arbour and Peters presented Yarosh with a specially-designed club that includes a wrist guard and a handle that allow Yarosh to start playing golf again. We're not sure why the club has a wooden head, but Yarosh certainly doesn't mind.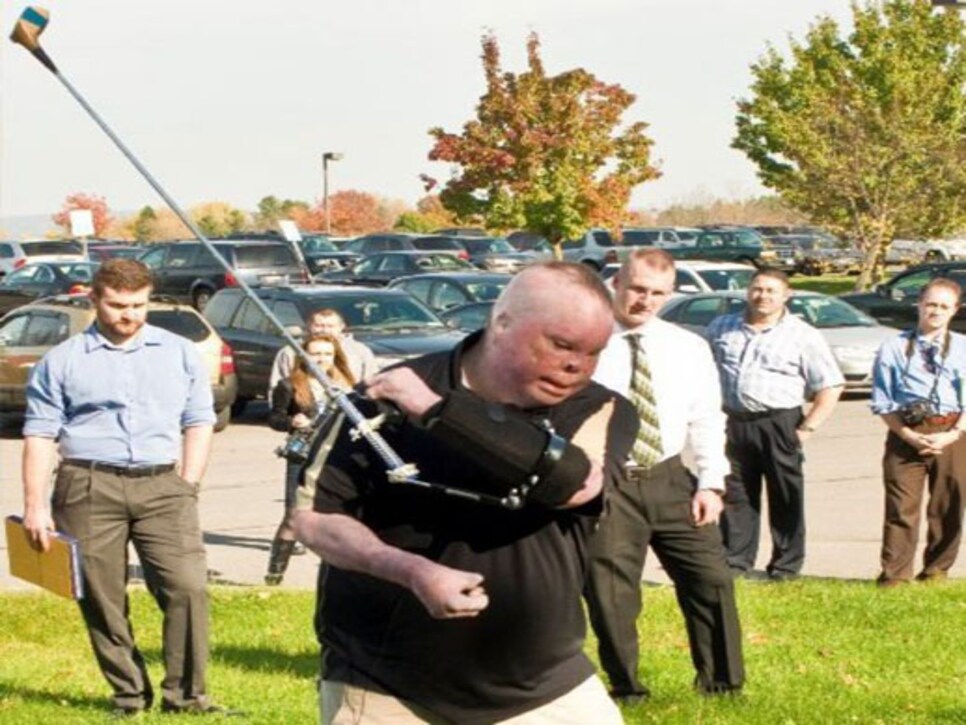 (Photo: Sitrin Health Care Center via Facebook)
"I'm so happy," Yarosh told Syracuse.com. "I tried the club and I could hit the ball with it quite a distance. Now I can go out with my friends again and play golf. It's an incredible feeling . . . I used to wrestle and play football, and I like to be competitive. It was another piece of my life that I lost, and these two helped me get that back."
Arbour and Peters built the club as part of a class assignment to solve a real-world problem. The two started meeting with Yarosh in January and studied professional golfers' swings before using a 3-D printer to design their final product.
"We're pleased and proud that Nicholas and Adam were able to turn their classroom learning into a real-world solution," William W. Durgin, SUNY Poly provost, said in a news release. "Their commitment is exemplary, and it sets a fine example of the power of project-based learning that can make such a difference in our community."
And yes, they earned an "A" for their effort. Obviously.