News
College golf's first 59 just slips away for Georgia Southern junior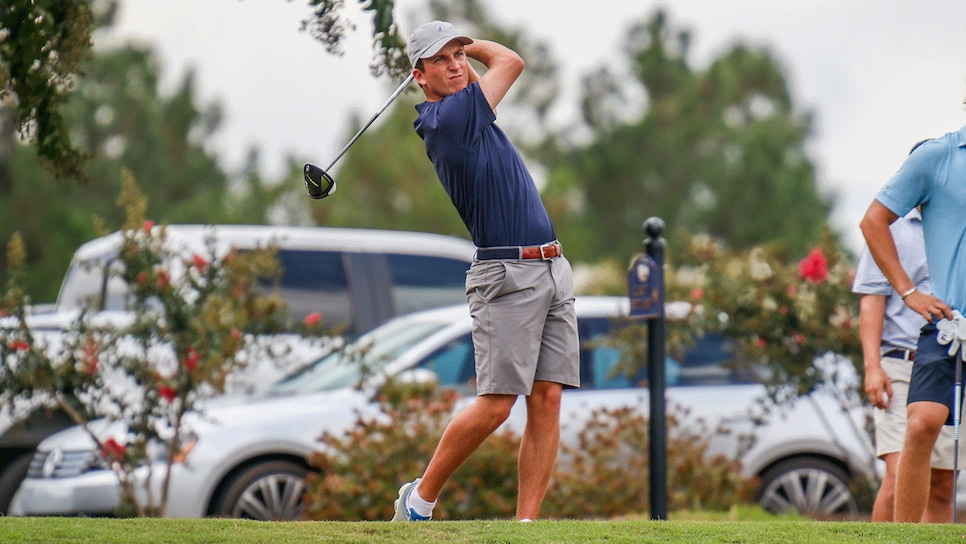 AJ Henderson/Georgia Southern Athletics
Having claimed medalist honors in his last two starts, Georgia Southern junior Stephen Fisk carried plenty of momentum into this week's Warrior Princeville Makai Invitational in Hawaii, the Eagles' final tournament of the fall season. And he's in good position for a third straight victory, as he sits in third place entering Tuesday's final round, four strokes back of the leader, after shooting a school- and course-record 60 on Monday.
The only problem: It came so close to being the first 59 in men's Division I golf.
Fisk started on the 10th hole and played his first nine holes at Makai Golf Club in six-under 30. He then birdied Nos. 1-3, made an eagle the fifth hole and birdied the seventh to get to 12 under on the round. It put him in position to shoot the magic number with a birdie on one of his last two holes.
He looked like he would grab it on the eighth, a drivable par 4 in which Fisk hit the green off the tee. He managed to lag the eagle putt to four feet, but then disappointing missed the birdie try.
To his credit, Fisk rebounded on the ninth hole, giving himself another birdie look from 16 feet. This one, too, however, narrowly missed.
On the bright side, Fisk broke Georgia Southern's 18-hole school record by three strokes and his own career low by five. It's the sixth time in 11 rounds this fall that he's broken 70 as he carried a 68.11 stroke average coming into the event and hasn't finished worse than third in the three previous starts. He's now also the 13th men's golfer, according to Golfweek, to have posted a 60 in a college round.