News
College golf team gets DQ'd, takes huge hit in ranking after rare—and extremely convoluted—rules violation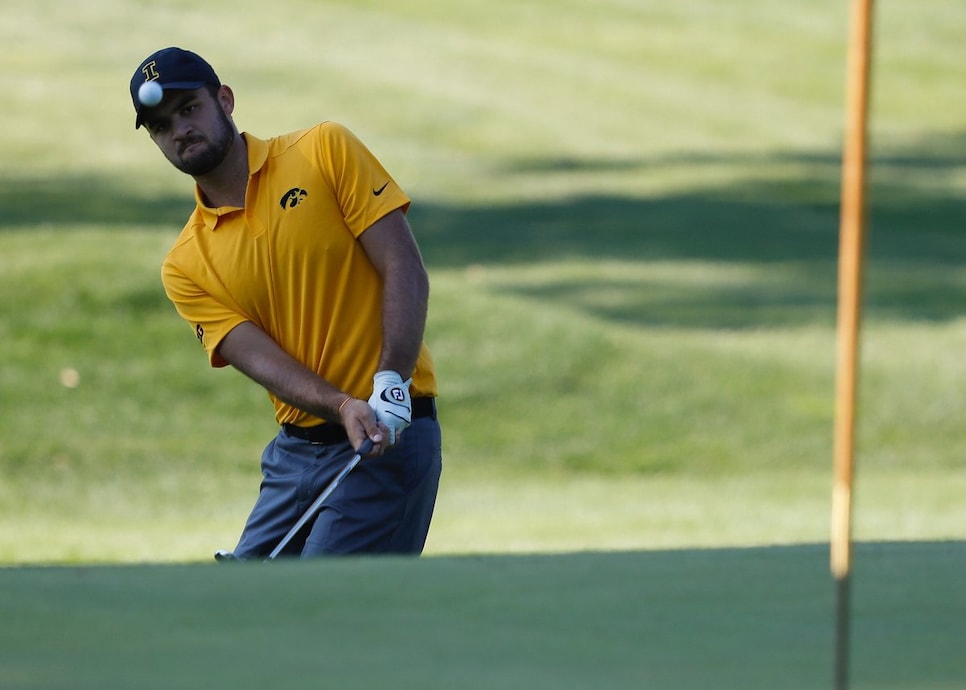 If you're an Iowa Hawkeyes fan, you're not going to like this. If you're an aspiring golfer of any level, you might want to take some notes. And if you're a rules aficionado, well, enjoy, because this is a pretty wild tale.
The Iowa men's golf team was disqualified from the Marquette Intercollegiate at Erin Hills early this week after an odd confluence of events saw them finish the tournament with only three players. First, an injury forced one golfer to withdraw, leaving the team with four players. And then, a rare — and extremely convoluted — rules violation disqualified another Hawkeye and left the team without enough players to post an official score (In college events, five golfers play for each team with the four best scores counting toward a team score).
Tied for the lead at five under during the second round, Leal hit a tee shot right on Erin Hills' 12th hole. He then hit a provisional ball and that's when things got wacky. Leal found his provisional ball near what was assumed to be the ball of his playing partner, but believed his first ball was in a hazard (He didn't know for sure because it was a blind tee shot). Leal then invoked Rule 3-3 (the two-ball rule that allows you to play two balls for two scores and then get an official ruling after the round), taking a drop as if his first ball was in the hazard and playing that and his provisional ball. He hit both balls onto the green, but when the group arrived at the green, there were three of his golf balls there. Oh boy.
Is Leal a magician in addition to being a really good golfer? Not quite. Remember when we said his provisional ball was near "what was assumed to be the ball of his playing partner"? Well, apparently, that ball was Leal's provisional ball and his playing partner, Northwestern's Lucas Becht, mistakenly played it. Becht's penalty was relatively simple, though. He took a two-shot penalty and had to replay his second shot (Although from where is unclear).
Still following? OK, good. So it turns out the two balls Leal had played were his original ball and the one he dropped. He played out the hole with the first ball and thought that was that. Wrong.
Since Leal had invoked the two-ball rule for what he believed was his provisional ball and the ball he dropped, he couldn't just go back to playing his original ball. Even though, logically, that seems to make the most sense …
"By hitting his original ball, he actually hit the 'wrong' ball,' Iowa head coach Tyler Stith told Golfweek. "And since he didn't correct the mistake and abandoned the other ball, he had no score for the hole and was disqualified."
Ouch. And it got worse for Iowa. Since the Hawkeyes couldn't post a score, they finished in last place in the 11-team event, picking up 10 head-to-head losses in the process. When the new Golfweek/Sagarin Men's College Golf Ranking came out on Thursday, Iowa fell 35 spots from No. 14 to No. 49.
But according to Golfweek, "The NCAA committee could choose to look at this instance with Iowa and discuss whether tournaments should be excluded from a team's ranking if it is determined that a bizarre occurrence took place." And if this doesn't constitute "bizarre," then we don't know what does.