News
Five things you need to know from this weekend's college golf conference championships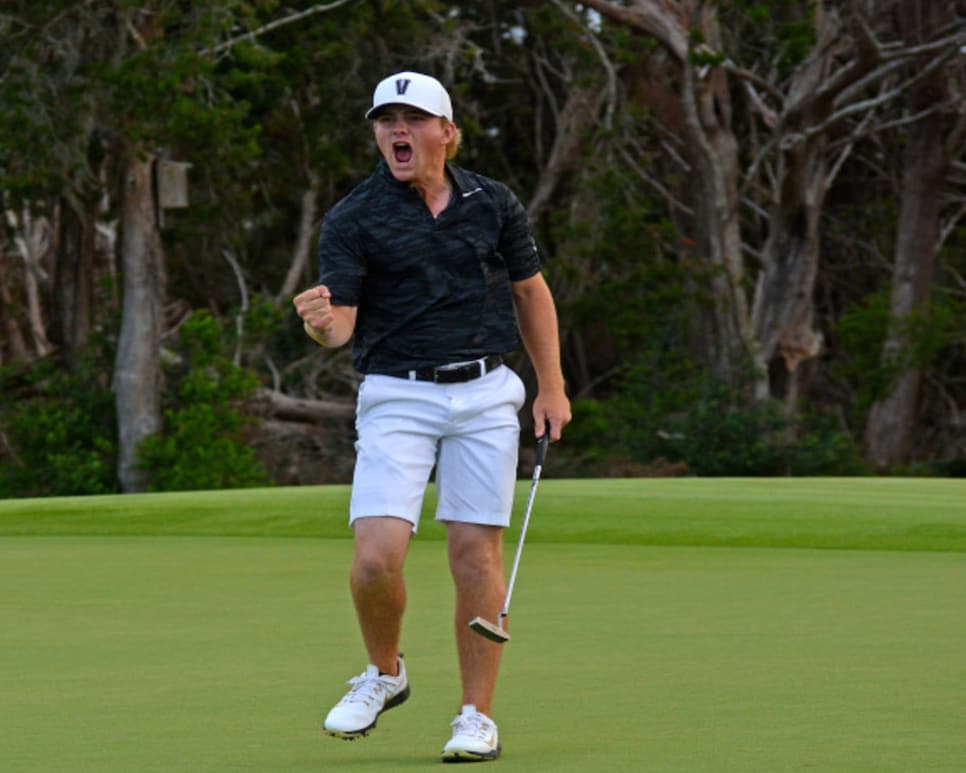 It's April, which means that college golf is starting to getting interesting. With the NCAA postseason on the horizon, teams begin to steele themselves by first playing in their respective conference championship. This weekend saw several prominent Division I leagues determine their end-of-the-season winners.
To get you up to speed, here are five things you need to know from this weekend's conference championships.
• The 72 teams competing in the NCAA Women's Division I regionals will be named on Thursday. Among the schools that looked like it might be on the outside looking in was Michigan State. The Spartans were ranked No. 62 by Golfstat, making them a bubble team for a postseason spot until they went out and secured an automatic berth by winning the Big Ten women's team title by two strokes over Northwestern at TPC River's Bend outside Cincinnati.
"It says a lot about who our players are and as a team and their abilities," said MSU women's coach Stacy Slobodnik-Stoll, whose squad was eight strokes back of the Wildcats entering Sunday's final round. "Today, we had to get the job done. When you come into the day having to come from behind, if you don't play well, you don't win. It was a gutsy performance. They wanted to win and they were willing to do what it took."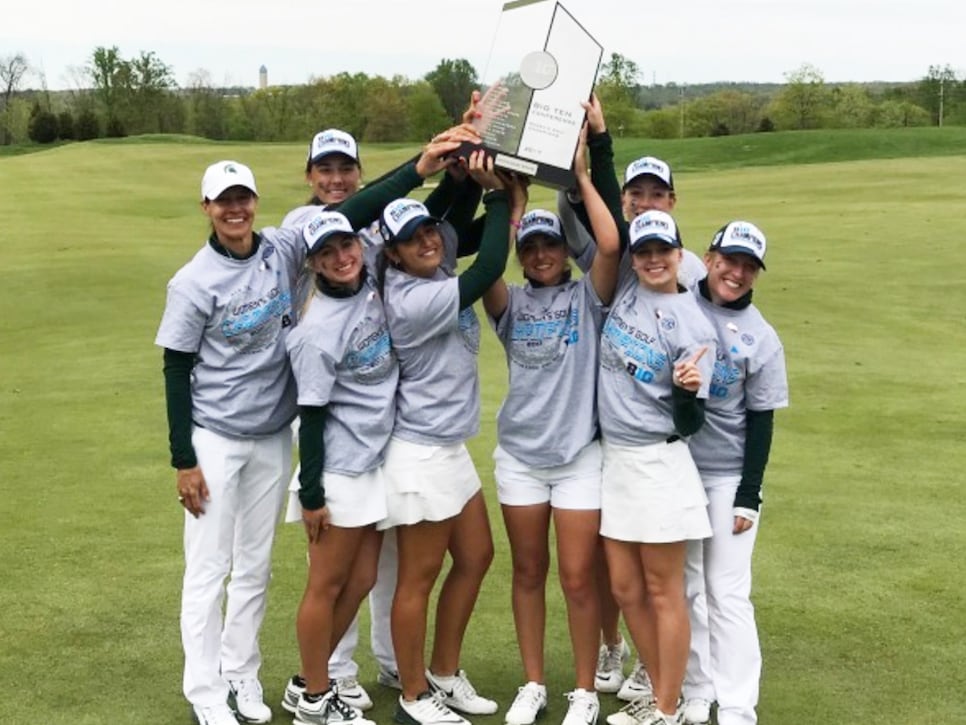 Courtesy of Michigan State
The win came a week after the team took the title at the Lady Buckeye Invitational, the school's first tournament victory since 2014. It was MSU's fourth Big Ten title in the last seven years.
Michigan sophomore Elodie Van Dievoet became the first golfer in school history to win the individual title, shooting a six-under 210.
• It had been since 2013 that Duke had won the ACC Men's Championship until taking the title at Musgrove Mill G.C. in Clinton, S.C. When a bad Sunday forecast caused tournament officials to play the second and third rounds on Saturday, the Blue Devils adjusted, shooting a three-under 285 and even-par 288 to beat Clemson by 12 strokes.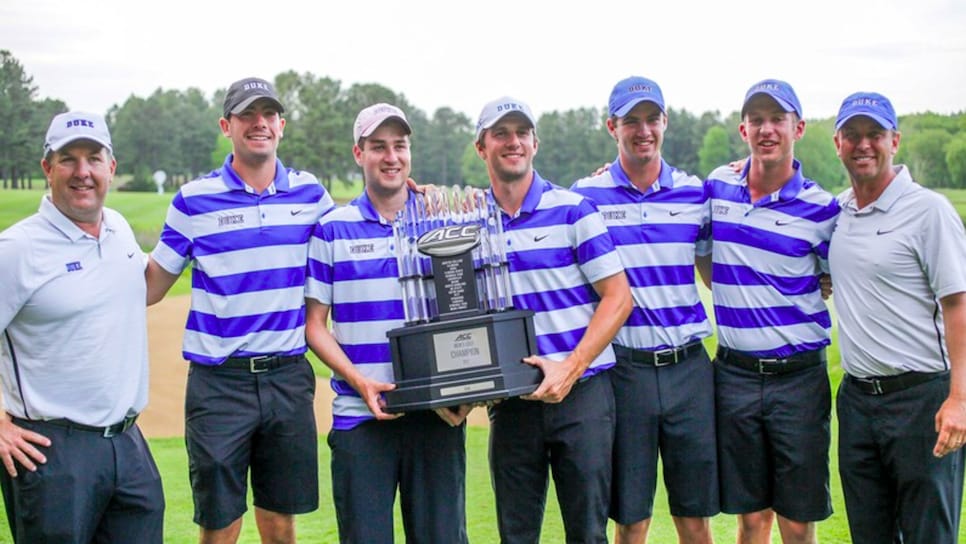 "It was one of those things where they were so dialed in," Duke men's coach Jamie Green said. "There might have been a little awareness of where the other teams were, but they were taking care of their own business and executing their game plan."
Virginia's Jimmy Stanger won the individual title in a four-way playoff with a birdie on the first hole after shooting a closing 71 and a five-under 211 total.
• Texas hadn't won the Big 12 Women's title in six years until Longhorn freshman Emilee Hoffman (second, three back of medalist Dylan Kim of Baylor) and junior Sophia Schubert (T-5) posted top-five finsihes at The Dominion Country Club in San Antonio to lift the team to a seven-stroke victory over Iowa State, shooting a 21-over 885 total.
• For the ninth time in school history but the first time since 2008, Florida won the SEC Women's title. The Gators did it in impressive fashion, shooting a tournament-record 22-under 842 at Greystone Golf & Country Club in Birmingham, Ala., beating tournament favorite Alabama by 13 strokes. Senior Kelly Grassel led the way, posting a closing 65 that tied the tournament's low 18-hole score.
South Carolina's Katelyn Dambaugh earned medalist honors with a closing 66 and a 12-under 204, beating Georgia's Harang Lee by one stroke.
• The SEC men's title will go to a first-time winner on Monday when Vanderbilt and Texas A&M face each other in the championship final at Sea Island Golf Club. The conference is using match play to determine the team winner, mirroring the format used at the NCAA Championship, for the first time. The Commodores and Aggies were the top two seeds after stroke-play competition. Vanderbilt freshman John Augenstein won the decisive point in the semifinals against Florida, making a 10-foot putt on the 20th hole to beat Andy Zhang after Zhang sent the match to extra holes by winning the 16th and 18th holes.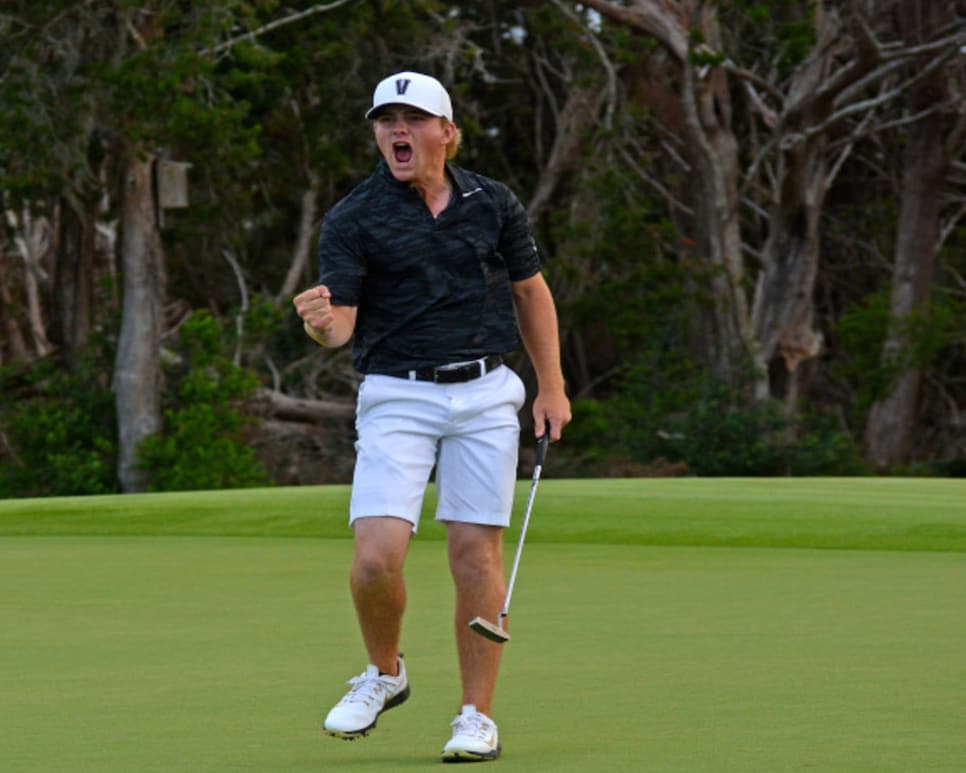 "This match play is like a different sport," said Vanderbilt coach Scott Limbaugh. "It's just really special. John makes a lot of those putts in practice. We do some drills at the end of our practices trying to build these scenarios, and he's the last one standing a lot of times. He's one of the guys I would have wanted to have that opportunity. It was a lot of fun. It was about as much fun as I've ever had at a golf course."