The Loop
College coaches check out juniors at national championships
College coaches always flock to the U.S. Junior Championships. This year with the best boys and girls playing concurrently at Trump National Golf Club in Bedminster, N.J., record numbers of head coaches and assistants showed up. They've come to watch the kids on their wish lists, but strict NCAA rules determine how they can go about building relationships with them.
This week the coaches are mostly watching. They've done their scouting and know whom they'd like to sign. It gets pretty competitive with the hottest players pursued by a host of schools.
Take Jordan Spieth, for instance. Based on his semifinalist finish in the U.S. Junior in 2008, he is one of only five boys fully exempt in this year's tournament. Walking with him on Trump's New Course during Monday's qualifying round were the six coaches pictured below. Each would consider it a coup to sign him. A high school junior with excellent grades, Spieth has his pick of many schools, even more so after shooting an impressive opening round 66.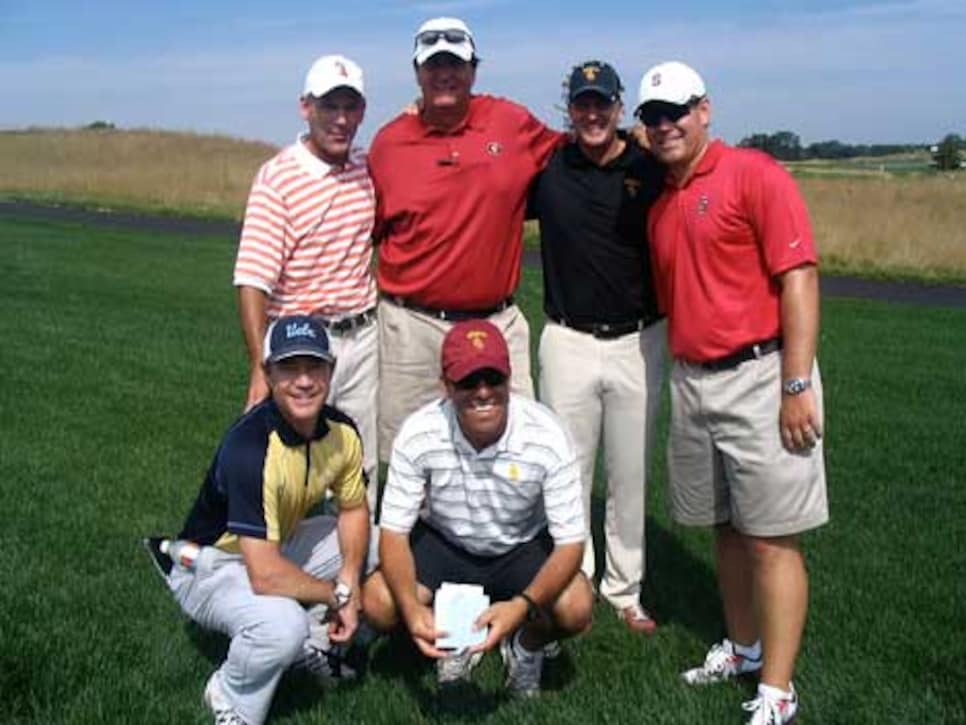 Back row, left to right, Mike McGraw, Oklahoma State; Chris Haack, University of Georgia; Kurt Schuette, USC and Conrad Ray, Stanford. Front row, left to right, Derek Freeman, UCLA and Chris Zambri, USC. Photo by Topsy Siderowf
The national championships are the most grueling competition juniors face each year. After getting through local qualifying, 156 boys and 156 girls play a similar format. There are two rounds of stroke play with the low 64 of each championship making it to match play. The eventual winner will be crowned on Saturday at the conclusion of a 36-hole final.
No other event carries as much prestige as the national junior championship. The winner earns assorted exemptions including into the U.S. Amateur and a place on the short list of every coach in America.