The Loop
Colin Montgomerie's unlikely Open appearance is dedicated to his father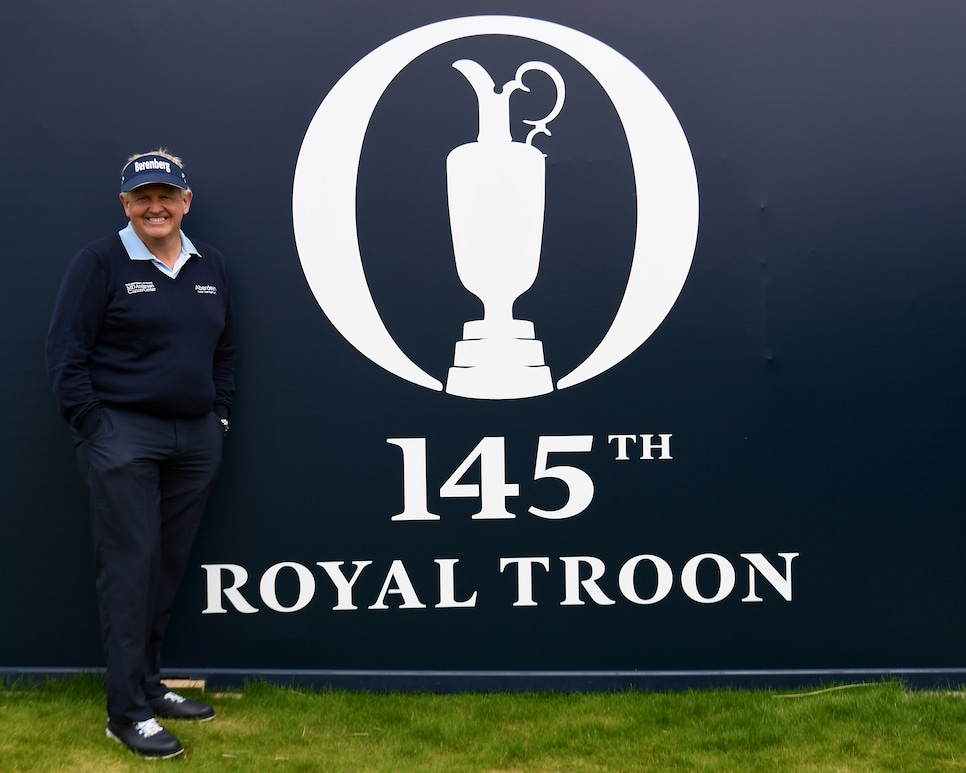 TROON, Scotland -- Heads turned but out of respect nobody approached Colin Montgomerie when he walked for dinner Saturday night at the popular bistro Lido Troon with his father, James.
In this part of the world, Montgomerie's homecoming is being celebrated with great pride, as it should be. That he qualified at age 53 for one final Open, at Royal Troon no less, is a throwback to the days when Monty was Ryder Cup hero and ultimately a Hall of Fame inductee. But his dad plays a role in the story, too.
At 86, James Montgomerie's lineage to Troon goes back almost 60 years, and his golfing heritage 20 years longer than that. According to Colin, James was 6 when he picked up the game, played off 5 at his best and can still walk 18 holes twice a week. His first Open as a spectator was watching Henry Cotton win the claret jug at Muirfield in 1948. At 23, he was at Carnoustie in 1953 when Ben Hogan won the Open for the third leg of the Grand Slam.
In more recent times, he presided over two Opens as Troon's club secretary and is in line to become the next club president. As Montgomerie told me last week from the Scottish Open at Castle Stuart in Inverness, "Golf has been his life."
And that life seemed to crystalize in a moment one month ago, when Colin and his brother Douglass met at Royal Troon to celebrate James' birthday with a sentimental round of golf. As an aside that day, Monty mentioned how much it would mean to return in July as a competitor for the 145th Open.
For a qualifying course, he signed up for Hillside. The R&A assigned him to Glasgow Gailes, a course not far from Troon. Knowing he'd be nervous, Colin asked his father not to follow him. Nor did he call after an opening round of 66—or after shooting 71 to land right on the bubble for the third and final qualifying spot.
After a two-hour wait it was official. Montgomerie was in the Open for the first time since 2010. As reported by Derek Lawrenson Sunday in The Daily Mail, Monty drove home and gave James the news, dedicating the Open to him.
"It's made him, I can assure you," Montgomerie said of the joy brought to his father. "He'll be at the door, welcoming people to 'his' club."
Montgomerie didn't actually grow up playing the Old course at Troon. He wasn't allowed on the championship layout until he was 18, but did ride his bicycle to play the nine-hole children's course called The Craigend with his mother, and later the ladies course, The Portland. Now he's an honorary member and on Monday was presented with a painting that will hang on the clubhouse wall.
Among the 21-straight Opens he played in from 1990-2010, two were at Royal Troon, in 1997 and 2004. While he finished top 25 in both, Montgomerie admits that the pressure he felt as Europe's top player for most of that stretch was overwhelming. His best finish was second to Tiger Woods at St. Andrews in 2005.
The expectations are much lower this week. Most of Montgomerie's golf is played on PGA Tour Champions, where he has won three majors. He knows his father will be on the first tee on Thursday, and hopefully waiting for him coming up 18 on Sunday. While he's way ahead of the field on local knowledge, he knows just making the cut will be considered a victory.
"It's home," Montgomerie said. "I just look forward to the whole scene."
And if Montgomerie's last walk up the 18th happens to take place later rather an earlier on Sunday, it will turn thousands of heads.