The Loop
Colin Montgomerie: 'Can [Tiger Woods] win another event ever again?'
Stories of interest you might have missed…
"Hey, never mind a Major, can he win another event ever again?" Colin Montgomerie asks in this story by Martin Dempster of the Scotsman. "He will be so determined to contend here and prove to himself more than anyone that he can still do this. It will be very interesting to see how it all pans out, but let's hope that it's not one of him shooting 75 or 76 then saying I've hurt my back' and goes home. Because that would be a disaster for everybody."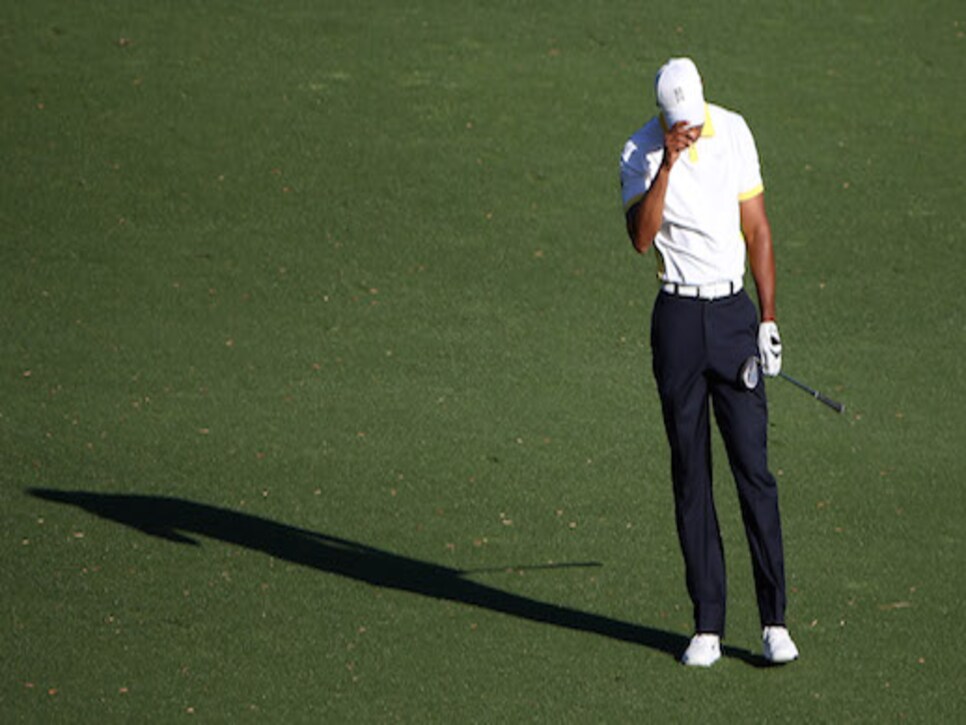 Tiger Woods in the Masters in 2013 (Getty Images)
Tiger Woods' chipping is a popular topic of conversation at Augusta National this week, David Westin of the Augusta Chronicle writes. "What he did was typical of the yips," Gary Player said. "If he's got the yips, he's got a big problem because under pressure it will always come back. Somewhere along the way. Because if you've got the yips, you die with the yips."
Woods' principal issue? "It's mental. Period," writes Terence Moore at Sports on Earth. Moore consulted a sports psychologist, Patrick Devine, a professor at Kennesaw State University. "Instead of having a bunch of great golf swings and a bunch of great golf shots, the highlight reel I put together for Tiger would have a lot of those big smiles we saw across his face when he was doing well," Devine said. "He needs to be reminded of what it feels like to play this game and to have fun."
"Rory McIlroy…has designs on not just filling his trophy cabinet but becoming the true figurehead of his sport," writes Chris Cutmore in the Daily Mail. "That is the view of Paul McGinley, who sums up the attitude in this neat way: McIlroy is no Jose Mourinho. Winning at all costs and to hell with the consequences is just not his style, unlike Chelsea's ruthless manager. Is it all about winning titles?…Or is it, I'm the No 1 player in the world, I represent the game of golf, am I going to become somebody like Tiger Woods did, an iconic figure in world sport, and try to introduce and propel the game forward?"
"[T]here has been a bubbling undercurrent of Bubba backlash among some players and even among some members of the media. Two other words you sometimes hear related to him: schtick and disingenuous," Gene Wojciechowski of ESPN writes, while arguing it's "a bit unfair. Watson isn't like you and me. He isn't like anybody, really. He can be charming or grating, lovable or unbearable, tearful or terrible. He has his flaws, which is why Watson has a long history of issuing apologies on multiple continents."