News
Cole Hammer, Viktor Hovland victories set up epic U.S. Amateur semifinal match at Pebble Beach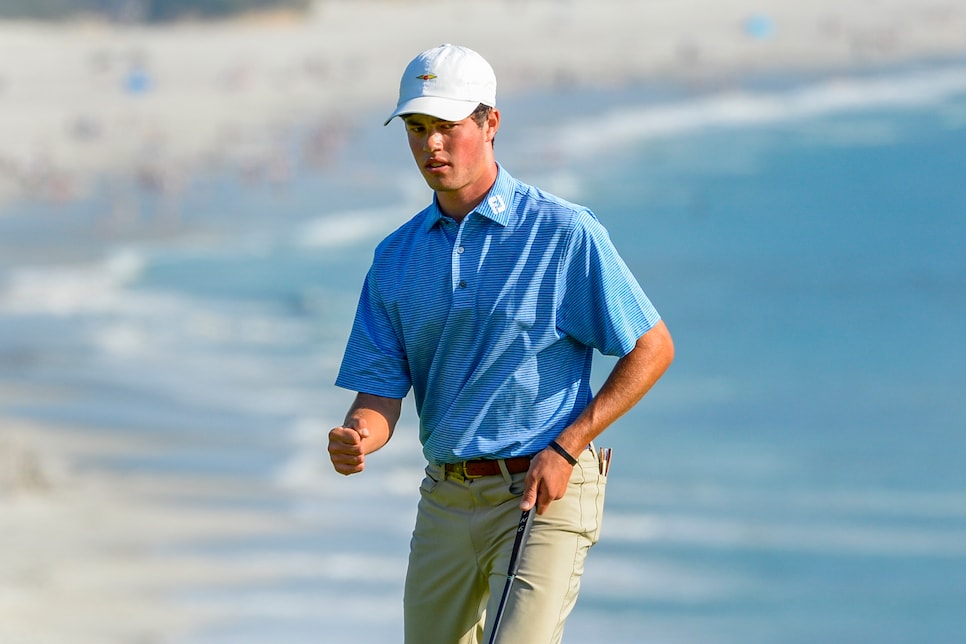 PEBBLE BEACH, Calif. – Viktor Hovland seems unstoppable in the 118th U.S. Amateur.
His opponent in the semifinals, Cole Hammer, knows the feeling.
When they square off at 8:20 a.m. PDT Saturday at Pebble Beach Golf Links, something has to give. And these two don't seem in a giving mood.
By winning seven holes in a row, Hovland, 20, of Norway, cruised into the semifinals Friday with a 7 and 6 victory over Austin Squires of Union, Ky. He won by the same margin in the round of 16 on Thursday against fellow Norwegian Kristoffer Reitan.
The blitzing of Squires matches the largest winning margin in a U.S. Amateur quarterfinal since the format changed to 18-hole matches in 1934. Coincidentally, the last win that large was authored in 1999 here at Pebble Beach when Ben Curtis defeated Andrew Sanders.
The highest ranked player in the World Amateur Golf Ranking left in the field, at No. 5, Hovland has never been hotter. "Yeah, you could say that," he said plainly. "I played well the last couple matches, and I think I've only made one bogey. Out here with these conditions, it makes it hard for my opponent."
He better remain that way when he meets Hammer, the first co-medalist to reach the semifinals in five years. The 18-year-old from Houston is the first player since Brian Montgomery in 1986 to reach the semifinals in the U.S. Junior Amateur and U.S. Amateur in the same summer.
Hammer beat Alex Fitzpatrick, younger brother of 2013 U.S. Amateur champion Matthew Fitzpatrick, 3 and 2, on Friday, and is two steps away from becoming the first man since Colt Knost in 2007 to win two USGA titles in the same year. Hammer teamed with Garrett Barber to win the U.S. Amateur Four-Ball Championship in May at Jupiter Hills in Tequesta, Fla.
Oh, and he is coming off a victory in the Western Amateur just two weeks ago.
"I just heard an interview out there that the first one to make it to the semis of the U.S. Junior and the U.S. Am in the same year since sometime in the '80s. That's pretty cool to have that by my name," said Hammer, who soon will attend the University of Texas. "It's been a great summer so far as I've talked about the last couple days, but I'm excited for tomorrow."
Which will be an exhibition of fighting fire with fire.
In the other semifinal, two California natives making their U.S. Amateur debut square off. Devon Bling of Ridgecrest, Calif., will meet Isaiah Salinda of South San Francisco, Calif., at 8 a.m. Bling rallied to beat Davis Riley of Hattiesburg, Miss., 1 up when he sank a 4-foot birdie putt on the 18th hole. Salinda jumped out to a 4-up lead through 5 holes against William Gordon of Davidson, N.C., and eventually registered a 2 and 1 decision.
Hovland, who was a member of the Oklahoma State University squad that won the NCAA Division I title earlier this year, said his performance in the U.S. Amateur already is among the highlights of his career. He has won only once outside his native Norway. But perhaps he has become more well known for his unusual backswing that he employed earlier this year, in which he halts his downswing, takes the club back again and then makes his pass at the ball.
He couldn't explain why he hasn't won more. "I've definitely had the game to win. But it's hard to win tournaments."
It will be hard to win this one facing Hammer, who has been hardened by his experience in the U.S. Junior Amateur. He rolled into the semifinals at Baltusrol Golf Club in Springfield, N.J. last month but got derailed in the semis by Akshay Bhatia, who has been equally formidable lately. Hammer said he learned from that disappointment as well as from rallying from behind to capture the Western Am.
"That was really tough to swallow, but I used that loss as a learning experience and motivation," Hammer said of his setback in the Junior Am. "I feel like I'm a different golfer. I feel like whatever happens I'm ready for it.
"This whole year has just kind of gradually been a rise to the confidence that I have now."