The Loop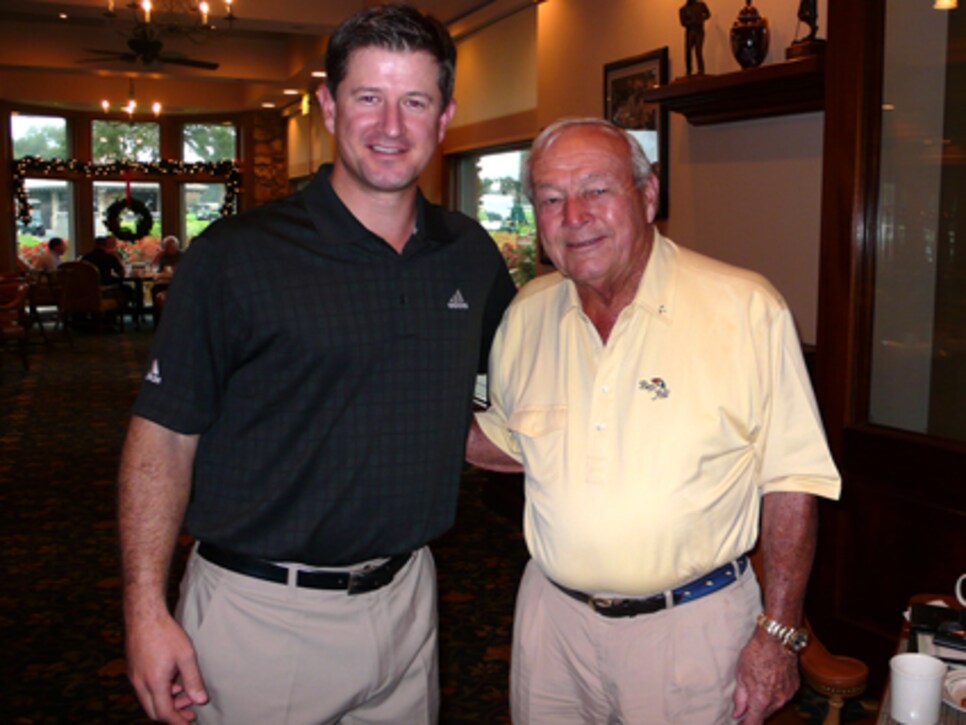 After Arnold Palmer finished up at the 18th green he started walking to his car. The older crowd closed in and formed a tight circle around him. I was swept up in the wash of a celebrity. I recall getting squished by bad hips, soft stomachs and droopy derrieres. ("Those aren't pillows!")
I remember Mr. Palmer, who was wearing a hearing aid, asked that he be allowed a path to his car. He promised the eager autograph seekers that he would walk slowly and that he'd sign the whole way there. The people parted like a full head of hair and Palmer kept his promise. He took less than baby steps all the way to his car and he never stopped signing. He also never stopped smiling. If the distance to his car was 50 yards, it took him over an hour to get there. That was my first golf tournament; I came back with my first autograph and my first favorite player.
Who knew, that as I got older, I would go on to set up photo shoots with Mr. Palmer on several occasions, first for Sports Illustrated and then for Golf World and Golf Digest.
After one photo shoot I made up some prints and with unseasonably low expectations, sent them down to his office in Orlando and asked that he sign one for my Dad. I sent the package on a Monday, it came back on a Thursday. I thought something was up—that was too fast. It had to be a case of a bad address. I flipped the box several times in search of the stamp: RETURN TO SENDER.
No stamp, no mixup. The box was back with an autographed print: "Dear John, Happy Birthday. Arnold Palmer." I just shook my head. That was at least one of the reasons a guy gets such status. Did you know Palmer spends an hour a day and close to $50,000 a year signing and sending back memorabilia to adoring fans all over the world?
I've never actually played golf with Palmer, but I came close. At a semi-private press outing at Winged Foot a decade ago, I hit balls on the range a few stalls from him and then I played in the group directly behind him. Several times throughout the round I enjoyed the silhouette across the fairway of the iconic whippy finish.
I also remember watching him top a shot. It was as though the oxygen was sucked out of the earth's atmosphere, birds dropped from the trees like they had been shot and mothers scooped up their children as though they were pulling them from oncoming cars. The gallery looked away or looked down at their shoes, not wanting to be called to any witness stand of humble court. Palmer calmly walked to his cart and moved on. He was royalty, but it was a good reminder, he was also human.
Flash forward to December of last year; I was in Orlando to write a story about the course changes at Bay Hill and report why you might want to stay and play at Palmer's winter wonderland. I spoke to Erik Larsen, the Executive Vice President of the Arnold Palmer Design Company, and his staff about the course changes. But I also put in a request to get some time with Palmer, the proprietor. I was told to meet him in the restaurant at 8:30 a.m. the next day. He showed up at 8:15, and I proceeded to have coffee with The King.
I always refer to it as an interview if I ask all the questions. As soon as the subject asks a question of me I consider it a conversation. Let's just say I haven't had too many conversations with tour pros in my 15 years of covering golf. During my 15 minutes with him, Mr. Palmer found time to ask me about my job, where I had been traveling recently, where I was going next and he made the correct assumption, that with my life on the road, I wasn't married.
When I was in Orlando it was shortly after Tiger's tree troubles and you could see helicopters hovering over the gated community of Isleworth, just down the street from Bay Hill. I offered Mr. Palmer an off-the-record response to all that was unfolding in the modern-day life of a sports superstar. "On the record, off the record," he said, "it's a bad deal." And then he shook his head.
Here's an audio clip of my conversation with Arnold Palmer, discussing the essence of his resort: