The Loop
Cody Gribble inadvertently found his caddie, former Texas teammate, friend Bobby Hudson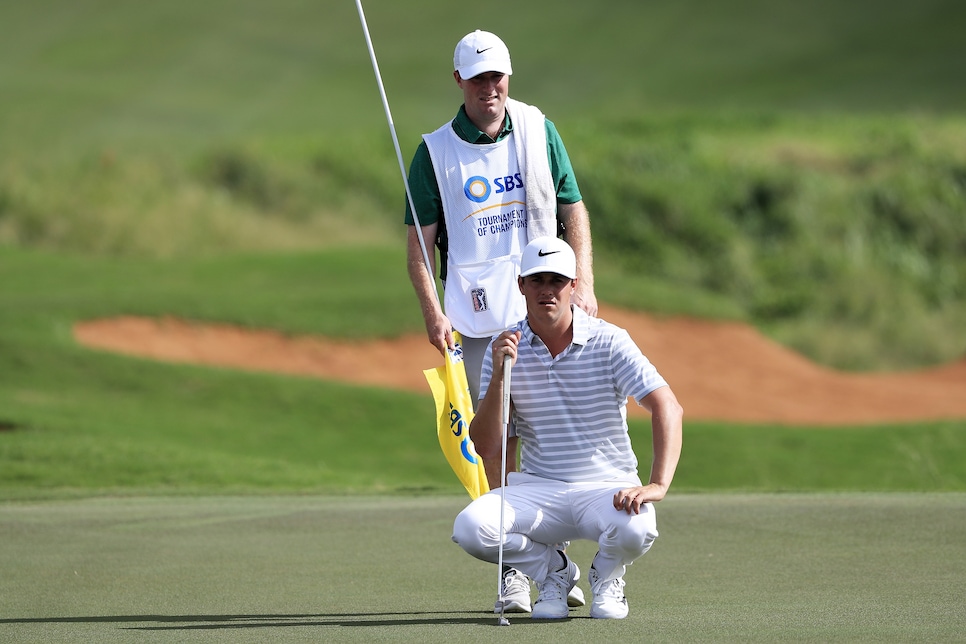 KAPALUA, Hawaii -- Bobby Hudson never expected to be in paradise this week. He didn't think he'd still be caddieing for his former University of Texas teammate Cody Gribble, either.
Four months ago, Gribble was making his first start in his first year on the PGA Tour in Napa. The only problem? The event was the same week as the wedding of the daughter of his regular caddie, Mark Huber.
In stepped Hudson, who had caddied a few times for Gribble before but had mostly been bouncing around the mini-tour circuit and contemplating giving up golf for a normal job. Gribble tied for eighth, so he tapped Hudson again for the following week in Mississippi.
You can guess what happened next.
Gribble shot 20-under 268 over four days, including a second-round 63, and won by four. Hudson has been on the bag ever since.
"It's been surreal," Hudson said Thursday from the SBS Tournament of Champions in Maui, where Gribble was tied for seventh in the 32-man field after an opening four-under 69 on the Plantation Course. "I thought I'd be helping him out just one week."
It's a story of right place, right time, and one with similarities to that of another former Texas standout and close friend of Gribble's, Jordan Spieth.
In 2011, Michael Greller was a sixth-grade math teacher moonlighting as a caddie in local tournaments near his home in Seattle. Through Justin Thomas, whom Greller had caddied for before, he ended up on Spieth's bag for the U.S. Junior Amateur at nearby Gold Mountain. Spieth won and the following year wanted Greller on the bag for the U.S. Open. Spieth finished as the low amateur and when he later turned pro, Greller accepted the job full time with Spieth.
Like Greller, Hudson never expected to be a regular caddie. He was a standout amateur and college player and had visions of joining Gribble inside the ropes. It has worked OK for both men.
"My dream was to always play golf, but this has been a nice change," Hudson said. "I'm still learning so much – the depth of information, learning the right thing to say, all the numbers involved and the amount of information and preparation that goes into a yardage book out here."
Added Gribble: "Bob is like an older brother to me. He knows how to deal with me when I'm losing my temper, he knows my game, he knows my numbers. He's been so good on the bag."
As for Hudson's future, it's safe to say it's secure.
"At the end of the year if he wants to keep playing, I want him to go for it," Gribble said. "But if he wants to stay on the bag, it's his."