The Loop
Co-stars in the McIlroy wrist drama: a damaged 7-iron, and a new one
JOHNS CREEK, Ga. -- One of the overlooked aspects of the will he play/won't he play drama involving Rory McIlroy this morning was the fact he destroyed his 7-iron hitting the shot off the root on Atlanta AC's third hole yesterday that injured his right arm and wrist. Fortunately for McIlroy, his equipment sponsor, Titleist, was on top of things. With tour vans required to leave the premises by Wednesday evening, the company made McIlroy a new 7-iron to his specs at their Oceanside, Calif., facility and had the club flown overnight to Atlanta. The 7-iron was waiting for McIlroy when he arrived at Atlanta AC, having been placed in McIlroy's locker at 7:25 this morning.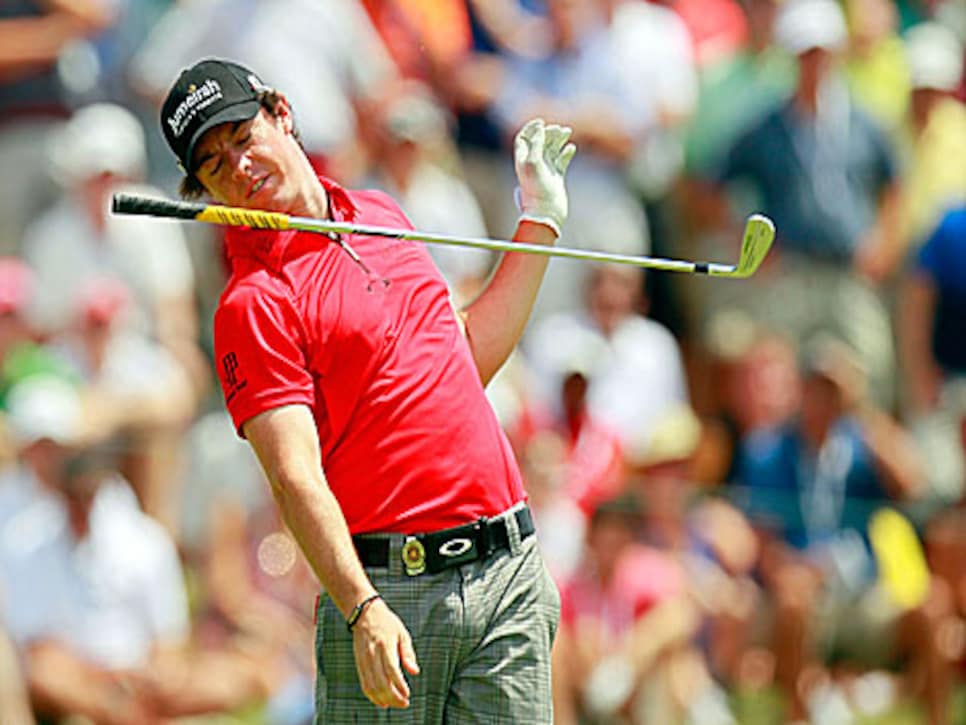 Photo by Kevin C. Cox/Getty Images
Broken clubs are nothing new in professional golf, which is why Rule 4-3 is in the Rules of Golf. In fact, according to that rule, McIlroy could have replaced his club during yesterday's round had one been available. The rule says, in essence, that if a club is damaged during the normal course of play, a player may have it repaired or replace the club with any club, provided it does not come from any other person playing the course and does not unduly delay play.
For those wondering if he could have asked one of his playing partners to use their 7-iron, the answer is no. The only time you can use a club from another player's bag is in a team competition when the total number of clubs in both bags does not exceed 14. However, the rules would have allowed McIlroy to use a 7-iron from another player in the field, provided that they were not on the course at the same time he was.
And if McIlroy had been playing in California (where his replacement was built) instead of Georgia, another option would have been to whip out the cell phone and place a call to Titleist to have a backup sent to the course since he had 15 holes left to play after the breakage. Sound outrageous? Kevin Sutherland did just that with Phoenix-based Ping during the opening round of the FBR Open in 2008.
Playing TPC Scottsdale's 13th hole (his fourth of the day), Sutherland broke his Ping i3+ 9-iron after making contact with a cactus. Sutherland and his caddie put in a call to Ping rep Matt Rollins. Who contacted co-worker Steve Zeke. Six holes later, Sutherland had a replacement in hand.