LPGA Tour
Korda vs. Ko is going down to the wire in the LPGA's Tour Championship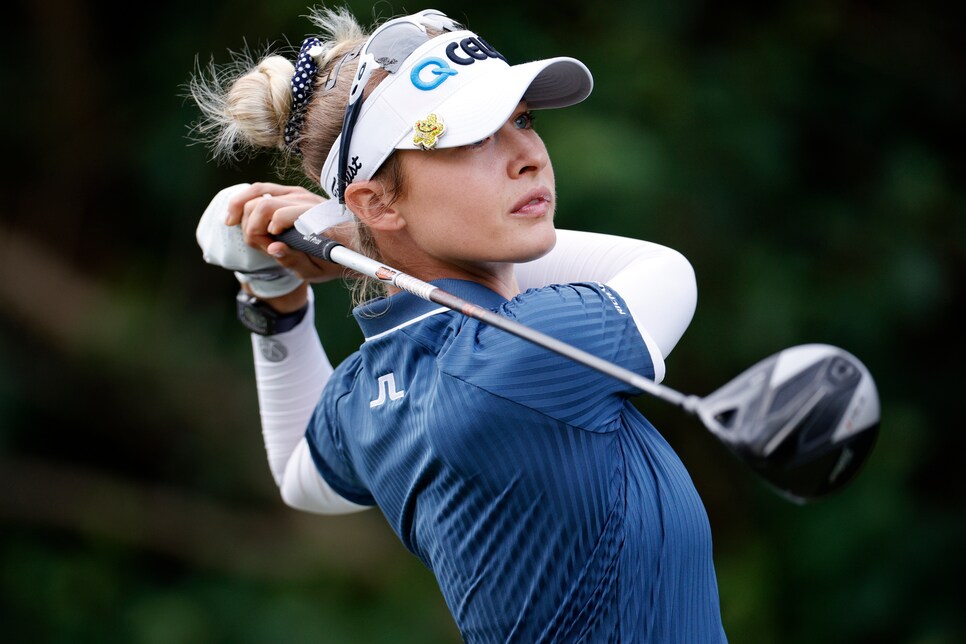 Nelly Korda tees off during the third round of the CME Group Tour Championship.
Douglas P. DeFelice
NAPLES, Fla.—In a season defined by the blow-for-blow battle between Jin Young Ko and Nelly Korda for LPGA Tour supremacy, it's fitting they're in the final group at the CME Group Tour Championship on Sunday alongside Nasa Hataoka. The tour titans sit even in a four-way tie for first at 14 under par at Tiburon Golf Club in a winner-take-all 18-hole competition for the Rolex Player of the Year race.
If either World No. 1 Korda, who shot 67 on Saturday, or No. 2 Ko (66) win the tournament, they will earn the title of the season's top player. Ko needs to at least finish second to have a chance to overtake Korda, who would have to take a big tumble for that to happen. Each has won four times this season, and a fifth victory by either would be the most in a single season since Ariya Jutangarn won five times in 2016.
On the line, too, for the winner will the CME Globe Champion title and the $1.5 million first prize.
"I have to win because she plays really well right now," Ko, 26, said. "So, I don't have stress for the player of the year."
Korda, speaking of Sunday's high stakes, said, "Yeah, it's for other people. I'm just out there going to do my job, taking a shot at a time, and see where it takes me. That's all you can do."
The two will contend with a packed leader board that could yield a win from at least a dozen players. Also tied at the top are five-time LPGA winner Nasa Hataoka, who charged in the third round with a 64, and winless Celine Boutier, the second-round leader who scored 72.
Ko, the tournament's defending champion, stole the show early Saturday, birdieing seven holes in a row from the second through the eighth. "I was thinking if I hit the putt," Ko explained, "oh, ball goes in. Oh, it's funny, and then next hole and then I got birdie. Like, ah, again? Birdie again, again, and then seven times. It was really fun to play."
That fun stopped when Ko went after an uphill 20-foot birdie bid on the ninth and paid the price with a three-putt bogey that stalled her momentum. Ko parred the entire back nine in finishing with her 66.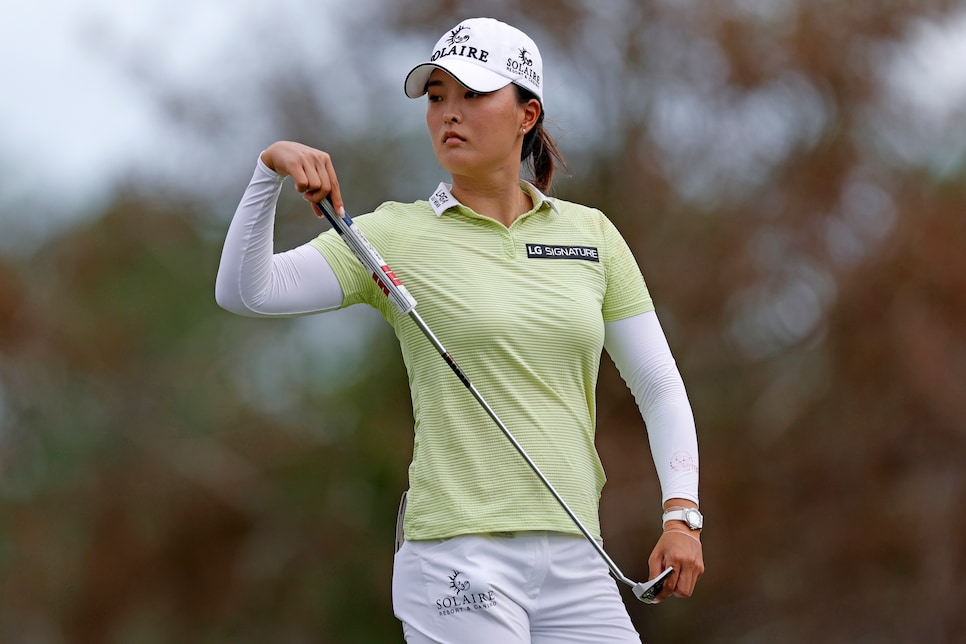 Jin Young Ko of South Korea reacts to her putt during the third round of the CME Group Tour Championship.
Douglas P. DeFelice
The electric start came after not warming up on the range before play, which she hasn't done all week due to nagging wrist pain she's battled since May.
Ko rated the pain this week as the worst it's felt all year, and she took medication from the LPGA doctor ahead of play on Saturday morning while being taped by a trainer. She's pushing through, having to win or finish in second and Korda in ninth or worse to earn the player of the year honors. A victory would further bolster the South Korean's impressive 11-win LPGA resume, making her the money title winner for three consecutive years.
Hataoka basically mirrored Ko's front nine on the back, posting seven birdies for a closing 29, including five in a row to finish. Her bogey-free 64 made up her eight-shot deficit in one round.
"I was playing really well," Hataoka said through a translator, "because I feel like I was able to manage really well, especially where to drop the ball, how to stroke the ball. I think my overall image of the game was pretty good today."
Hataoka, 22, who lost a playoff to Yuka Saso in this year's U.S. Women's Open, discovered the image of her game by her Trackman numbers. She said they portrayed a stronger player than her recent run of play showed. A two-time winner in 2021, Hataoka's best finish in her last three starts was a T-40 at last week's Pelican Women's Championship.
Korda, 23, coming off last week's win in the Pelican Women's Championship, had every reason to feel good about her level of play heading into the Tour Championship and continued her torrid stretch Saturday with a 67. The only thng hindering the World No. 1 was a near-penalty on the par-3 12th. Korda went wayward left off the tee with the flag on the back left of the green, and she shared in her post-round press conference she believes she's hit it into the left pine straw each of the last three years.
After preparing to hit her second, Korda thought her ball may have moved. She called a rules official over for review. The official went to video and deemed the ball returned to its original place, sparing Korda a crucial penalty stroke. "One stroke penalty is a big difference out here," Korda said. "That moves you a good bit down the leader board. I was definitely a little stressed."
Korda responded with a birdie and an eagle on the two par 5s left in her round. The long hitter has feasted on the scoring holes, going 10 under on the par 5s going into the final round. She notably tucked a 145-yard 9-iron for her second to inside five feet for eagle on the 469-yard par-5 17th to move to 14 under to set up for a big-ticket draw with Ko Sunday.
Boutier had an opportunity to separate herself Saturday, sitting four ahead of the field after a tournament-record 14 under through two rounds. Instead, Boutier struggled to maintain her pace, making just two birdies to go with a pair of bogeys.
"I feel like I was just playing such easy golf the past two days," Boutier said, "and then today I wasn't sure if it was just my game or it was playing that much harder. But it was definitely night and day from yesterday to today."
Boutier, 28, felt she pressed once the putts didn't drop early. She had 32 putts, following 28 and 29 in her first two rounds, Boutier went over to the practice green after her press conference in an attempt to rebuild her confidence. She was the last player at Tiburon practicing Saturday.
There are 13 others within five of the leaders with a chance to play spoiler at the Tour Championship, with Gaby Lopez and Mina Harigae at 13 under joining Boutier in the penultimate Sunday grouping.
However, they seem like secondary characters to the principal stars of the LPGA, with Korda and Ko squaring off one last time in 2021.