Winner's Bag
The clubs Xander Schauffele used to win the gold medal at the Olympics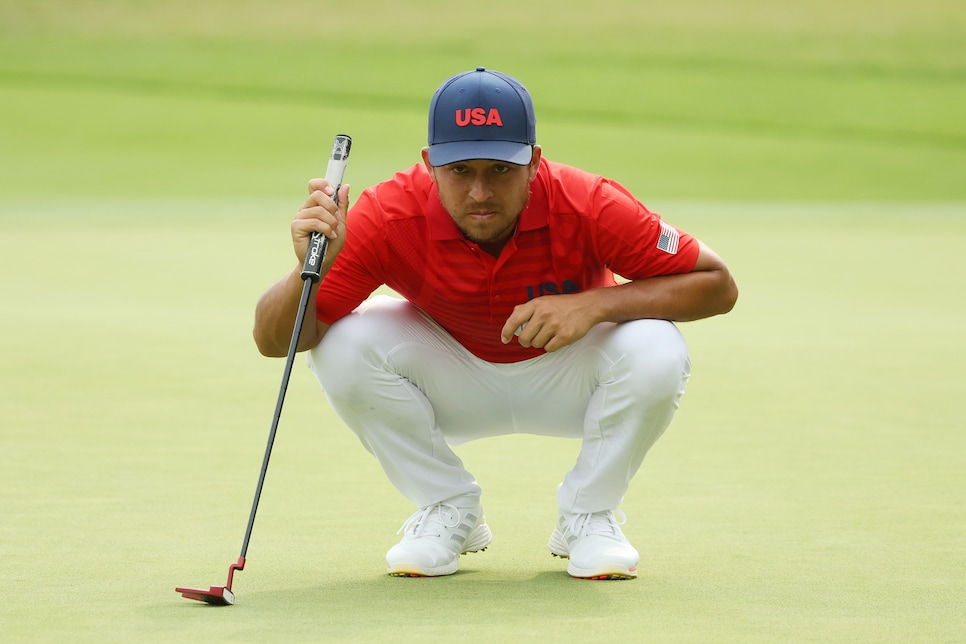 Although the birdie Xander Schauffele made on the short par-4 17th or the sporty up-and-down for par at the last will go down as the decisive margin, it was a bogey he made on a relatively easy par 5 that proved pivotal in his one-shot win over Rory Sabbatini of Slovakia to win the gold medal in the golf competition at the Tokyo Olympics.
Seemingly in control with a four-shot lead that had winnowed to one, Schauffele flared his tee shot on the par-5 14th at Kasumigaseki Golf Club into thick bushes and trees. Lucky to even find the ball, Schauffele took an unplayable lie penalty drop then was fortunate to knock the ball out from the trees. His fourth came up short of the green but he salvaged a much-needed bogey with a timely putt.
Schauffele's Odyssey O-Works Red 7 CH mallet putter was a key element throughout the tournament. The club features a "crank" hosel, which Schauffele explained to Golf Digest last fall.
"The hosel is interesting," he said. "It creates a little bit of toe hang whereas many mallets are face-balanced. It helps it swing the head a little easier. I've always wanted to be a blade guy but never really got into it. This putter is an old friend of mine that I got away from for a little bit but I'm glad it's back on this journey with me. It almost swings itself and those two long white parallel lines in back kind of let you know when you're not doing the right thing with your stroke and when you are."
Schauffele also changed golf balls earlier this year at the Memorial, moving into Callaway's new Chrome Soft X LS, a ball designed to lessen driver spin, which Schauffele was seeking. According to Callaway, Schauffele saw a 200 rpm drop in spin across the bag, giving him the spin window he was looking for—especially on the wedge into the final hole that hit and spun back close to the cup setting up the winning putt for the American.
What Xander Schauffele had in the bag at the Olympics
Wedges: Callaway Jaws MD5 (52 degrees); Titleist Vokey SM6 (56 degrees); Titleist Vokey SM8 WedgeWorks (60 degrees)
Find the right club for your game with our new Hot List interactive: