The Loop
Clinton to breathe new life into storied event
NEW YORK -- In the darkest days of the recession, there was real reason to be concerned about of the future of one of the most-beloved fixtures on the PGA Tour, the stop in the California desert long associated with comedian Bob Hope. Now, through the collaborative efforts of former President Bill Clinton and the health benefits provider Humana, Inc., the event will not only survive but also has a chance to thrive as a truly unique event.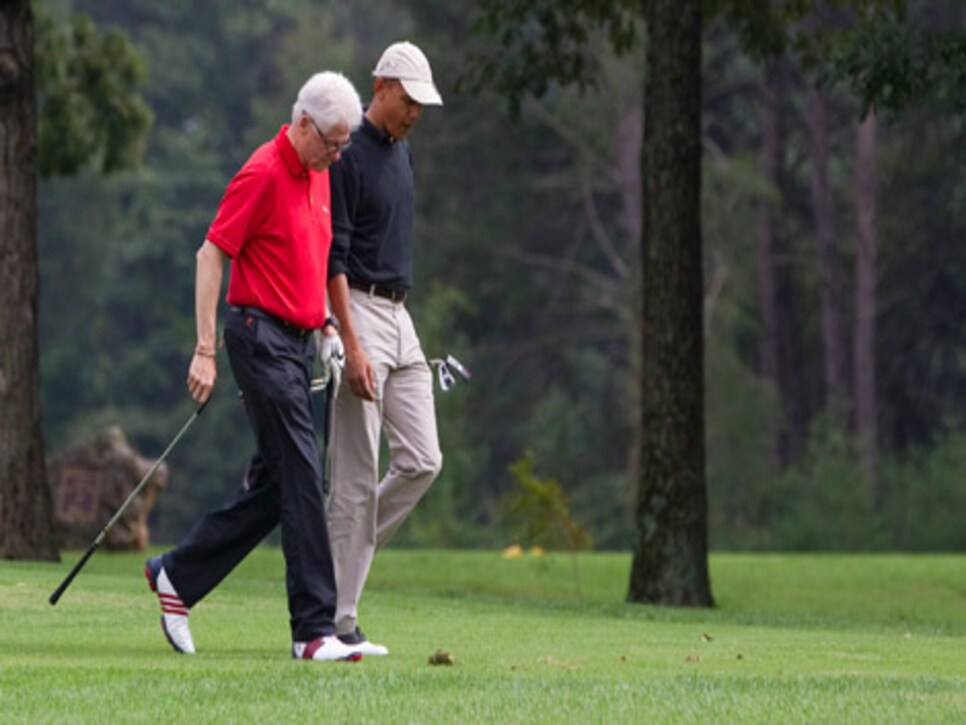 *Clinton, pictured here in a recent round with President Obama, has been trying to practice what he preaches by eating and living healthier. Photo by AP Images.
*While much has been made of the format changes to the tournament -- four days instead of five, three courses instead of four and only one amateur per professional the first three days -- the real news is that the Humana Challenge, as it will now be called, will be a week-long educational effort to get people to live healthier lives. The Tuesday before next year's tournament -- Jan. 17 -- will feature a conference on health and well-being with Clinton delivering the keynote address.
__*[Related: Ranking the golfing presidents
](http://www.golfdigest.com/magazine/2009-02/presidentsranking)*__
"I think everyone knew there had to be some sort of reorganization in order to save [the Bob Hope Classic]," Clinton said Thursday to a small group of reporters gathered at the offices of the William J. Clinton Foundation in Harlem. "We thought this would be an opportunity to focus on the health and wellness of children, and that's a big part of what my foundations does now."
One of the initiatives of the Clinton foundation -- the Alliance for a Healthier Generation -- has 12,000 schools in American trying to improve the diet and exercise habits of students. Through the work of the Alliance, soft-drink makers voluntarily lowered calories in beverages served in schools. Now, Clinton and Humana, which has an eight-year commitment to the tournament, will use a PGA Tour event to bring those messages not just to young people but to all who attend.
*__[Related: The delicate dance of golf and politics
](http://www.golfdigest.com/magazine/2011-06/photos-politics-and-golf#slide=1)__*
"I think it is a different direction for us, because historically our tournaments are organized for charity," said PGA Tour commissioner Tim Finchem, who has known Clinton for 35 year's going back to when Finchem was an economist in the Jimmy Carter Administration. "But we've never really taken an opportunity to reach our fan base with messaging that asks for change of things that would impact behavioral change."
For Humana, the tournament is not just an opportunity to market its brand, but also a chance to modify lifestyle behavior in a way that will reduce the healthcare costs it has to pay out for those it insures. Chronic conditions, like diabetes and heart disease, can be greatly reduced by healthy living.
"It's become quite clear to us that the concept of health, fitness, and well-being is going to have to be at the core of changing what's happening in this country from a health care cost perspective, and from a personal health perspective," said Mike McCallister, Humana's chairman and CEO. "No one has found the magic formula yet, but, ultimately, it's behavior change among people to start taking charge of their own health."
*__[Related: President Obama on the course
](http://www.golfdigest.com/golf-tours-news/2010-01/photos_president_obama_golf)__*
The dynamism Clinton brings to the project is off the charts. Listening to him talk about the tournament reveals his passion for people, politics, health care and golf. In many ways, he has not stopped being President. When he speaks about healthcare, he places it in a political perspective that helps sell the message.
"We're having all these fights down in Washington today about the budget," Clinton said. "And the reason is that if you're a conservative, some of the choices that have to be made are unpalatable, and if you're a liberal, some of the choices you have to make are unpalatable. The one free choice we have is to become healthier."
Then, in a startling aside that had nothing to do with the tournament, golf or health care, he offered an observation that was as chilling as it was accurate. If he was calling for people to live healthier lives, he was also pleading for more reasonable behavior on all fronts.
"Americans have gotten over all their prejudices," Clinton says. "The country is much less racist, much less sexist than we used to be. Hardly anyone is prejudice against people because they're gay anymore. The only thing we don't like now is we don't want to be around people we disagree with. Just think about it."
Clinton, who has battled heart disease and had a quadruple bypass, has lost about 25 pounds from his peak weight and looks robust. He can no longer play to a 10 handicap, but he exercises daily, including long walks with his two dogs, and has made major changes in a diet that once famously included stops at fast-food restaurants.
"I'm pretty close," he says with a laugh when asked if it is true he has become a vegan. "The vegan publications gave me credit for not claiming to be one. But I basically don't eat meat or dairy and rarely fish. I just decided I wanted to hang around as long as I could."
When Clinton talks about golf, whether it is about playing with Michael Jordan, George W. Bush or Padraig Harrington, it is with a clear love of the game. "I like being around pros," he says. "You always learn something." But Clinton is a man who has trouble leaving a room, especially if he is talking about something he cares about.
He was in office when the Presidents Cup began and the evening before competition began, he hosted both teams at the White House. "It was about midnight and the President's out there talking," says Finchem. "Hillary came out and said, 'If you want your players to play golf in the morning, you need to get them on the bus, because if you're waiting for him to go to bed, he's not going to bed.'"
With a shrug of his shoulders and a bite of his lower lip, Clinton explained: "I was talking about golf."
Clinton, who noted that golf is a sport where not only do the participants walk, but so do the spectators -- something that happens in no other game -- says the better conditioning of pro golfers will help sell the message of healthier lifestyles at the Humana Challenge.
"If you ask somebody why the average driving distance had gone up, they'll say it's the equipment that's better and that's true," says Clinton. "But I would argue far more than the equipment is how seriously these players take fitness. It's a different world. When I was a kid, most of the golfers on tour looked like everyone else in Hot Springs, Ark. Nobody would look at Padraig Harrington standing next to me and mistake me for a professional golfer."
When Clinton tells the story of playing golf with Bob Hope when the comedian was 95 ("He made a par on a 175-yard par-3") it is to make a point about living healthy, noting that Hope walked an hour a day every day of his life. That Hope lived to be 100 will be one of the messages of the Humana tournament.
"We all know what we need to do to be healthy," says McCallister. "We've known for decades: Eat less, get exercise, quit smoking. The doctors have told us this forever, and people aren't doing it. So it's just going to take some different approaches and a different way to communicate and motivate and incentivize to get people to have more interest and fun in doing this."
One component of that new way of doing things begins in January at the Humana Challenge. The tournament that appeared it might not have long to live now has a chance to help millions of golf fans live longer.