The Loop
Trending: Eastwood and Timberlake created bond at Augusta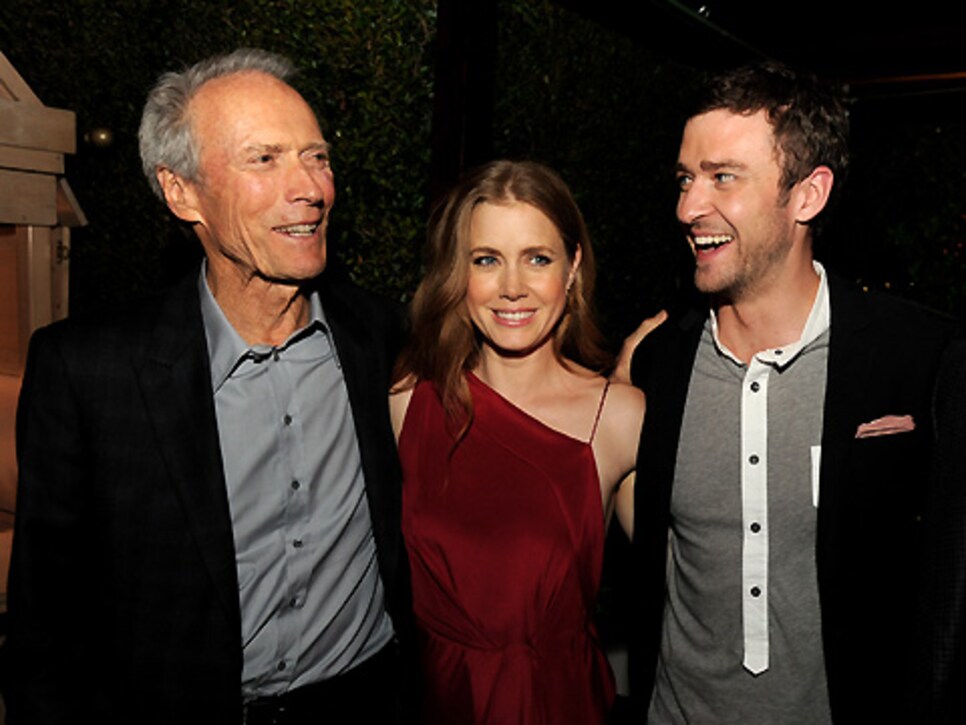 Clint Eastwood, Amy Adams, and Justin Timberlake at the Trouble With The Curve premiere after party. Photo: Kevin Winter/Getty Images
If you're a red-blooded American male, chances are you envy the lives of Clint Eastwood and Justin Timberlake. Success, fame, money, women, toughness (well, Eastwood at least); they seem to have it all. And just when it seems it can't get any better for two of the country's preeminent leading men comes word the pair spent some time together playing golf at Augusta National. Two rounds. A week before the Masters.
Let us take a moment as the collective sighs dissipate.
In a recent interview with USA Today promoting their new film Trouble With The Curve, Eastwood and Timberlake admitted their shared passion for the game led to some off-set time on the course during their Atlanta-based production. Being that Eastwood didn't direct Curve, he was able to spend some time working on his game in-between shoots.
"When you're directing, you never get to play golf," Eastwood told USA Today. "But we managed to get a few rounds in down there."
"Down there" of course refers to Augusta National, and though scores weren't revealed, the time the two spent together seems to have served at least their sense of humor well.
"If [Timberlake] had been a lousy player it would have been, 'He can't play the role.' " Eastwood joked, probably knowing a trip to the home of the Masters was in the cards during his stay in Georgia.
"He might be great on the tape, but what's his handicap?" Timberlake fired back.
Timberlake sports an impressive 5 handicap, so he had no problems sharing a few rounds with the legend, and maybe a few laughs at his expense. Which is more than can be said for director Robert Lorenz and the rest of the Curve crew.
"The two of them would go off and have fun while the rest of us were working all the time," Lorenz added.
But can we expect the duo to make any future tee-times together?
"We were just talking about that. When does the sun go down?" Timberlake asked, somewhat rhetorically.
"I don't know." Eastwood replied. "How late do you think the driving range is open?"