New wedges
Cleveland RTX 6 ZipCore wedges: What you need to know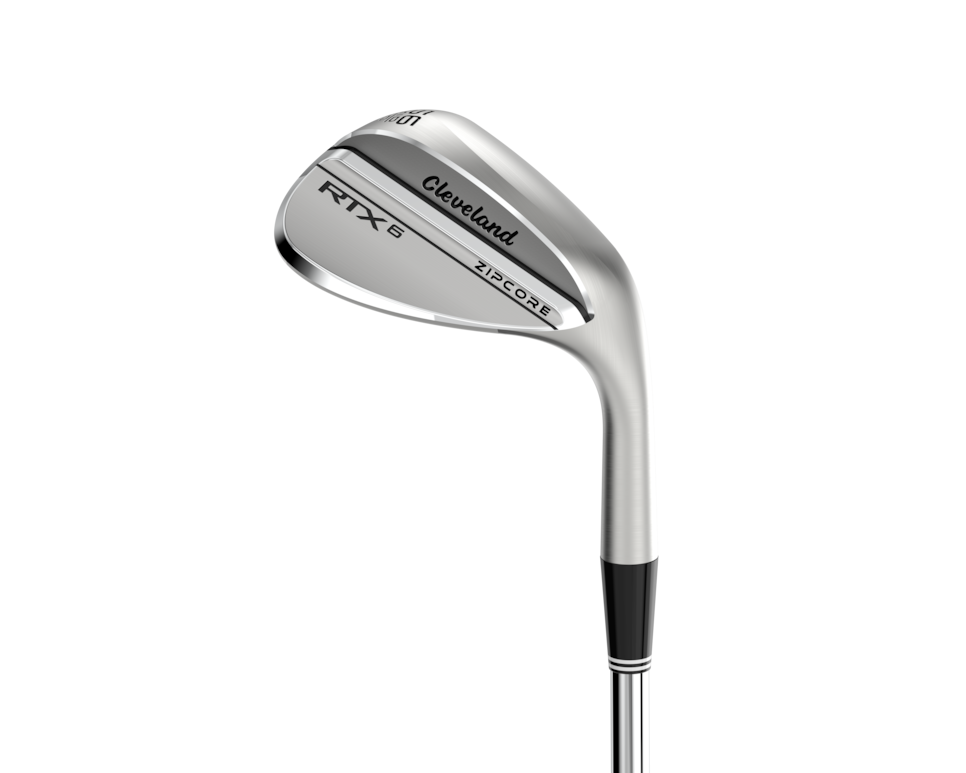 WHAT YOU NEED TO KNOW: Cleveland's follow up to its successful RTX ZipCore line features a larger ZipCore section (nearly twice the size) that allows weight to be removed and placed elsewhere to boost forgiveness, particularly in the high-low direction. A new finish combines with a laser pattern to optimize spin, particularly on shots where there is moisture on the ball or from the rough.
PRICE/AVAILABILITY: $170 for standard model (eight loft options), $160 for Full Face (seven loft options). Available Jan. 20.
1. Looks can be deceiving
On the outside, the ZipCore RTX 6 wedge looks a lot like many other wedges on the market. But inside, particularly in the hosel area, there are significantly differences. Like the original ZipCore offering, mass is removed from the hosel and low-heel area of the wedge and replaced with a aluminum-silicate compound. The compound is a quarter of the weight of the steel it replaces, saving 21 grams that can be moved elsewhere—double the amount of the original ZipCore. Rather than being injected into the design, the compound occupies an asymmetrical shape that the rest of the wedge is cast around.
If this seems like a lot of fuss for a wedge, well, there's a reason. The weight saved is repositioned so the center of gravity is better aligned with the sweet spot and that the head rotates less on high and low misses. That means more distance and spin consistency through better moment of inertia.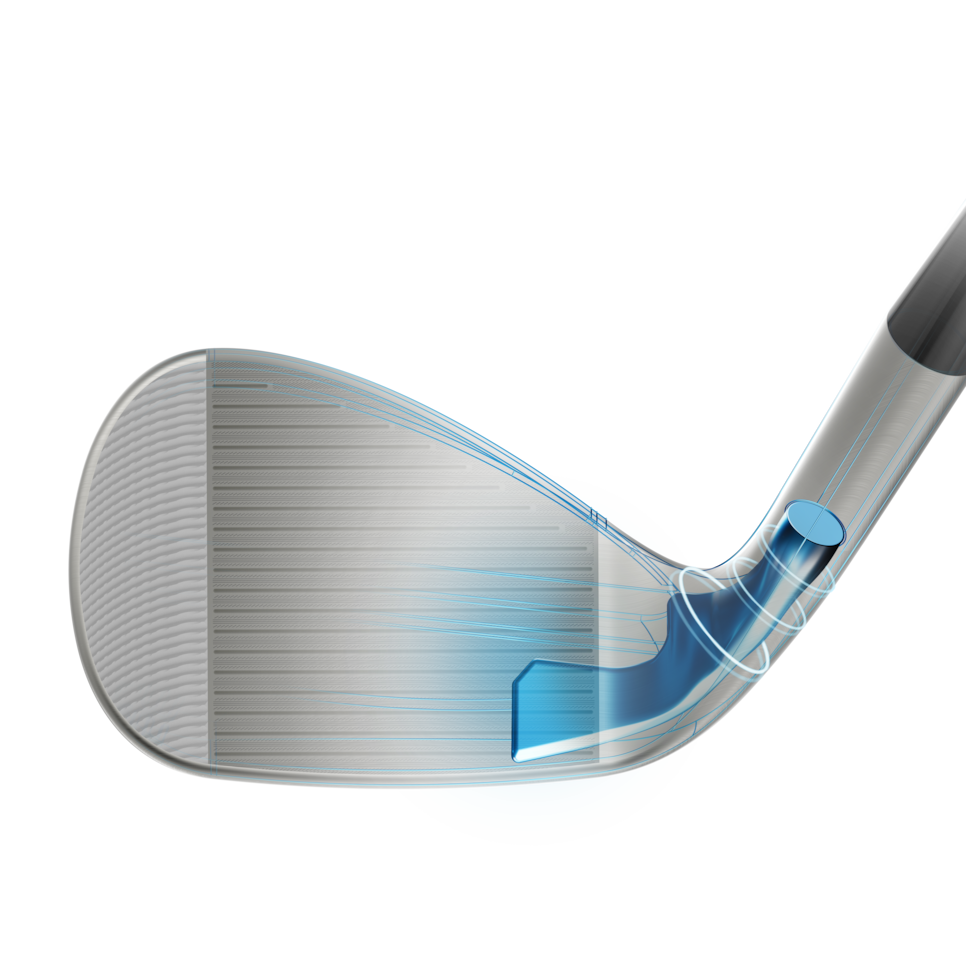 "Although we saw a 3-percent gain in MOI in the heel-toe area, we were focused on improving the MOI in the high-low direction," said Jacob Lambeth, senior research engineer for Cleveland/Srixon. "Players don't miss wedge shots in the heel-toe direction as much as with other clubs, so we felt improving high-low was more beneficial." As such, the saved weight was used to enhance high-low MOI by 12 percent with just a 1-millimeter shift of the CG towards the heel. "Normally you wouldn't want the CG moving heelward, but the slight shift is a tradeoff we're willing to accept in order to get the MOI boost—that outweighs the shift," Lambeth said. "You're cutting under the ball—hitting it high on the face—with a high-lofted wedge so having high-low MOI increases can help maintain distance on those shots."
2. Help for the dewsweeper
OK, the name HydraZip that Cleveland uses to label the face finish is pure marketing jargon, but the actual technology is meaningful for all players, particularly for the dawn-patrol crowd that's playing off dew-laden grass for much of their rounds.
HydraZip uses laser patterns and a blast finish to create a new face that has increased friction. That, on its own, would be significant. However, Cleveland took things a step further. Knowing the club is delivered to the ball much differently in lower-lofted wedges than higher-lofted wedges, the company created three different finishes by loft—one in low (46 and 48 degrees), mid (50 and 52 degrees) and high lofts (54 through 60 degrees).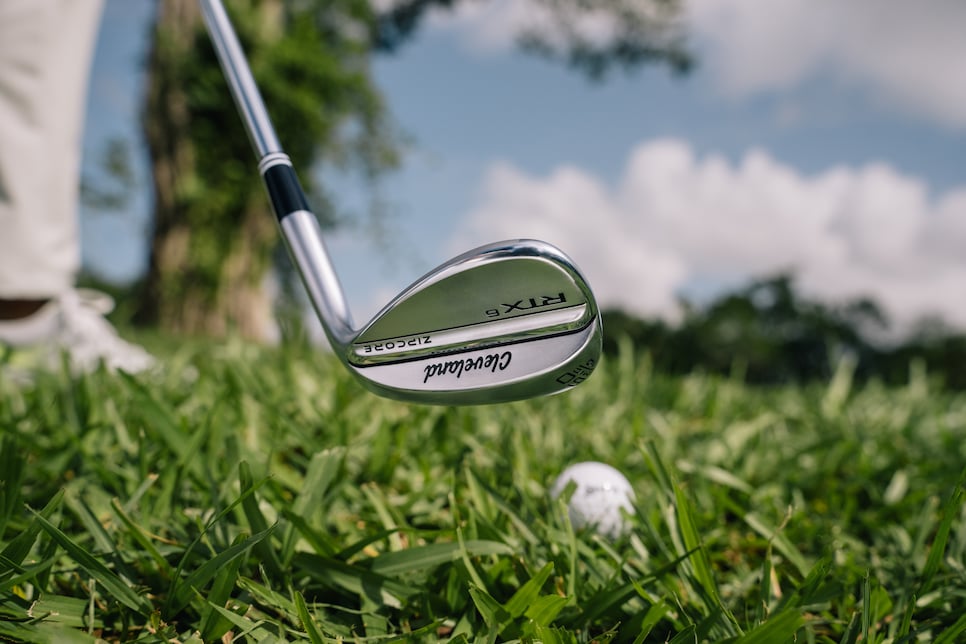 "We were looking for consistent spin between the wet and dry condition," Lambeth said. "We could get more spin on one of those conditions, but it would impact the other too greatly. It's not just about maximizing surface roughness. As you increase friction, spin will only increase to a certain point. You need to get the sequencing right to arrive at optimal spin. What we've done really helps on shots where there is some moisture on the ball."
3. Getting a grip from the rough
Believe it or not, a wedge with no grooves at all will produce about the same amount of spin as a wedge with grooves from perfectly dry fairway-height grass. Golf, however, is not played from that condition all the time. Cleveland's groove design on this wedge is aimed at helping increase spin from juicier lies.
Through extensive testing and statistical analysis, Cleveland arrived at a groove solution where a sharper top edge of the groove works with grooves that are spaced more tightly together, allowing for more grooves. More grooves provide more groove edges to contact the ball at impact, helping to grab the cover and generate more spin. There's also a slightly more V-shaped wall angle and a greater depth to channel away moisture and grass debris for cleaner contact.