News
Class of 2011 wins again, Ryan Moore returns to defend, and death of a volunteer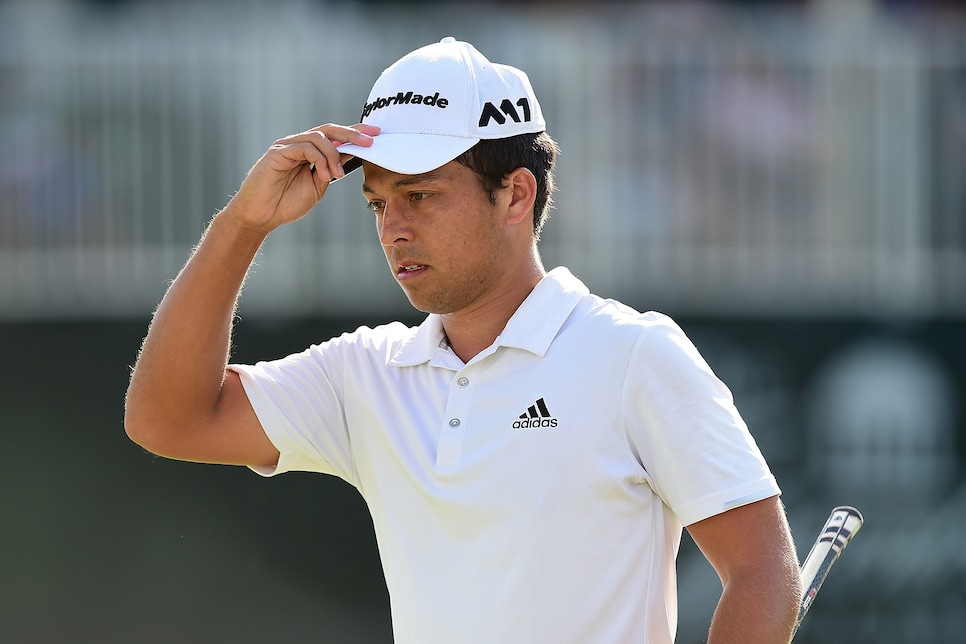 Another week, another victory for someone from the high school class of 2011, with Xander Schauffele the latest to add his name to the list following Sunday's win at The Greenbrier.
There are at least 10 players from the high school Class of 2011 playing on the PGA Tour, the star pupil being Jordan Spieth with 10 wins including two majors. Others – Justin Thomas, Daniel Berger, Emiliano Grillo – have had big-time success, too.
This is the real Tiger Woods effect: Players winning younger than ever. Already, 17 players younger than 30 have won this season. That's more than any of the previous three years and there are still eight events left until the playoffs.
Why so much success so early?
"They were all very talented at age 12 or 13, so someone had to play well out of that group and it just happens all or most have," said Mike Thomas, Justin Thomas' dad and also his coach. "Having played against each other through junior and amateur golf, college golf, they pushed each other. Once one of them had success, they all thought, 'I've beaten him before, I can do that.' They've been doing it for a while."
Technology, coaching and training are also better than ever. There's another factor, too.
"We have a lot of talent and are fearless," Justin Thomas said.
As for Schauffele, there was also a plan in place long before he turned pro. When looking at colleges, he wanted to go somewhere he'd play a lot. In his time at Long Beach State and San Diego State, he did just that, playing in every tournament of his college career -- something that likely wouldn't have happened had he gone to better programs.
"It was a good game plan by he and his dad," said Ryan Donovan, Schauffele's coach at San Diego State. "He was the guy for four years. He developed being the guy, handling so many situations, that once he got to the next level the only difference was he just playing for money.
"There are so many good players [at the college level] but looking back at it, these guys just play with so much confidence … so from that aspect I'm not surprised."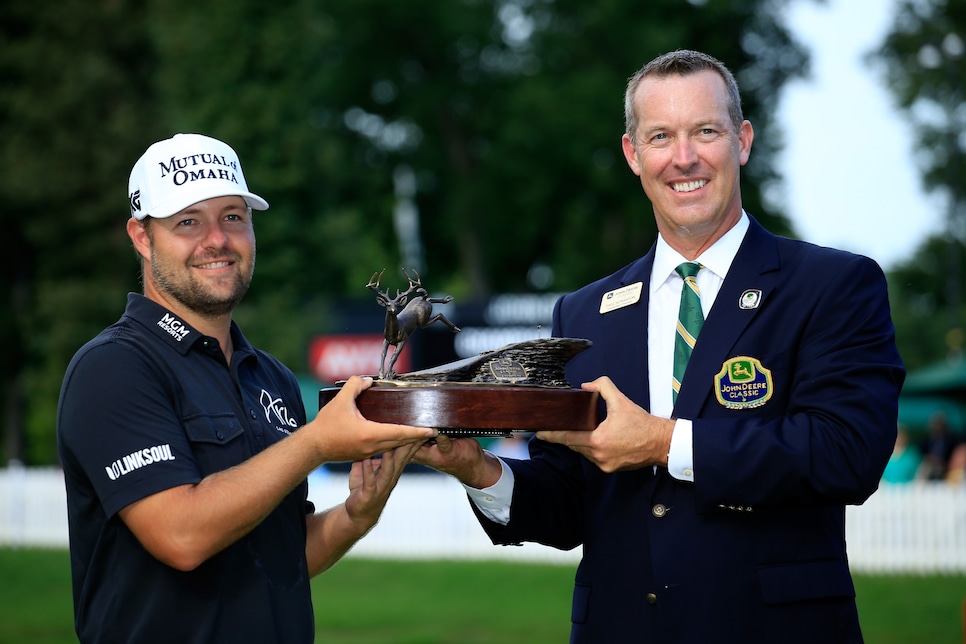 MOORE BACK TO DEFEND AT JOHN DEERE
This week Ryan Moore will make his first start in more than a month after sitting out the past five weeks because of a shoulder strain.
What does the defending champion of the John Deere Classic expect?
"I don't know," he said matter-of-factly. "Haven't played a tournament in a little while, so that part of it, just kind of getting back into the flow of playing an 18-hole round of golf, might take a day or two.
"My game and body and everything feels very good and very, very comfortable. I'm not having to worry about that side of it. That's I guess the mental strain I was trying to avoid, maybe coming back a week or two earlier, having some of that stuff in the back of my head and having the last two weeks to just really focus on swinging again, playing again, and getting comfortable at golf courses was really important so I can just kind of show up and play this week."
When to return from injury isn't always easy to figure out given the ebb and flow of a season, but Moore didn't want to miss this one, and he didn't want to rush back too soon.
"It's feeling better than before I hurt it," Moore said. "I probably could have come back a couple weeks ago if I really needed to, but I thought this was the right time with the end of the season being a pretty big push here."
Moore's victory at the John Deere last year was the first of four top-10 finishes in a six-tournament span to end the season. The strong finish basically forced Davis Love III to use his final captain's pick for the Ryder Cup on Moore, who returned the favor by securing the clinching point for the Americans.
At 19th in the Presidents Cup standings, another late-season run could land Moore on Steve Stricker's squad. He'd certainly be deserving.
DEATH OF A LONG-TIME VOLUNTEER LEAVES VOID
Every week on tour there are a few thousand volunteers, give or take, who donate their time to help make a tournament run. The whole thing is part traveling circus, part staple of the community.
Last week, Charles Austin died in a crash involving a four-wheeler. He was 68. He had also been a volunteer at this week's John Deere Classic for the past 27 years.
Tournament director Clair Peterson in a statement called Austin a "very special member of our volunteer force," adding, "on behalf of Chuck's 1,750 fellow volunteers, title sponsor John Deere, the tournament staff, the players and the PGA Tour, I want to express our deepest sympathies to Chuck's wife, Ann, and all of his loved ones."
It's a loss that is being felt not just this week at the tournament but throughout the community.
In addition to his volunteer duties, Austin spent 33 years as a math teacher before retiring in 2004, was the boys' golf coach at Rock Island High School for 16 years, active as a track and cross-country official, was an alderman, served on the Rock Island County Animal Care and Control board of directors, was past president of Marriage and Family Counseling Service and volunteered with Quad City Music Guild, United Way, Friendship Manor and Special Olympics, among many other duties and organizations.
He even made two holes-in-one in his life.
Whoever wins this year's tournament will get the headlines. But it's people like Austin who help make them happen and for that he'll be remembered long after the circus leaves town.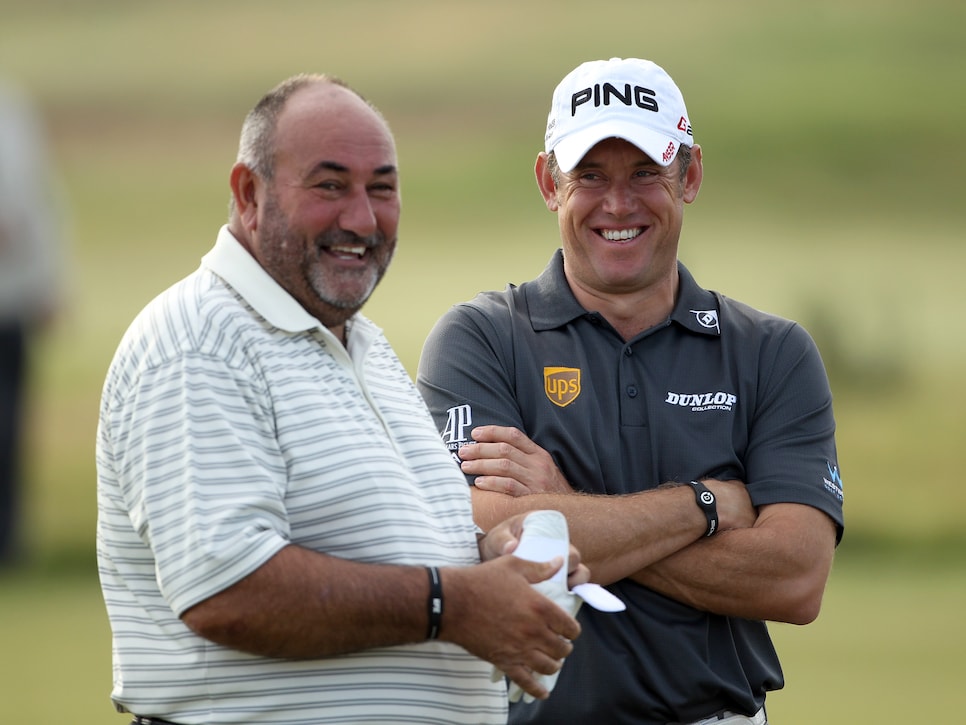 First Phil Mickelson and Jim (Bones) Mackay split after 25 years together and now word from across the pond is that Lee Westwood and agent Chubby Chandler have parted ways after 24 years. This split, however, appears to be much more acrimonious. Hey, nothing is forever. …
Jon Rahm will reach No. 1 in the world someday. Not exactly a stretch given that he's already up to No. 8 following his victory at last week's Irish Open, but Rahm has all the tools: He's long and accurate, hits the ball high and has an imaginative short game and a flair for the dramatic and confidence to match. …
Can someone get Dustin Johnson and baseball's Aaron Judge next to one another on the same field? Ponder these numbers: Johnson's swing speed is 125 mph and ball speed 187 with a 12-degree launch angle. Judge, who won Monday night's Home Run Derby, blasted one ball off the roof with a bat speed of 116 mph that required a 41-degree launch angle and had a projected distance of 463 feet. He also had 16 home runs with an exit velocity of at least 115 mph.
If this were a few years ago, I'd put all my cash on Zach Johnson and Steve Stricker. They own the John Deere Classic with seven wins and runner-up finishes between them. But neither has been particularly inspiring this year. Jamie Lovemark on the other hand is coming off a T-3 at the Greenbrier and has netted top-30 finishes in four of his last five starts. He'd also keep the trend of 20-somethings winning.