News
Xander Schauffele rolls some impressive numbers in Vegas and other takeways from Day 2 at Shadow Creek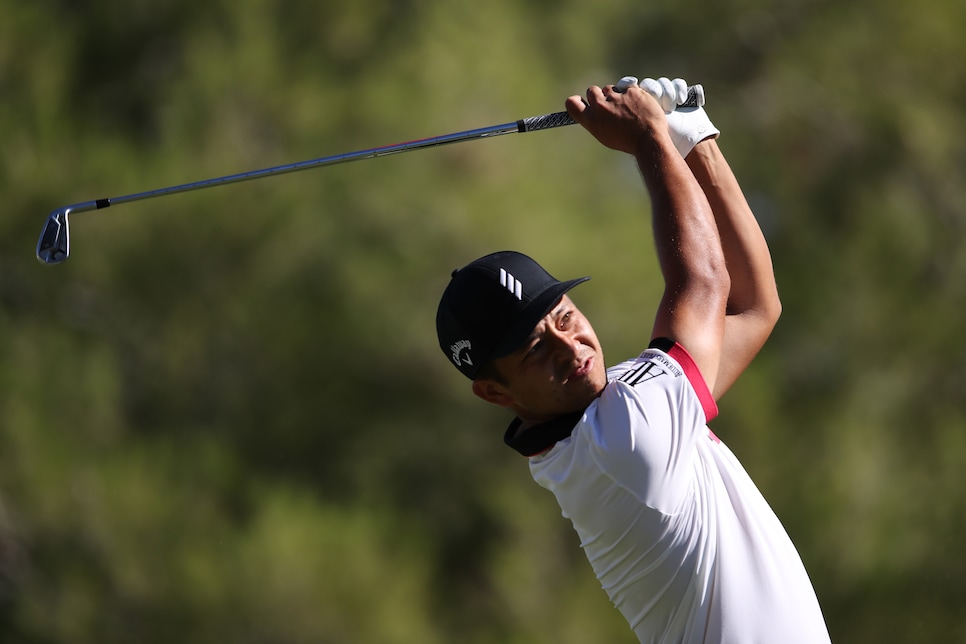 Xander Schauffele plays his shot from the 13th tee during the second round of the CJ Cup.
Christian Petersen
Golf at Shadow Creek in Las Vegas is akin to watching a video game. Conditions are pristine with nary a blade of grass out of place and the backdrop at times jaw dropping.
Friday, Xander Schauffele played like he was in one, too. At least for a little while, anyway. His 64 was a heater apropos of the setting as he raced to the top of the leader board.
Here are our takeaways from Day 2 at the CJ Cup.
What kind of roll was Schauffele on Friday? In his first seven holes alone he made more feet of putts than he did in his entire opening round at Shadow Creek.
Starting on the back nine, he made a 26-footer on 14. A 37-footer on 15. A 21-footer on 17. You get the idea. Then there were the iron shots that he stuck close, and a chip-in.
All of it led to seven birdies, including six straight at one point, and a 29 through Schauffele's first nine.
"Yeah, it was nice," he said. "Some of those holes you're not really trying to birdie them, you're kind of just trying to leave yourself an uphill 35-footer and fortunately I made a couple of them."
But the motto in Vegas casinos is the longer someone plays, the more they lose. Schauffele, in his own way, was no different as he made just one birdie over his final nine holes.
"Got a little bit stale there on the other side," he said. "Pace of play slowed down a lot, kind of hot, easy to let the mind wander. Upset I didn't make more birdies, but pleased I didn't make any bogeys."
And pleased he has a three-shot lead over the red-hot Tyrrell Hatton.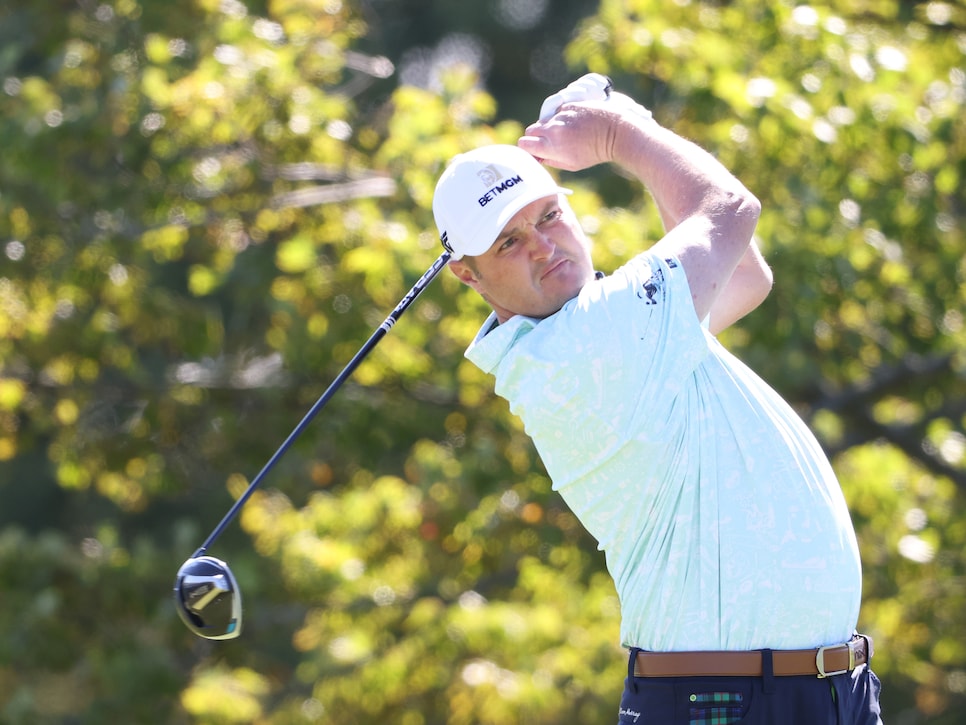 Jason Kokrak, shown playing in the U.S. Open, has an advantage at Shadow Creek becuase he's played the course frequently.
Jamie Squire
Kokrak feeling comfortable on a familiar course
Though Shadow Creek hosted the 2018 exhibition between Tiger Woods and Phil Mickelson, this week marks the first time the Tom Fazio and Steve Wynn-designed course has hosted a PGA Tour event. It didn't take long to draw rave reviews, either, with Rory McIlroy and Rickie Fowler saying that it serves for a good warm-up for Augusta National and the Masters.
But of all the players in the limited-field event perhaps no one was happier to see the tournament move from Jeju Island in South Korea to Shadow Creek than Jason Kokrak. That's because as an ambassador for MGM—the resort that owns the course—the 35-year-old has played there at least 20 times.
"You've got to be very particular where you land the ball and normally it's just point and shoot," he said. "So it's a little bit different. The rough's high, it's very penal when you get in that rough. There's just some spots where you can't miss it."
Though Kokrak did miss his share of fairways on Friday, hitting just over half of them, he didn't miss much else in making eight birdies and just two bogeys on his way to a 66 to climb into a tie for fifth.
And while power helps—Kokrak is averaging over 320 yards off the tee this season—it's the shots as he gets closer to the hole that are paying the biggest dividends so far. All but one of his birdies came from 11 feet and in.
"A lot of people talk about Dustin [Johnson] being a complete player," Kokrak said. "After his wedges were dialed in, he won next to everything. So I think if I can get pretty good inside of 150 yards a little bit better than I am now, I've been driving it a lot better and putting it a lot better, so we're close."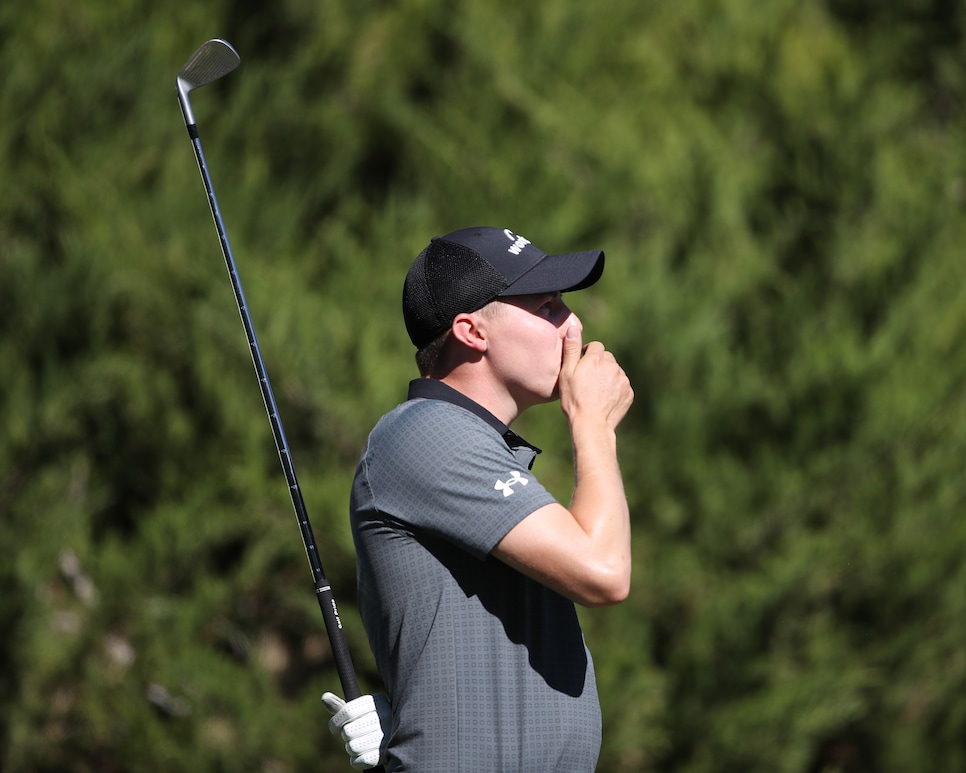 Matthew Fitzpatrick reacts to his shot from the fifth tee during the second round of the CJ Cup.
Christian Petersen
Fitzpatrick: 'Stop hitting sh-t shots'
Matthew Fitzpatrick was humming along on Friday with seven birdies through his first 13 holes and hovering near the top of the leader board. All was right in the Englishman's world.
Then came a bogey on the par-3 fifth, where he failed to get up and down from the sand. Then a double bogey on the par-4 sixth, where he hit a horrendous pitch and slapped it around the green.
Fitzpatrick redeemed himself with a birdie on the par-3 eighth but it didn't last. One hole later he nearly hit his second into the creek left of the green and failed to get up and down again, making another bogey to cap a 68 that had the makings of something much lower.
Afterward, he didn't mince words.
"Just stop hitting sh-t shots," he said when asked what he needed to clean up going into the weekend. "Just rubbish. Middle of the fairway, standard iron to the middle of the green, just get out with par. You know, missing the green, mis-strike, leave myself short-sided. Yeah, it's just very difficult, it just kills all your momentum, particularly when you've got a good round going. Frustrating. But like I say, there's been some good stuff in there so far, so hopefully just have more of that over the weekend."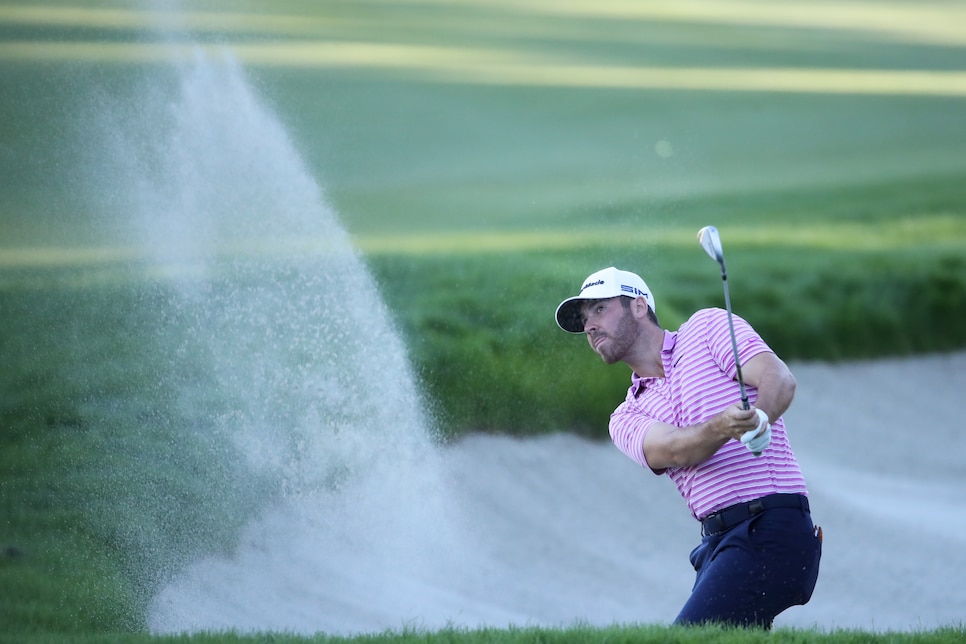 Matthew Wolff plays a shot from a bunker during the second round of the CJ Cup.
Christian Petersen
Another hot mess for Wolff
A day after Matthew Wolff shot 80 to sit in last place, things didn't go a whole lot better on Friday.
Yes, he was seven strokes better in the second round. But coming down a hill on the eighth hole, he turned his ankle. Then on the 16th the search was on for his ball in the deep rough short of the green on the par 5. That's when his playing partner Hatton's caddie Michael Donaghy stepped on it.
Hilarity ensued. Trying to determine if Wolff should get to replace his ball a rules official asked the caddie what kind of lie the ball had, to which Donaghy deadpanned, "Better lie than that."
Wolff cracked up, replaced his ball and got up and down for birdie.
The bad news? He's still in last place.