PGA Tour
Players count the reasons why the field is so strong this week for CJ Cup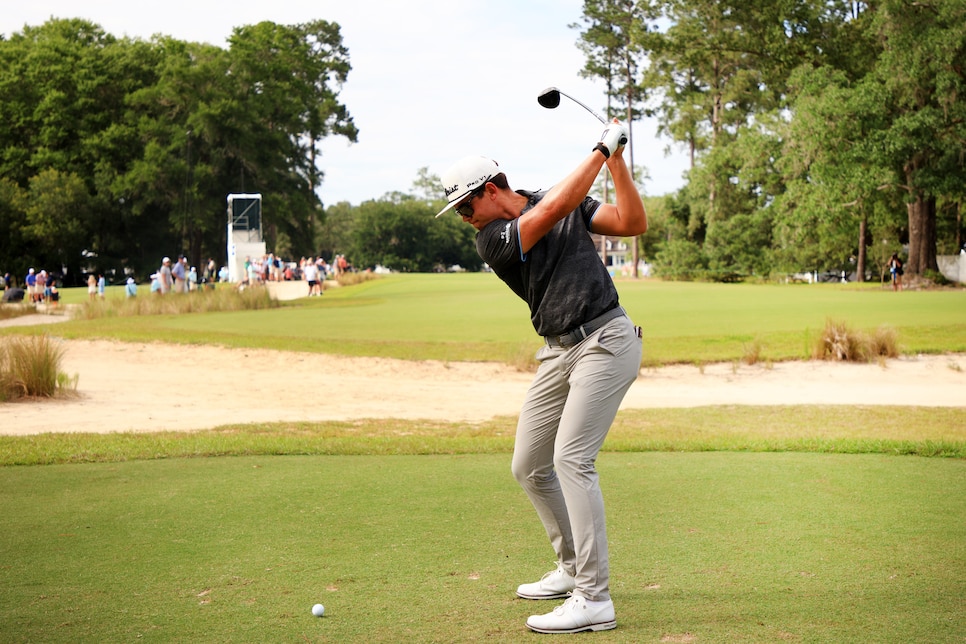 Garrick Higgo won the 2021 Palmetto Champonship at Congaree, where trees and sand dominate the landscape.
Mike Ehrmann
RIDGELAND, S.C. — If you want a bunch of top players to show up to a tournament, a good way to go about it is to have a $10.5 million purse and no 36-hole cut. That's usually the recipe for a deep field in the world of touring professional golf. But things get complicated as the end of a calendar year draws closer, and so the elite field that the 78-man CJ Cup has produced this week in at Congaree Golf Club in South Carolina was not a fait accompli.
Many golf fans are probably wondering why an event in late October—and a week after the PGA Tour just held a tournament in Japan—has a field boasting 21 of the top 30 players in the world, including No. 1 Scottie Scheffler, defending CJ Cup champion Rory McIlroy, Jon Rahm, U.S. Open winner Matt Fitzpatrick, Jordan Spieth, Justin Thomas, Tom Kim and Collin Morikawa. Thirty six of the 78 players who competed in Japan last week, including winner Keegan Bradley, will also tee it up at Congaree.
For Billy Horschel, a resident of Ponte Vedra Beach, there was one easy reason why he decided to play his 24th official tournament of the year.
"If it wasn't two and a half hours from my house, I would have taken October off like I did last year; I didn't go play CJ Cup last year in Vegas," Horschel said on Tuesday at Congaree. "I can drive here, so that was that was a big factor in it."
Horschel has recently returned from playing two flagship events in the U.K. on the DP World Tour—the BMW PGA Championship at Wentworth and the Alfred Dunhill Links Championship in Scotland. One would think he'd be fatigued by this stage, but several prominent players from the recent European swing are also in the field this week—including BMW PGA winner Shane Lowry, McIlroy and Fitzpatrick.
Fitzpatrick, who captured his first major at The Country Club at Brookline in June, said the reason DP World Tour stars were eager to play the CJ Cup was its timing in their transatlantic schedules. It will be the last PGA Tour event of the year for many of the Euros before they head to Dubai next month for the DP World Tour Championship.
Similar to Horschel's road trip from Ponte Vedra, the proximity to Jupiter and Palm Beach, where Fitzpatrick, Lowry and McIlroy are based, also helped.
"It's only one hour 15 minutes on the plane from where I live," Fitzpatrick said. "But it's the timing in the schedule; you can play here and then can shut it down [PGA Tour-wise] for the rest of the year. I've got three weeks off before Dubai, so it fits nicely."
Fitzpatrick tied for 10th when the PGA Tour came to Congaree last year, when South African Garrick Higgo captured the one-off Palmetto Championship held just before the U.S. Open.
Three-time major winner Spieth is also signing off on the PGA Tour for 2022 after Congaree, although he won't play the DP World Tour finale in Dubai. Spieth will take some time off before likely playing in Tiger Woods' Hero World Challenge event in early December. The 29-year-old wants a rest but doesn't want to be punished in the form of a FedEx Cup points deficit come January, when the PGA Tour starts back up at the Sentry Tournament of Champions at Maui's Kapalua course. This will also be the last edition of the PGA Tour's wraparound schedule. That's why Spieth is at Congaree.
"I don't want to start really behind like I have last two years come Kapalua, so it would be really nice to get off to a good start and have a strong finish here because I think this is probably the only FedEx Cup event that I'm able to play this fall," Spieth said Tuesday.
And then there's the golf course. Several players have listed the design at Congaree as one of the lures for this CJ Cup. Maybe not the biggest draw, but still enticing. Congaree is a thoughtful design that meanders through sandy terrain and pine trees in rural Ridgeland, S.C. At its core is a links-style layout where the ground game is more prevalent than some other venues on the PGA Tour.
Spieth said the strategy required at Congaree was similar to Australia's Melbourne Sandbelt, where courses such as Royal Melbourne and Kingston Heath share some resemblance to Congaree. Spieth has won two Australian Opens, and although they were both in Sydney, he has made plenty of social trips to the Melbourne Sandbelt while Down Under.
"There's no rough, so it kind of has a little bit of that Sandbelt feel with the packed kind of sandy areas everywhere," Spieth said. "I love just these giant trees that shape the holes and tee shots [at Congaree]. There's a mix of some easier holes, some really meaty hard holes, some bigger green surfaces and some tiny tabletop-type greens on par 5s and short par 4s."