The Loop
Chris Williams the latest to make pro debut at the Travelers Championship
CROMWELL, CONN. -- There is nothing random about the fact that Chris Williams will make his pro debut Thursday afternoon at TPC River Highlands. On the contrary, that the No. 1 ranked amateur in the world, three weeks removed from wrapping up a standout college career at Washington, would choose the Travelers Championship as the spot to start playing for pay is becoming a habit. A year ago UCLA All-American Patrick Cantlay did the same after making the cut as an amateur a week earlier at the U.S. Open.
Needless to say, this puts a smile on Nathan Grube's face.
Tournament director at the Travelers since 2004, Grube has consciously fostered a reputation for offering sponsor's exemptions to up-and-coming golfers. "It absolutely has become part of the identity of who we are as an event," Grube said. "It's something we try to be very strategic with as far as building relationships with a lot of the young guys coming out. It's something we take seriously."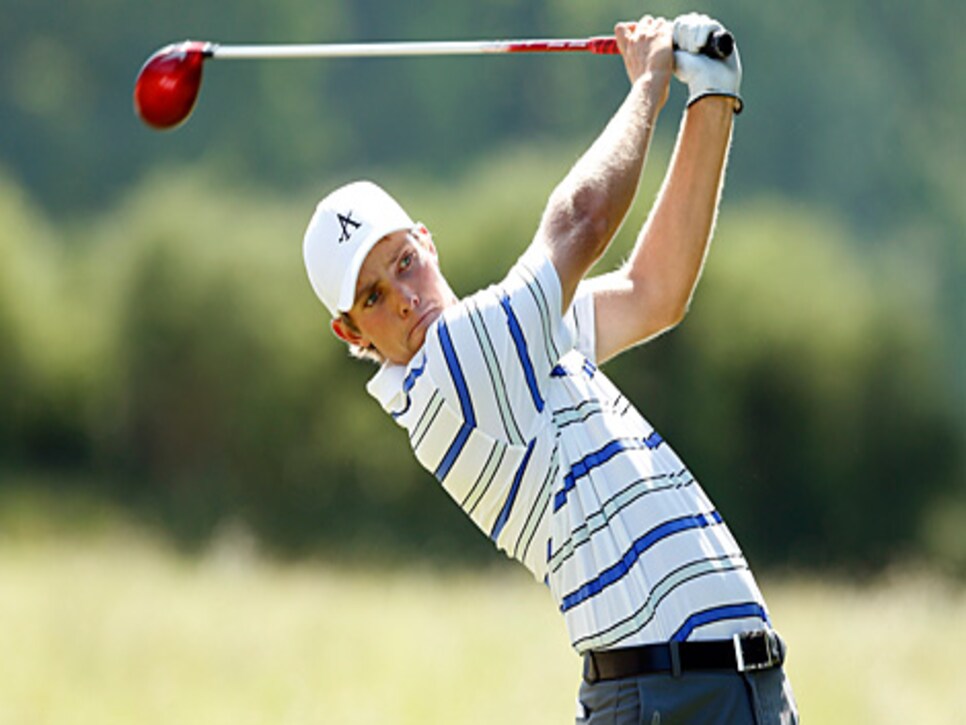 Williams was a recent recipient of the Ben Hogan Award. (Getty Images)
In the 1990s, when Canon sponsored the PGA Tour stop at River Highlands and also was involved with the American Junior Golf Association, the tournament saved an exemption for the AJGA's top player each year, with Charles Howell III, Hunter Mahan, Brian Harman and Peter Uihlein all taking advantage of the perk.
The unofficial policy of targeting young players became even more defined, however, when Travelers took over as a title sponsor in 2007, with four exemptions typically going to players in the first years of their pro careers. Grube says each January he begins "scouting" potential targets, exploring the college and amateur rankings and chatting with agents on who they are targeting as future clients.
Given the timing of the event -- shortly after the end of the college season and the week following the U.S. Open -- it has become a natural spot on the calendar for those looking to turn pro to make the jump. Along with Williams and Cantlay, Kyle Stanley, Morgan Hoffmann, Kevin Tway and Dustin Garza have all made their pro debut at the Travelers since 2009.
"It's a good transition. A lot of guys have done it in the past," said Williams, who missed the cut last week at Merion in his amateur swansong after winning one of college golf's top honors, the Ben Hogan Award, in May. "They've turned pro here and that's definitely what I wanted to do."
Williams reached out to Grube expressing his interest in playing. He also let it be known that despite having an exemption into the British Open thanks to his amateur ranking (one good only if he remained an amateur) he would be willing to forgo it and play as a pro if a spot was available.
Such a condition isn't a prerequisite; Grube also invited Alabama sophomore Justin Thomas into the 2013 field knowing he was going to remain an amateur in hopes of making the U.S. Walker Cup team later this year.
Grube looks at the strategy as a long-term investment for the tournament. The idea is simple: he scratches players' backs now, when they are relatively unknown and in need of a break, and hopefully they'll scratch his back later when they're famous and he needs them to boost his field.
Frequently it plays out just like that. Stewart Cink made his pro debut here in 1995 and is playing for the 13th time this week.
Aside from seeing players return each year, there is no metric that helps Grube measure the benefit he believes the tournament gets from establishing itself as a young-gun friendly event. Yet the anecdotal stories he hears these players spread about Travelers helps leave an overall positive perception of the event that spreads throughout the tour.
Sometimes, too, the player getting the exemption creates his own storyline. When Cantlay played as an amateur in 2011, he shot a second-round 60 -- the lowest score by an amateur in PGA Tour history -- that made national headlines. "Obviously it made us look like geniuses but we had no idea," Grube said. "Everything just worked out. We love it when things like that happen."
Whether Williams will make similar news this week is unknown. That his debut might inspire others to contact Grube about a spot in the 2014 Travelers Championship, however, seems likely.