News
Chris Stroud's mindset: 'If I beat Rickie Fowler every day, I'll probably be doing OK'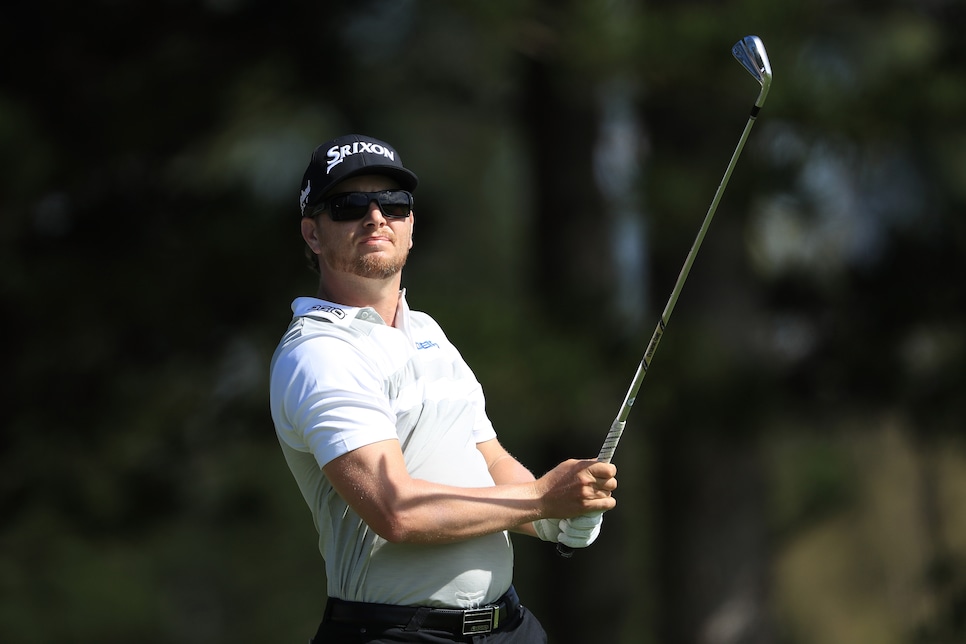 KAPALUA, Hawaii – Chris Stroud arrived on Maui this week eyeing a few specific performance goals and harboring a mindset that he hoped would optimize his first appearance in the Sentry Tournament of Champions.
Be aggressive, especially on the par-5s.
Win the battle from 40 yards and in.
Don't waste an opportunity some top players might take for granted.
Sounds weird, that last bit, but hear the man out.
"I know if I beat Rickie Fowler every day, then I'll probably be doing OK," said Stroud, a journeyman pro from Houston who won his first PGA Tour title last year by surviving a three-man playoff in the Barracuda Championship. "Rickie is one of the most consistent players the last few years. Every round it seems like he shoots 68. He's always in or around the top 10 in just about every event [10 top-10 finishes, 16 top-25s last season]. So I just try to beat Rickie."
Does Rickie know he has this virtual target on his back?
"No, I've never told him," Stroud said with a grin. "He'll probably think it's funny. I think it's a pretty good goal."
Oddly, Stroud, who turns 36 in February, realized a career-long goal of winning on tour when he had liberated his mind from his results-driven personality. His victory in the Barracuda Championship, played opposite the WGC-Bridgestone Invitational and using the Stableford scoring format, came in his 290th career start and less than a year after accepting the idea that it might never happen.
"I told myself that I know I'm good. I'm going to work hard, and I'm just going to do the best I can," he said. "I just needed to trust it more."
The native Texan even wrote the thought down in his yardage book a year ago in December along with a list of other notes and reminders. With direction from his mental coach, Kevin Kirk, he got his mind focused on simply playing the game he had been playing since he was five years old when his father took him to the tiny nine-hole Port Groves Golf Course in Groves, Texas.
"The word, 'allow' is the key word," Stroud said Saturday morning over a light breakfast of scrambled egg whites, salmon and toast prior to his third round at the Plantation Course at Kaplaua. "A win will happen but I can't make it happen. I have to allow it to happen." He puts extra emphasis on the word.
"I used to try to force it," he added. "I'm still that same guy, but I just had to let it go and allow things to happen. And it worked."
Allow is a key word this week, too. Stroud, who has competed in nine majors in his career but has never qualified for the Tour Championship or a World Golf Championship event, wasn't about to let an opportunity to play in a small-field, no-cut tournament go to waste. He prepared assiduously for Kapalua, practicing on slow, grainy greens at home. After a two-week break following his last start at the RSM Classic, he played nearly every day before leaving for Maui.
He also picked the brains of fellow Texans Jimmy Walker, Patrick Reed and Steve Elkington for tips on how to handle the Plantation Course and its windswept hills and slopes. They advised him to be aggressive. Everywhere. On par-5s and short par-4s. Try to chip in as much as possible. Stroud liked the sound of that because it fit with how intensely he wanted to excel in a field of just 34 players.
"I don't get to play with these players all the time. I'm not in the Tour Championship every year, I'm not in the majors all the time – hopefully that does change – so, my goal here was to be really prepared, be aggressive," Stroud said after his second-round 66 tied Jordan Spieth and Pat Perez for low round of the day – and beat Rickie Fowler by five shots. That left him tied for fourth with Perez and Jhonattan Vegas.
Yep, ahead of Rickie. Doing OK.
A standout player at Lamar University with 13 victories, including six in his senior year, Stroud said he's "learned more about golf in the last year than in all the other years I've played combined."
What he means is that he better understands how to play and what to work on. For instance, he rarely beats balls on the practice range. He tries to win that all-important battle from 40 yards and in, but even then, he is specific about that goal. On average, he tries to get the ball within nine feet of the hole. That's from any position. "When I looked at the stats, that opened my mind," he said, "because that would win just about any week on tour."
An additional factor in his progress on the course has been a growing interest in the business world off it. Stroud, who majored in management information systems at Lamar, is involved in three business ventures, including one with a good friend in Houston named Jim Crane. He owns the World Series champion Houston Astros. Through that relationship he has played golf with other successful people, like former NBA great Michael Jordan.
If you can get comfortable around ultra-successful people, don't be surprised if some of it rubs off.
The week following his victory at Montreux Golf Club in Reno, Nev., Stroud was in Charlotte for the PGA Championship at Quail Hollow Club, his first major since the 2014 PGA. Through three rounds he was one off the lead before tying for ninth, his first top-10 finish.
He looked to be getting on a roll, but the start to his season in October – five starts without a top 25 – was disappointing, giving him all the more incentive to push the envelope at Kapalua.
On Saturday, he briefly held a share of the lead with two early birdies, but driver troubles scuttled scoring chances, and he could do no better than a 1-under 72.
Just so you know, Rickie Fowler shot 68.
Nevertheless, at 9-under 210, Stroud is in eighth place. Still doing OK.