News
Chris Paisley's maiden European Tour win is extra special thanks to his caddie this week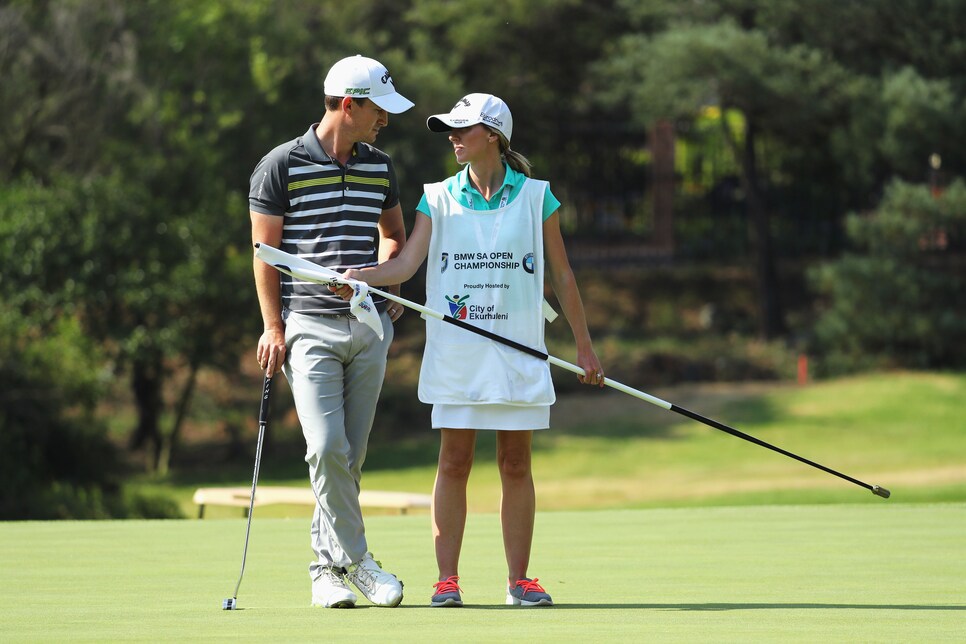 Warren Little/Getty Images
Chris Paisley was never going to forget his first victory on the European Tour, whenever it came. But the 31-year-old Englishman's three-stroke win over Branden Grace at the BMW South African Open was made all the more memorable thanks to the person he had on his bag during the week at Glendowner Golf Club: his wife, Keri.
It was the first time that Keri had caddied for Chris on tour, and she helped her husband hang on when Grace, a South African native looking to win the last marquee event in his country that he had never captured, took over the lead early in Sunday's round.
Paisley began the round one shot up on Grace, but the World No. 30 and eight-time European Tour winner got off to a birdie-eagle start to jump to the top of the leader board. Still, Paisley didn't press, making a birdie of his own on the second hole and then two more through the front nine to grab back the lead when Grace double-bogeyed the par-3 sixth.
On the back nine, Paisley remained focused, making three more birdies for a closing 66 for a 21-under 267. Meanwhile, Grace bogeyed the par-4 12th, so that his eagle on the par-5 13th and birdies on the 15th and 16th were too little, too late as he would finish with a 68.
"I still can't believe it," said Paisely, a former All-American college golfer at Tennessee who ranked 289th in the world starting the week. "Going head-to-head against Branden, in his home country with pretty much everyone in the crowd on his side was tough, but I just played great. I played out of my skin. I didn't even think I was capable of playing that well to be honest, and to come out on top in such a wonderful place is amazing."
Paisley's last win came on the Challenge Tour in 2012. His regular caddie was taking an extended vacation into the new year, so Paisley asked his bride to pitch in. "She doesn't know that much about golf, but she knows me really well and she knows when I'm going a little quicker than I usually do or getting a bit tight," Chris said. "Coming up the last fairway with her next to me was just incredible."