These Guys Are Good
Chris Kirk makes hole-in-one on first swing of tournament, is having quite a day in Mexico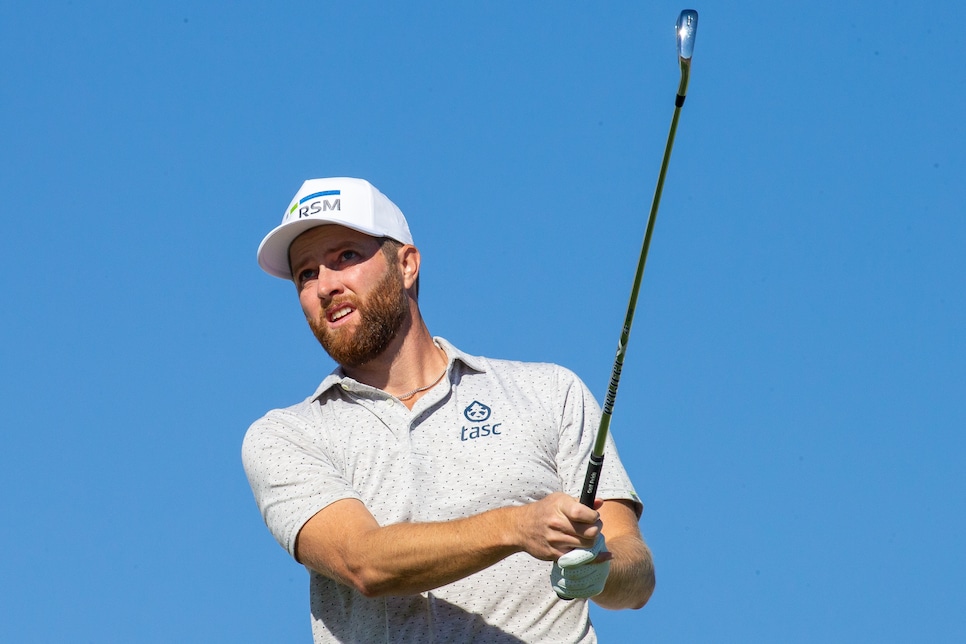 Chris Kirk needed just one swing to move to two under par on Thursday.
The four-time PGA Tour winner made a hole-in-one on his first hole of the World Wide Technology Championship at Mayakoba. Talk about a dream start to a day.
Kirk began his round on the par-3 10th hole at El Camaleon Golf Club, holing out from 200 yards. Although starting a round with an ace on the PGA Tour is rare—especially because it's not often you start on a par 3—Kirk isn't the first.
In fact, the last time this happened on tour was at this event in 2017. On the same hole. That's when fellow Georiga Bulldog Keith Mitchell pulled off the feat in what was also his first swing of the tournament. Yeah, these guys are good.
But Kirk kept the hot start going, making a birdie on 12 and another eagle on No. 13 to move to five under through four holes. He cooled off with bogeys on 16 and 18, but still made the turn in 31 to put himself among the (very) early leaders.
Kirk's last PGA Tour win came at Colonial in 2015. More recently, he won on the Korn Ferry Tour in 2020.
If you listened to this week's episode of Golf Digest's gambling podcast, Be Right, you would have heard our Steve Hennessey smartly suggesting taking a hole-in-one prop due to El Camaleon's set of short par 3s. Nice call, Steve, although funny enough, No. 10 is by far the longest of the four.
Anyway, congrats to those who followed Steve's advice on the quick cash. Oh, and congrats to Chris.
UPDATE: Kirk wound up shooting a seven-under-par 64 to begin the tournament. And after, he told reporters about his hole-in-one, which no one saw go in:
"Yeah, made me feel a little better about my 4:30 wake-up call this morning," Kirk said. "Yeah, No. 10, it was 204, perfect -- got to land it a little bit short, so perfect 6-iron for me to land it a little short. I hit a really good shot. We were first group out, so it was still kind of overcast and dark, and walking up, as we got close to the green, it was like there's not a ball there, there's not a ball there. Justin, my caddie, was like, 'I swear I saw it rolling on the green,' so I was like, 'It's either in or just over in the rough,' and sure enough, Danny and Jonas actually got up there before I did and started celebrating early."