News
Chris Stroud travels from oblivion to major contention, all in a week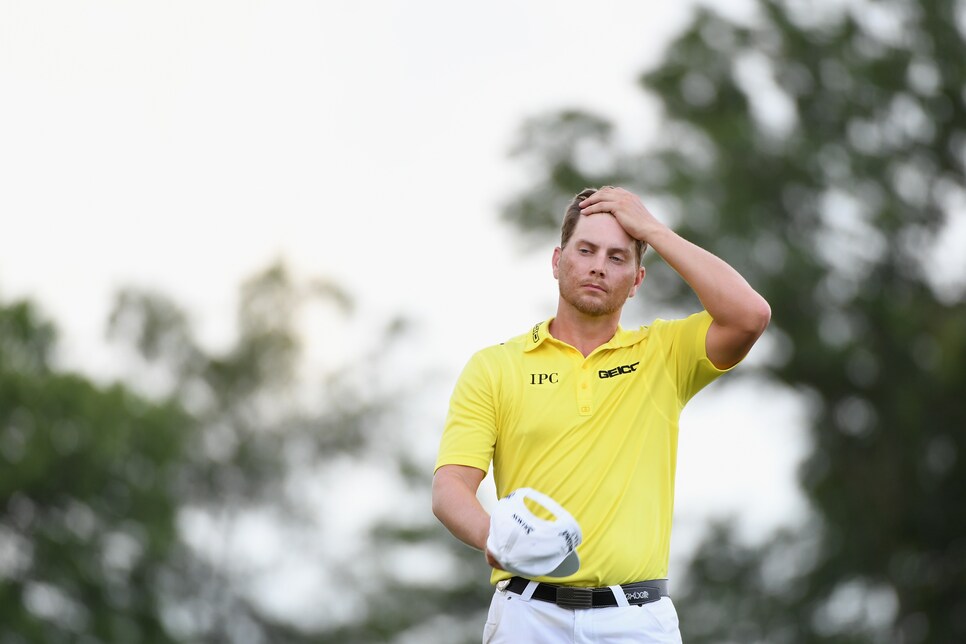 CHARLOTTE — So he has this putt uphill, against the grain, forever to the hole, and he has slapped it hard, and it's on line, and he knows it's good, tracking dead-center, and he's talking to it, "Go in," only it's going too hard, and he's still begging, "Gooo innnn," and from way down there he sees the ball strike the back of the cup, "Ahhhh," and it doesn't drop out of sight, there's too much speed, and it bounces out right, "Oooh," causing him to whisper something into his hand, probably something, he won't say what, that the grandson of a Baptist preacher ought not be saying out loud.
It was at the 16th hole, one of Quail Hollow's most diabolical, a par 4, 506 yards, and the putt for a birdie would have been nice. But when you're Chris Stroud, unknown, it's a putt you are happy to have, a putt you loved seeing because it's a putt that you never imagined hitting because, seriously, who bounces around the PGA Tour for 11 years, 0 for 289 in tournaments, and expects to roll in a 45-footer on national television to become, for even a moment, a star in the 99th PGA Championship?
Chris Stroud is a Texan, long and lean with a sun-baked face and a scruffy beard the color of whisky you wouldn't want to waste. Put him under a black hat, give him a horse, he could pass as a ranch hand riding all day, all night. He's been a tough, stubborn cuss. All those years on the PGA Tour, he kept trying to win. Never did it.
Then, early this year, he quit trying. Nothing else worked. He tried all the ways. So he tried a new way. He didn't try at all. And he liked the way not trying felt. Lighter, more fun. The stars could burn with their famous fire and fury. Chris Stroud had been there. He let go of all that: "I literally said, 'You know what? I'm done.' I'm just going to do the best I can and have as much fun as I can. All of a sudden, it falls in my lap."
God has such a sense of humor. Once Chris Stroud gave up, he won. And now, Sunday, in the biggest tournament of his life, he can win again.
A week ago Stroud had a plan. Finish up the PGA Tour's Barracuda Championship in Reno, Nev., and cut out for home. In Houston he'd get reacquainted with his wife and three little girls. The man had been on the road a month. Maybe in his week off, maybe not, he'd sit by the TV and watch the PGA Championship. No big deal. He was 35 years old. He'd realized his boyhood ambition just by getting out there. Better, he finally understood a grown-up thing. He said, "I told a few guys, after golf is gone and done for me, all you have left is people and the relationships you have. I care more about people than I do about my golf."
He said that here this week. He said that here after shooting a 68 in the first round of the PGA.
Here? Yes. He quit trying to make it happen. And it happened. By winning a three-way playoff in Reno, he ended his 0-for-a-lifetime streak and earned the last spot in this PGA. That precipitated a change in plans. He drove two hours to Sacramento, asked his wife to bring him clean clothes, flew to Atlanta and on to Charlotte, fell in bed at 2 o'clock Tuesday morning, woke up at high noon, went to Quail Hollow Golf Club—and now, a week after Reno, he might, or might not, win the PGA.
"I told a few guys, after golf is gone and done for me, all you have left is people and the relationships you have. I care more about people than I do about my golf."
After opening rounds of 68 and 68, Stroud's 71 today left him at six under par, a shot behind the leader, Kevin Kisner. As Stroud came off the course, he walked through a series of obligatory interviews, first with CBS, then the BBC, then Golf Channel, then with a gaggle of reporters, and everyone asked, basically, the same question, a version of how in heaven's name has a Chris Stroud come to this place? The wonderful answer is, he doesn't know, either.
"I'm floating in a dream," he said.
And, "To finally get a win is really magical."
He asks his caddie, Casey Clendenon, to talk about anything but golf. Like science and spirituality, the Astros and the Texans. "Anything to take my mind off golf," he said. "As soon as I hit it, I'm talking about something else. If I say something, he goes, 'Hey, hey, hey, we don't care about golf.' It's just an experiment we tried last week and it absolutely worked."
His plan for Sunday's final round? "You know, don't change anything," Stroud said. Here he invoked wisdom from the greatest sports movie ever made. "Like Kevin Costner says in 'Bull Durham,' 'Don't mess up the streak,'" which is almost what Costner-as-Crash Davis said, though Crash used a verb seldom spoken aloud by grandsons of Baptist preachers. "I have the same everything I had last week. I have the same swing thoughts as last week. I have the same everything."
Even the same lucky outfit he wore while winning in Reno.
"Checkerboard pants and a white shirt."