News
Chile's Joaquin Niemann shoots closing 63 to win Latin America Amateur title and a spot in the Masters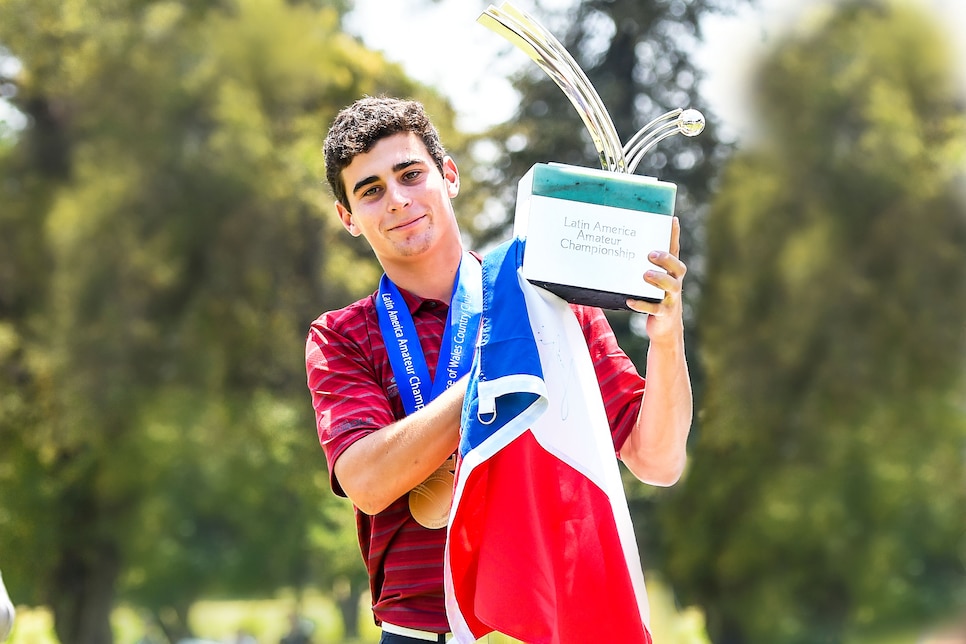 Joaquin Niemann, the No. 1 ranked amateur in the world, was ready to begin a highly anticipated professional career this coming week, but now finds himself "forced" to put those plans on hold temporarily. Don't fret, however, for the 19-year-old's future. The native of Chile will gladly wait a few more months to begin the next stage of his golf career in trade for what he accomplished on Tuesday—and the reward that comes with it.
Shooting a closing eight-under-par 63 at Prince of Wales Country Club in Santiago, Chile, Niemann turned what was expected to be a tense final round into a runaway victory at the fourth Latin America Amateur Championship. One stroke back of third-round leader Alvaro Ortiz, Niemann, who lost a playoff in this tournament a year ago, finished with a 11-under 273, five strokes clear at day's end.
The victory comes with an invitation to this year's Masters, provided Niemann is still an amateur in April, something he wasn't planning on being. The LAAC was going to be Niemann's last event as an amateur, fittingly coming in his home country eight months after ascending to the top spot in the World Amateur Golf Ranking (that ranking had already earned him spots into the U.S. Open and Open Championship later in 2018, but he already said he would pass them up to turn pro).
"It was a really fun day," Niemann said. "[From the start] I felt I could make a lot of birdies. I'm feeling really good for the Masters. I can't wait for April."
An invite to play Augusta National (as well as exemptions into the British and U.S. Amateur) didn't look like it was going to come to pass after Niemann shot an opening three-over 74 to sit six strokes off the lead in T-37. "I wasn't myself. I was a little nervous," Niemann said. "After I finished the last hole on my first day, I said to myself, 'I have got to shoot a low score tomorrow.' I said, 'I have 54 holes to bring it back and make it.' "
Indeed, Niemann did bounce back with a second-round 64, and despite shooting a third-round one-over 72, he was still in contention—along with several others. All told, 14 players were within three strokes of the lead entering the final round.
On Tuesday, Niemann made a birdie on the third hole to remain in the hunt. But things got going when he went for the green on the drivable par-4 eighth hole and caught a lucky break when his ball hit a tree but still managed to land on the green 313 yards from the tee. Niemann made the eagle putt to jump into the lead. It was the start of a seven-hole stretch in which he went eagle-birdie-birdie-birdie-birdie-par-birdie en route to setting the championship's all-time 18-hole scoring mark.
Ortiz, a 22-year-old from Mexico who is in his senior year at the University of Arkansas, shot rounds of 69-70-70 and was also hoping, like Niemann, to avenge losing to Toto Gana in the three-man playoff a year earlier. A closing 69 wasn't enough, though, to do the trick. With his runner-up finish, Ortiz does get exemptions into U.S. Open sectional qualifying and Open Championship final series.
"Hats off to Joaquin. He did an amazing job," Oritz said. "I'm not really that disappointed because I think I played really well. I think that we learn more from the defeat than in our victories. I think that I played well this week, and I'm going to take all the positives I can."
As recently as last summer, Niemann expected to remain an amateur for the foreseeable future. He was set to enroll in South Florida in the fall, but found out a few months before the start of school that he had not scored high enough on the TOEFL placement exam. Niemann's golf game, however, had never been better as he qualified for the U.S. Open at Erin Hills (where he missed the cut but gained valuable experience he thinks will help him at Augusta) and finished T-29 at the PGA Tour's Greenbrier Classic. He claimed the sixth seed after stroke-play qualifying at the U.S. Amateur at Riviera last August, only to face NCAA individual champ Braden Thornberry in the first round. The loss did not keep Niemann from earning the Mark McCormack Medal as the top amateur in the world at the end of the summer.
With his game blossoming, Niemann decided he would bypass college. He played in Web.com Tour Qualifying School as an amateur last month, earning conditional status with a T-108 finish at the final stage (despite a closing 64). Ironically, had he played better there, he said he likely would have turned pro and skipped the LAAC.
"In part it was good to not make it because right now I'm exempt to play the Masters," Niemann said. "I mean, this is golf and sometimes you're going play good golf and sometimes you don't. Right now I'm happy where I am and I'm happy to play the Masters in April."
After playing the LAAC, Niemann was set to compete tournament in Chile next week to kick off his pro career and then try to Monday qualify in Web.com events.
Now everything has changed. And Niemann couldn't be happier.