USGA
Chicago Golf Club awarded two USGA championships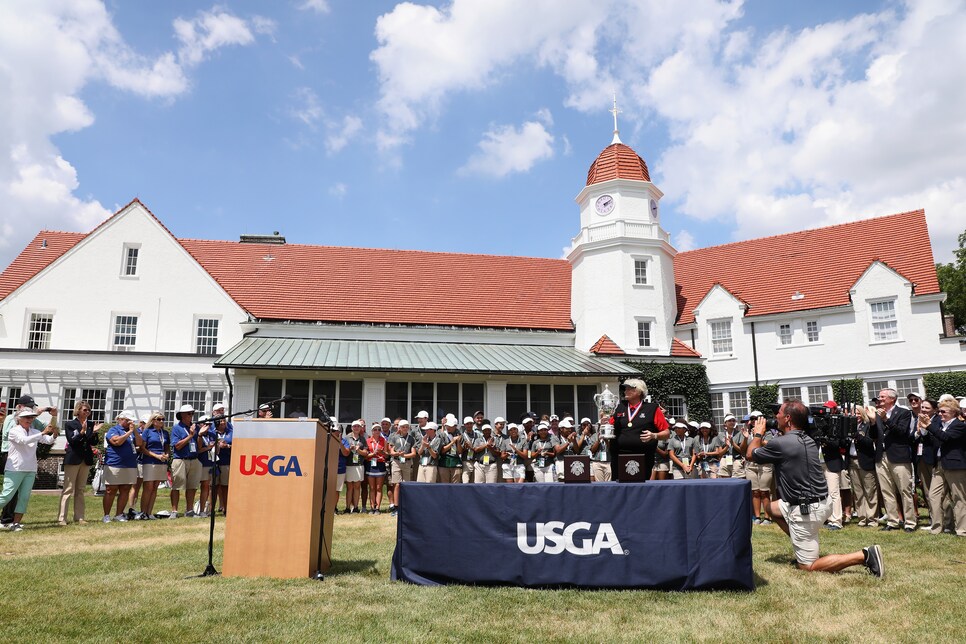 Laura Davies celebrates her victory in the inaugural U.S. Senior Women's Open in 2018 at Chicago Golf Club. The USGA will return to the historic club with a U.S. Women's Open in 2033 and the Walker Cup in 2036.
Christian Petersen
The USGA announced Tuesday that Chicago Golf Club will host an upcoming U.S. Women's Open and Walker Cup.
The club, located on the western outskirts of the Windy City, was one of the five founding member clubs of the USGA in 1894. Chicago G.C. was established by C.B. Macdonald, who also built the original course before his protege Seth Raynor redesigned it in 1923. The course underwent a recent restoration that included the addition of 13 bunkers that were discovered as part of Raynor's original design.
"The history of the USGA and American golf can't be told without Chicago Golf Club, and just over 125 years after hosting its first USGA championship, we're thrilled to announce our return for two additional significant events," said John Bodenhamer, USGA chief championships officer. "With the tremendous support of its members and some of the game's most iconic architecture, we're confident that Chicago Golf Club will deliver memorable moments and an opportunity for golf fans around the world to see one of America's finest golf venues."
The U.S. Women's Open will visit the course in 2033 with the Walker Cup following in 2036. Chicago G.C. has hosted 12 previous USGA championships, most recently the U.S. Senior Women's Open in 2018.
Minjee Lee was this year's U.S. Women's Open at Pine Needles, with the U.S. defeating Great Britain and Ireland last year at Seminole for the Americans' third straight victory. In 2026 the Walker Cup will be moving to even-numbered years.
"Hosting the best players in the world—men, women, amateur and professional—for USGA events is a point of pride for our club and a significant part of our long history," said Herb Getz, Chicago Golf Club president. "We very much look forward to building upon that history and continuing our valued partnership with the USGA on an even larger stage well into the future."