News
Chez Reavie's resiliency: Follows playoff loss with a 67 at Pebble Beach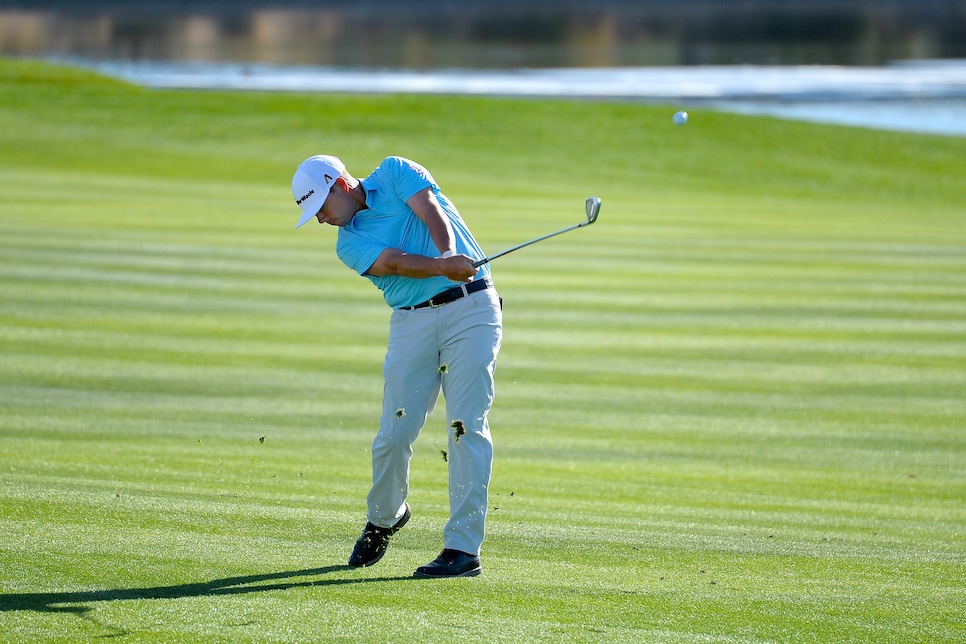 PEBBLE BEACH — Chez Reavie was so distraught by his playoff loss Sunday to Gary Woodland at the Waste Management Phoenix Open—in which he blew a chance to win since his only PGA Tour title at the 2008 Canadian Open—that he birdied his first four holes Thursday in the AT&T Pebble Beach National Pro-Am.
Golf requires resiliency. Lots and lots of it.
Reavie displayed the attribute all the way around Pebble Beach Golf Links in an opening five-under-par 67 on a gorgeous day on the Monterey Peninsula. He also displayed precision. He hit 13 of 14 fairways and needed just 23 putts in finishing two strokes behind pacesetters Kevin Streelman and Beau Hossler.
"I made some putts last week, and it was nice," said the diminutive 36-year-old tour veteran. "Starting my day [Thursday], I made some putts early, and I tried to hit as many fairways as I could."
Sounds like a plan. Sounds like the plan he had last week at TPC Scottsdale, when he outdueled scores of top players, including world top-10 occupants Jon Rahm and Rickie Fowler, only to fall to Woodland in overtime.
It's a plan he has employed all season. Expertly. Reavie has finished outside the top-25 just once in eight starts, but that's not hard to do when you rank ninth in driving accuracy and 12th in greens in regulation on tour. Sure, other guys hit it farther. (A lot of other guys!) Reavie is 147th in driving distance.
But a lot of guys don't hit it fewer times. Reavie is eighth in scoring with a 69.721 stroke average.
"I feel like I've got great strategies on the golf courses that I'm playing," Reavie said. "I'm picking my spots better. I'm not being too aggressive. I know when to be aggressive, and I just haven't made as many bogeys."
Strategy doesn't mean squat, however, without a fair amount of execution.
"That [driving] is the strength of my game. If I'm playing out of the rough and have the wrong angles it's really tough for me to score. So priority number one for me is to get in the fairways and then I can pick my spots to be aggressive when I need to."
It's working. It worked well at TPC Scottsdale, where Reavie played beautifully, but needed a birdie on the 72nd hole to tie Woodland at 18-under 266. Fairway, green and 18-foot putt did the trick, but he bogeyed the first playoff hole to cede the title.
He wouldn't deny it didn't hurt. He wouldn't deny he didn't second-guess himself. But he didn't take that baggage out to Pebble Beach, where his only hiccup was a double bogey at the par-3 fifth from a greenside bunker that stopped his birdie run. He added three more birdies, and he finds himself in the hunt yet again.
"Yeah, it's funny, you definitely lose a little bit of sleep, kind of what if I did this, what if I did that, I would have won," Reavie admitted. "But all in all you got to take all the positives. I played really well, I gave myself a chance, I made a huge putt [on 18] to get myself another chance. So it was a great week."
Yep, resiliency. Lots and lots of resiliency.