News
Think Young, Play Hard: Cheyenne Woods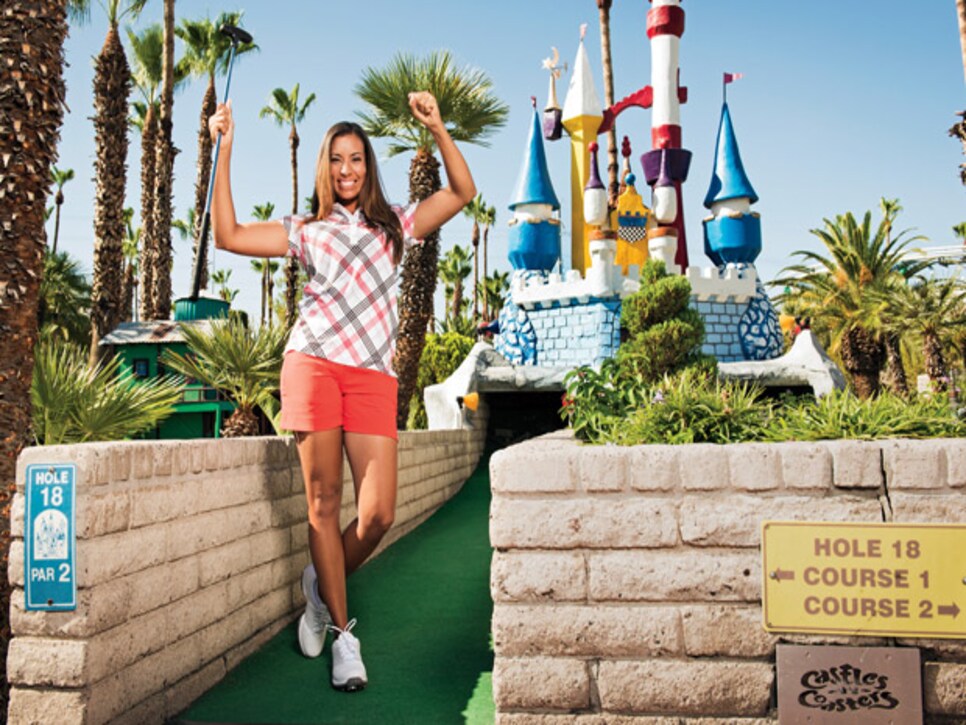 Woods at Castles 'N Coasters in Phoenix, June 25, 2012.
Editor's Note: Cheyenne Woods won her first professional event, the 54-hole SunCoast Ladies Series event at LPGA International, by four shots on August 30. The SunCoast Ladies Series is the women's golf equivalent of the Hooters Tour.
I'm very excited, but it's very different to be on my own. At Wake Forest, we were a team. We were very close. Now everyone has their own people, their own schedules. It's a business to them. I hope I don't get like that.
ON HER GRANDFATHER EARL WOODS SR.
Best grandpa ever! Big teddy bear. I miss him. He told me that when I was 3, he wrote a letter to IMG telling them they should sign me right then. He also told me I'd be on the LPGA Tour. I'm going to try to qualify in the fall. I just wish he was here to see it.
ON MEETING BILLIE JEAN KING
I was invited to sit on a panel with her, Summer Sanders and Jackie Joyner-Kersee for Title IX's 40th anniversary. To see her passion for women's equality, to hear her speak about how far we've come, it's really inspirational. I'm hoping I can have that kind of impact on some little girl.
My mom is white, my dad is black with Asian and Native American mixed in. I embrace all cultures, but I can see myself as a role model for black people.
I've never thrown a club. Never thought it was a good look for people. Tiger? He's a very intense person who has high expectations of himself. It's a part of him.
I've gone sky diving, rock climbing, white-water rafting; I love stretching boundaries and doing dangerous things.
Lorena Ochoa and Annika Sorenstam retired in their primes. I don't think I could just walk away like that. I definitely want to be a mom but would never lose my competitive edge and not want to be back out there. I can't picture golf out of my life.
I was 8 years old and shot a 98. I thought I had won because I had the highest score.