Even gourmet chefs appreciate the low-priced food at the Masters. When Ming Tsai is at Augusta National, "I eat it all," he told us. They might not be served with couscous or haricot verts, but the low-price menu items available to patrons at the Masters each year are a hit for Tsai, a celebrity chef and avid golfer who hosts "Simply Ming" on PBS. What's his go-to grub when he's at the tournament? He combines the fried-chicken and pimento-cheese sandwiches to create a monster hybrid. "It's heaven!" says the owner of Blue Ginger in Wellesley, Mass., an award-winning restaurant. Ming's sandwich on steroids—which sounds like a college food-truck staple—is great if you're fortunate enough to attend the Masters. But if you're watching the tournament from home, your taste buds are in luck. We asked Tsai to take two of the most popular items on the Masters menu and give them a makeover. Here are his updates on the famous pimento-cheese and egg-salad sandwiches. They'll cost you more to eat than the $1.50 originals, but, oh, are they worth it.
RED ROAST PULLED PORK & PIMENTO CHEESE SANDWICH
MAKES 4 SERVINGS
INGREDIENTS
8 slices of bread, toasted
1 cup pimento cheese
Red-roast pork (see ingredients below)
Asian slaw (see ingredients below)
DIRECTIONS
• Spread ¼ cup of pimento cheese onto 1 piece of the toasted bread. Top with red-roast pork and Asian slaw, then top with another piece of toasted bread to complete the sandwich.
RED ROAST PORK
1 bottle dry red wine
2 cups soy sauce
2 cups water
14 ounces rock sugar (or 2 cups of dark brown sugar)
5 pieces ginger, long ¼-inch discs
1 head garlic, unpeeled and halved horizontally
2 bunches scallions, white part sliced into 3-inch lengths, green part sliced ⅛-inch thick
2 star anise
3 dried Thai bird chiles
2 cinnamon sticks
4-6 pound boneless pork butt with fat cap, keep whole. For faster cooking, cut into one-inch cubes.
ASIAN SLAW
1 tablespoon Dijon mustard
1 tablespoon sambal sauce
2 lemons, zested and juiced
2 tablespoons grape-seed oil
1 bunch scallions, white and green parts separated, thinly sliced
3 cups finely shredded green cabbage
1 small head radicchio, shredded
1 cup shredded carrots
Kosher salt
Freshly ground black pepper for taste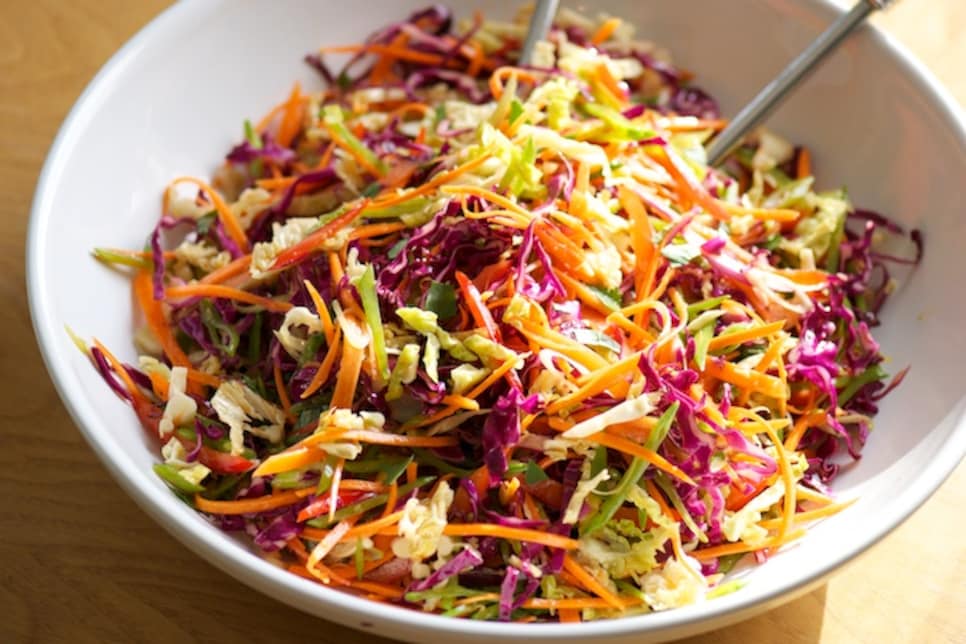 TEA-SMOKED SALMON & EGG-SALAD CANAPÉ
INGREDIENTS
4 slices of bread, toasted
2 cups egg salad
12 ounces tea-smoked salmon, flaked (recipe below)
4 dollops of chive Greek yogurt
DIRECTIONS
• Evenly spread ½ cup of egg salad on top of 1 slice of toast. Place 3 ounces of flaked smoked salmon over the egg salad and top with a dollop of chive Greek yogurt. Garnish with fresh cracked black pepper.
TEA-SMOKED SALMON
12 ounces skinless salmon fillet, preferably center cut
1 cup and a tablespoon of sugar
½ cup sake (preferably TY KU)
4-inch piece fresh ginger, julienned
1 tablespoon salt
1 teaspoon toasted Szechwan peppercorns (or black peppercorns)
1 cup long-grain rice
1 cup Lapsang Souchong or Oolong tea leaves
(Preferably cooked on a wok or bamboo steamer, but you can also use a piece of tin foil on your grill.)
*If you don't have a wok and bamboo steamer, you can use your grill. Simply light one side of the grill, place the tin foil with the rice, tea, and sugar on the grate over the lit flame. Place the salmon onto a sheet tray and place onto the unlit side of the grill. Follow smoking instructions with the grill lid down.
CHIVE GREEK YOGURT
1 cup full-fat, plain Greek yogurt
¼ cup thinly sliced chives
A pinch of kosher salt
• Combine all ingredients in a small bowl.
INGREDIENTS
8 ham & cheese Augusta National sandwiches, spread with mayo on the outside and pressed as thin as possible in a panini press until crispy
4 slices, about ½-inch thick, peeled, cored and grilled pineapple
1 cup Tomato Jam (see recipe below)
TOMATO JAM
1 tablespoon olive oil
1 small sweet yellow onion, minced
1 tablespoon minced garlic
1 tablespoon minced ginger
1 can (15 ounces) whole, peeled tomatoes, crushed and drained
1 tablespoon honey
1-2 teaspoons chipotle in adobo, add more for a spicier kick
kosher salt and fresh cracked pepper, to taste
Photograph by Alex Lau/Bon Appétit • Food Styling by Samantha Seneviratne • Ming Tsai illustration by Kate Copeland
You are using an unsupported version of Internet Explorer. Please upgrade to Internet Explorer 11 or use a different web browser.