The Loop
Cheat Sheet: Can Rory McIlroy keep pace with... John Daly?
What to know for Saturday in the world of golf:
The battle of Rory and JD
Rory McIlroy will play Tiger Woods in an exhibition match in Haikou, China on Monday, but first, he's taking on John Daly at the BMW Masters in Shanghai. Long John is playing in his first event after a three-month layoff for elbow surgery and when he was healthy, he made all of $43,543 in 12 PGA Tour events in 20013. But he has a one-shot edge over McIlroy after 36 holes (Both are well off the pace set by Luke Guthrie). On the bright side for Rory, he may have found a new, fun hobby to cheer him up from all the recent 'slump' talk: Chinese drums!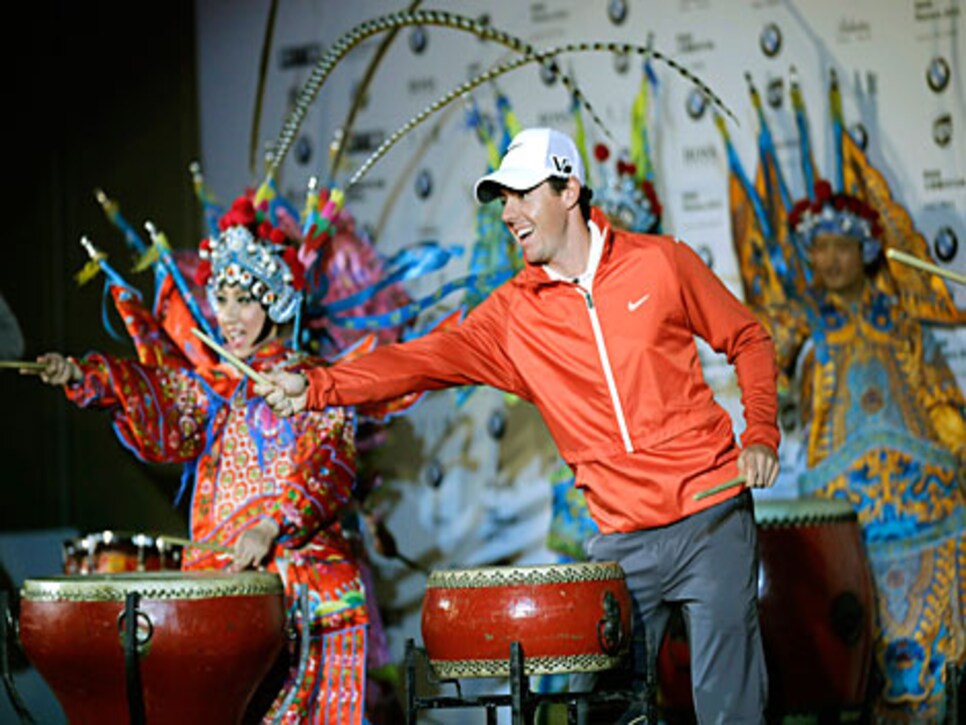 End of an unlucky '13 for Bradley?
The record books will show Keegan Bradley didn't win a PGA Tour event in the 2013 season, but thanks to the tour's new wrap-around schedule, he can still win in the calendar year. Bradley will take a four-shot lead into the weekend at the CIMB Classic after a Friday 66 that included a stretch of five birdies in six holes. Perhaps, Bradley was inspired by another belly putter poster boy, Webb Simpson, who ended his long victory drought last week in Las Vegas. Or perhaps, he's picking up motivation from his beloved Red Sox, who are playing in the World Series. We hope whatever Malaysian hotel Bradley's staying in has a powerful satellite dish.
Pettersen living large in Taiwan
Not only does Suzann Pettersen appear to be on her way to defending her title at the LPGA Championship in Taiwan, the Norwegian is doing it in style. A second round hole-in-one propelled Pettersen to a five-shot lead through 36 holes. For her highlight-reel moment, Pettersen received a check for $10,000. That should cover the bar tab.