The Loop
Cheat Sheet: What you need to know for Sunday in golf
The odds of making history are heavily in Tiger's favor
Can we finally put the "Tiger Woods is back" debate to bed? Sure, there was no 59-watch on Saturday, but his 68 was enough to maintain a 7-stroke lead on a WGC field. In fact, the seven strokes is tied for the fifth largest 54-hole lead of Tiger's career and the Vegas odds of him winning currently stand at -7500. That means $100 profit for every $7500 wager. But it's not just any victory Tiger is chasing; a win would tie the PGA Tour record with his eighth at Firestone Country Club, matching the eight he already has at Bay Hill and the eight wins that Sam Snead had at the Greater Greensboro Open. And his 79th victory on the PGA Tour would draw him within three of Snead's record 82. Then again, as some are quick to point out, despite four wins on Tour already this year he's not exactly finishing in style, and if he slips on Sunday, expect the critics to come out of the woodwork. Because as we all know, without a win in a major, Tiger will never really be "back" (sigh).
A long Sunday at St. Andrews
Inbee Park got the short end of the draw on Friday, playing in a windy squall after the morning group played in much calmer conditions, leaving her eight strokes behind leader Na Yeon Choi. Things didn't get much better on Saturday, only this time it was the whole field who took exception to the blustery St. Andrews. After a 40 mph gust brought five calls to the rules officials about balls moving on the greens, the decision to cut the third round short was made. Park can actually consider herself lucky to be sitting 1-under through four holes on Saturday; of the nine players who completed the third round, none came close to breaking par (Cristie Kerr's 75 was the day's best), while the cumulative nine-hole scores for the 20 players who at least made the turn was 54-over par. And when you consider the leaders will be forced to play 36 holes on Sunday -- compared to Park's 32 -- it might prove to be the difference for pulling off a dramatic grand slam comeback.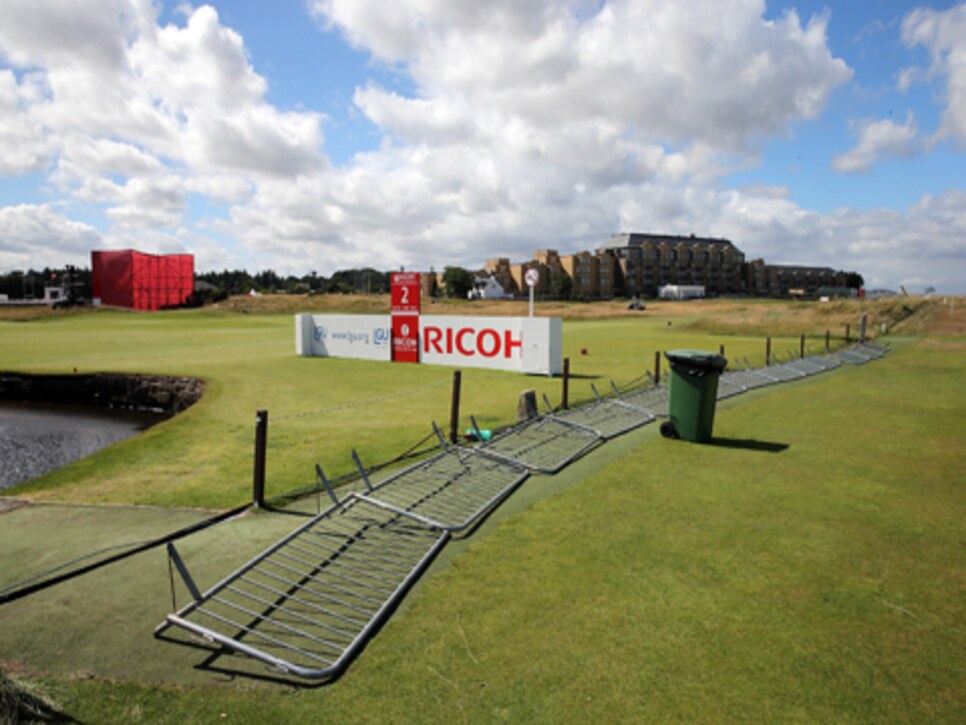 Metal crowd fences were blown over by the high winds as play was suspended during the third round of the Ricoh Women's British Open. Photo: David Cannon/Getty Images
Like the millions of New Yorkers who share my fate, I was unable to watch Saturday's third round coverage of the Bridgestone Invitational due to the ongoing contract dispute between CBS and Time Warner. But thanks to Al Gore's magical invention, golf fans everywhere were able to watch the CBS simulcast on the world wide interweb via PGATour.com. As a Time Warner customer, my ability to watch the tournament unphased can't be good for their bargaining leverage, but I think I echo the sentiments of those who were blacked out when I say a 12-inch screen is better than nothing.