Charley Hoffman struggles in the wind, but keeps a hold of his spot on the Masters leader board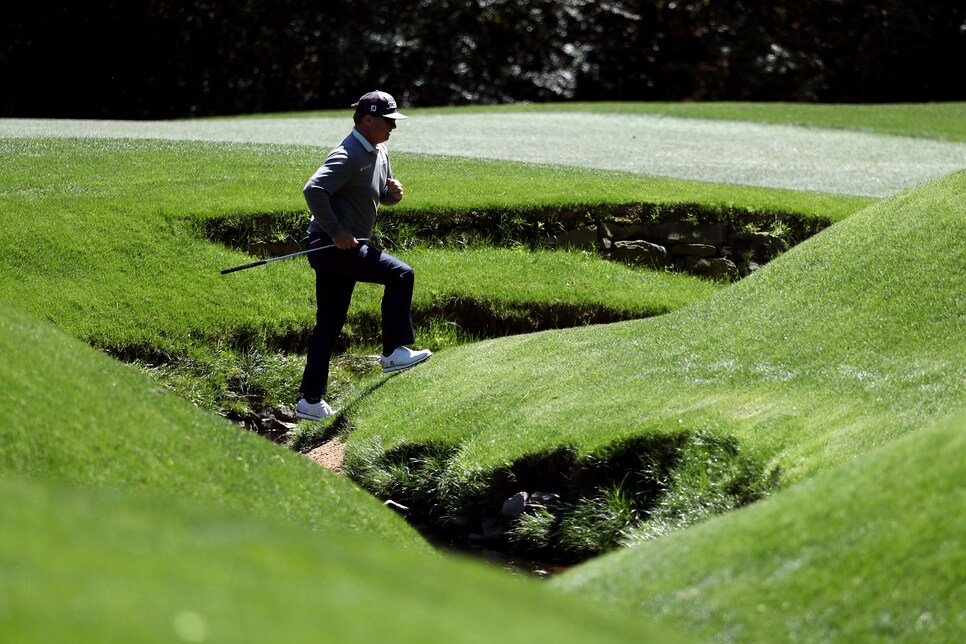 AUGUSTA, Ga. — Posting a score 10 strokes higher than his opening-round 65 on Friday gave Charley Hoffman an idea how tough Augusta National Golf Club was for everyone else in Thursday's blustery opening round. Fortunately, a three-over 75 didn't cost Charley Hoffman as spot on the leader board in the 81st Masters.   For the second time in three years, Hoffman will play in Saturday's final pairing, though in much better shape despite Friday's struggles. He'll likely join Sergio Garcia, who carded a 69 Friday to finish, like Hoffman, at four-under 140 through 36 holes. In 2015, Hoffman played alongside eventual winner Jordan Spieth, but he was five behind the Texas youngster.   "I've contended in a couple majors, and obviously being in position going into Saturday here at the Masters is going to be special," said Hoffman, who ended up T-9 two years ago. "I'm not going to put too much pressure on myself, but I'd be lying to say it's not a great feeling and a great spot to be."   Hoffman, 40, can thank his self-described "dream" round Thursday, when he needed just 25 putts in forging a four-stroke lead over the field, the second largest in Masters history after 18 holes. Friday's tour of Augusta, amid similar westerly winds, didn't unfold in a manner suitable for scoring for the San Diego native.
RELATED: Sergio Garcia's long, tortured Masters history could still include a win   Whereas he made nine birdies against two bogeys in Round 1, on Friday he converted just two birdies against five bogeys that occurred in a six-hole stretch starting at the par-3 sixth. After making birdie at all the par 3s on Thursday, he played them in one over on Friday.   "I just wasn't quite in position like I was yesterday," said Hoffman, who birdied the par-5 second before backpedaling. "Got off to a great start. Had a good chance on 4 to get to 9‑under and just didn't capitalize, and made a few bogeys on 6, 7, 8, 10, 11, and it's a tough stretch of holes. I got out of position. Didn't capitalize. Didn't make the putts. Just wasn't in position to attack this golf course, which in turn, as everybody knows, you can make bogeys pretty quick. Happy with the way I finished. Closed the last seven one under, and gave myself a chance going into the weekend.   "Everybody was talking about how great that round was yesterday, but it was pretty easy to me, playing, making putts, hitting good, solid golf shots," Hoffman added. "Today I think I sort of felt how hard it was for everybody else in this wind when you sort of got out of position. So, yeah, it did feel 10 shots worse."   Nevertheless, his position on the scoreboard is still the envy of most everyone in the field. Having played late on Saturday two years ago will be a benefit to a journeyman who has four PGA Tour titles but has never come closer to winning a major than his finish here two years ago. In fact, he's never had another top-10 in his previous 22 major starts, while missing the cut in half of them.
RELATED: Danny Willett to become first defending champ to miss the cut in 13 years   He was hardly disappointed with the day's efforts. "I didn't make any real mental errors. I just didn't execute. I can live with not executing, as long as I've thought through the process and just stuck to my game plan."   It's a fairly simple one. No heroics. Play smart. Oh, and make more putts. Hoffman had 31 on Friday.   "I'm going to keep the same mind‑set as I have the last two days," Hoffman said. "When I'm in position, I'm going to attack and try to make birdies, and when I'm not I'm going to try to just hopefully have a par putt at it."