News
After impressive third round, world's top spot within Jon Rahm's reach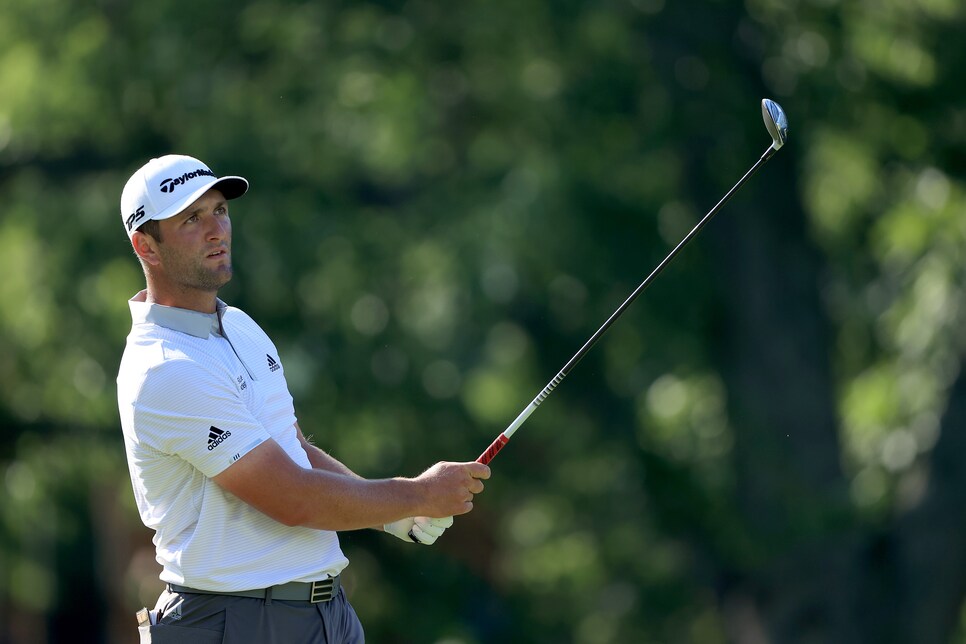 Jon Rahm watches his shot from the 18th tee in the third round of the Memorial.
Sam Greenwood
DUBLIN, Ohio — Becoming the No. 1 golfer in the world is a bit like winning the lottery. There's no bad way to do it.
Still, some ways are better than others. Back in 2018, Justin Rose lost in a playoff and became world No. 1 the next day. That was nice, because he played his way into the spot. In February, Rory McIlroy became No. 1 after an off week. He didn't even hit a shot. That was, by his own admission, anti-climatic.
Winning the Memorial, Jack Nickalus' tournament, against the strongest non-major field ever assembled? Now that would be a pretty sweet way to take the top spot.
Jon Rahm can do exactly that on Sunday at Muirfield Village. His third-round 68 amid U.S. Open-like conditions, which included four straight birdies on the back nine, was good enough for a four-shot lead over Tony Finau and Ryan Palmer with 18 holes to go. He is six shots clear of Danny Willet in third. Should Rahm close the deal and pick up his fourth PGA Tour victory—or even finish solo second while current No 1 Rory McIlroy places worse than solo 30th—he'd become the 24th man in history and just the second Spaniard, following his hero, Seve Ballesteros, to become world No. 1
"Oh, it's extremely important," Rahm said of his opportunity. "No. 1 in the world, a few months ago in Dubai I got the opportunity to make some Spanish history … to become No. 1 after Seve."
"It's obviously a big deal. I can't sit here and try to diminish it and avoid it because it would just be lying to myself because it is a big deal. But it is a consequence of me winning tomorrow."
And, later: "It's something that deep in my core as a Spaniard and as a player I would love to achieve."
What a remarkable achievement that would be for a guy who has only been a professional golfer for just over four years. But Rahm was always destined for greatness. He was the No. 1 amateur in the world for 60 weeks, more than any other player in the World Amateur Golf Ranking history. McIlroy said earlier this year that the folks at TaylorMade felt they had signed a top-10 player in the world when they inked Rahm to a deal out of college. In his first event as a professional, the 2016 Quicken Loans National, he held a share of the lead after 18 and 36 holes and finished tied for third.
For Rahm, becoming world No. 1 has always seemed like a matter of when, not if. There are no holes in his game. He's long and straight off the tee, armed with a penetrating cut that he can trust. He plays the game with a fearlessness that stops just short of arrogance, as all the greats in this game seem to do. To dip into the cliché bucket, he has a Spaniard's short game, frequently hitting shots like he did on the 15th on Saturday—a one-hop spinner, short-sided, out of the rough, to three feet. And he wants it. Boy, does he want it. Sometimes, even a little too much. He's spoken many times about trying to channel his fire constructively, to prevent his outbursts from derailing his round and using the passion as a positive.
"There's definitely been moments out there this week where I could have just lost it, or maybe in past I would have gotten more frustrated and changed my game plan," Rahm said. "Maybe a couple years ago I don't think I would be here with a four-shot lead right now going into tomorrow. It's a slow process.
"Unfortunately I'm a person who learns from mistakes, like most of us I would say, and luckily I've been able to, and hopefully I can keep doing it tomorrow and just follow the same mindset I've had the last few days."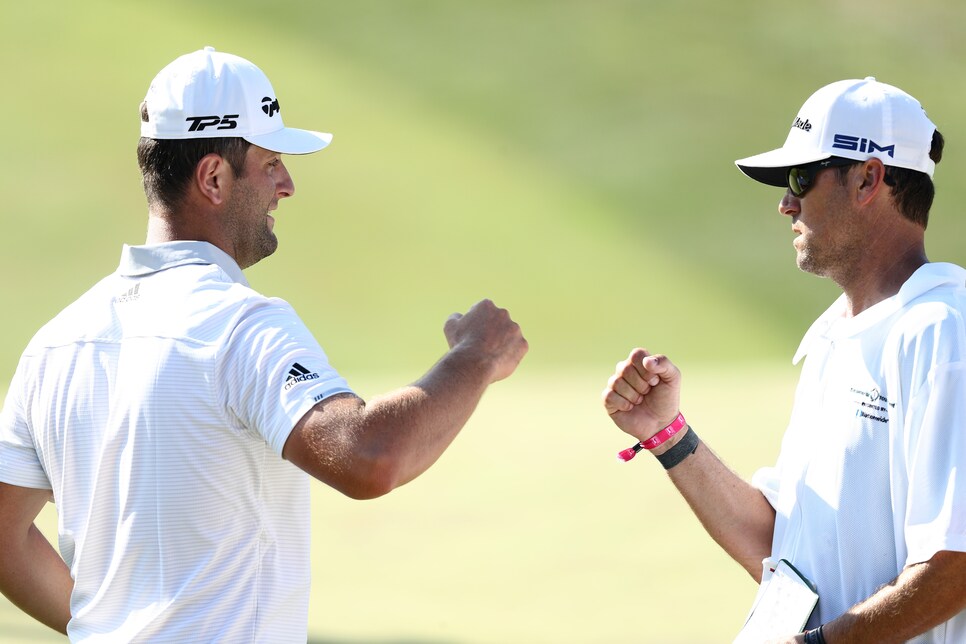 Jon Rahm celebrates his strong third round of the Memorial with his caddie.
JS
He's going to need that newfound patience, that discipline quite a bit on Sunday. Muirfield Village has flashed its teeth all week. By Saturday afternoon, it was a bear. The greens, which are being ripped up on Monday for a renovation, are as firm as you'll see on the PGA Tour. The rough is juicy and the fairways are firm. Some four-shot leads are bigger than others. And when the course is playing this like this …
"I don't think it's that big of an advantage," Rahm said. "Four shots on a windy, difficult, firm golf course is nothing. It's me making two bogeys and someone making one birdie and then suddenly it's a one-shot lead."
Jason Day, who is a member here, was asked if he's seen this course play like this before.
"No, no," he said. "Usually there's a little bit of—usually we have storms when it comes to Memorial. We're a little bit later in the year, so maybe that's had something to do with the storms not coming. I mean, we did have a quick shower on Thursday, but overall, I think the conditions are really tough out there.
"Some of the holes you're hoping that you have a decent lie in the rough where you can kind of get it somewhere around the green so you can get yourself up-and-down. No. 16 today was just unbelievable, and it's not so much the actual shot itself as when you got up around that hole, the grain is just absolutely dead. You know that it's quick when your putter starts slipping when you're going down. It's going to be—if we have the same conditions tomorrow, it's probably going to be carnage out there tomorrow."
Carnage is possible. Likely, even. But so is a coronation.