The Loop
Chamblee calls Mickelson's criticisms 'close to a one-man mutiny'
Golf Channel's Brandel Chamblee slammed Phil Mickelson for his post-Ryder Cup comments, made with U.S. captain Tom Watson sitting on the same dais, calling it "as close to a one-man mutiny" that he's ever seen.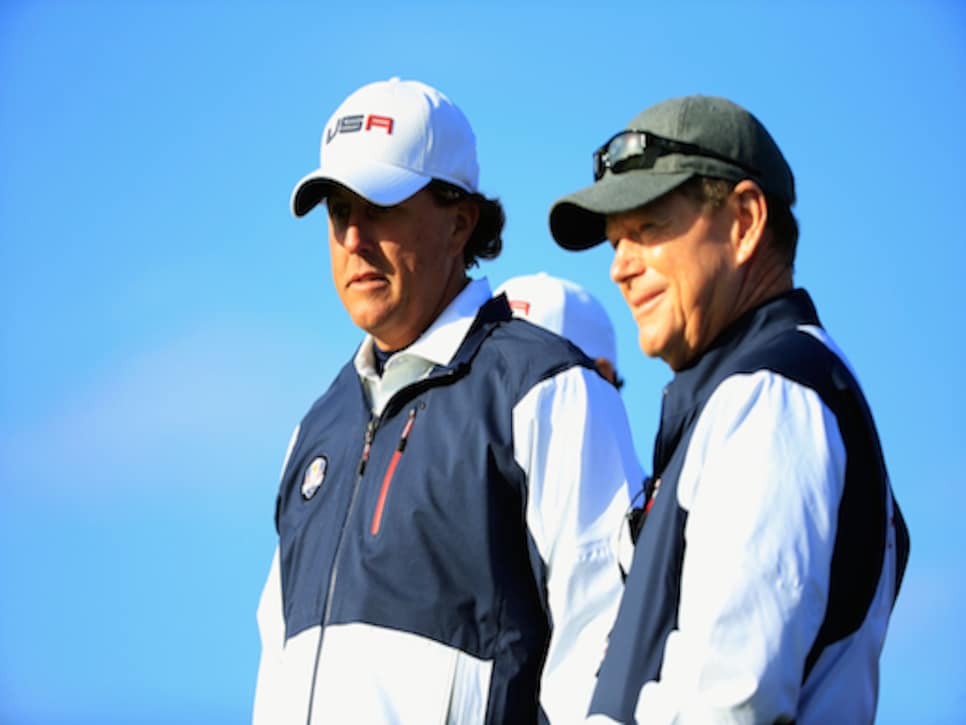 "When I first started playing golf, I heard it was a gentlemen's game," Chamblee said on Golf Channel's "Live from the Ryder Cup" program. "I've heard that my entire life. That is the refrain I think lures most of us to the game, the civility with which it is played, win or lose. That was as close to a one-man mutiny that I've ever seen. I think that's a moment that Phil would like to have back.
"If you're looking for a reason why the United States continues to lose, you just saw it in one man. Phil Mickelson. Phil Mickelson, along with the best players of that era, have so corrupted the experience of the Ryder Cup for their fellow competitors by not having records anywhere near what they should, given their rank in the game.
"Players of an era who are the best go to the Ryder Cup and show off. And not goof off. Phil Mickelson in 2004 changed clubs at the Ryder Cup the week of. And the day before, he went to practice to another golf course. This is yet another example of not coming together as a team.
"He and Tiger had a disconnect in 2004. They refused to come together and play better. Yet every great player had played with the next great player. Jack Nicklaus played with Arnold Palmer. Seve Ballesteros played with Jose Maria Olazabal. Nick Faldo played with Ian Woosnam. They all succeeded. Jack played with Tom Weiskopf and on down the line.
"Hal Sutton ['04 captain] got maligned for pairing Tiger Woods with Phil Mickelson. Why? The whole world wants to see the two best players play together. And they should have steamrolled everybody the way Rory McIlroy steamrolled today. That's how they should have played. If you're looking for a reason the U.S. loses, you can beat around the bush all you want. You just saw it."