The Loop
Chambers Bay: Wait for it, the first to say they ruined a good gravel pit
UNIVERSITY PLACE, Wash. — Since taking Chambers Bay right up to the edge last Sunday night, the USGA has been using all of its bells and whistles to keep the 2015 U.S. Open site tame enough for play.
Gallons of water and even more soil readings are keeping the porous public course firm-but-not-goofy even as the sun bakes Chambers Bay a crisp shade of beige. The massive greens are only getting one cut a day, pointing to a sound, if slightly shocking amount of day-to-day course setup variety.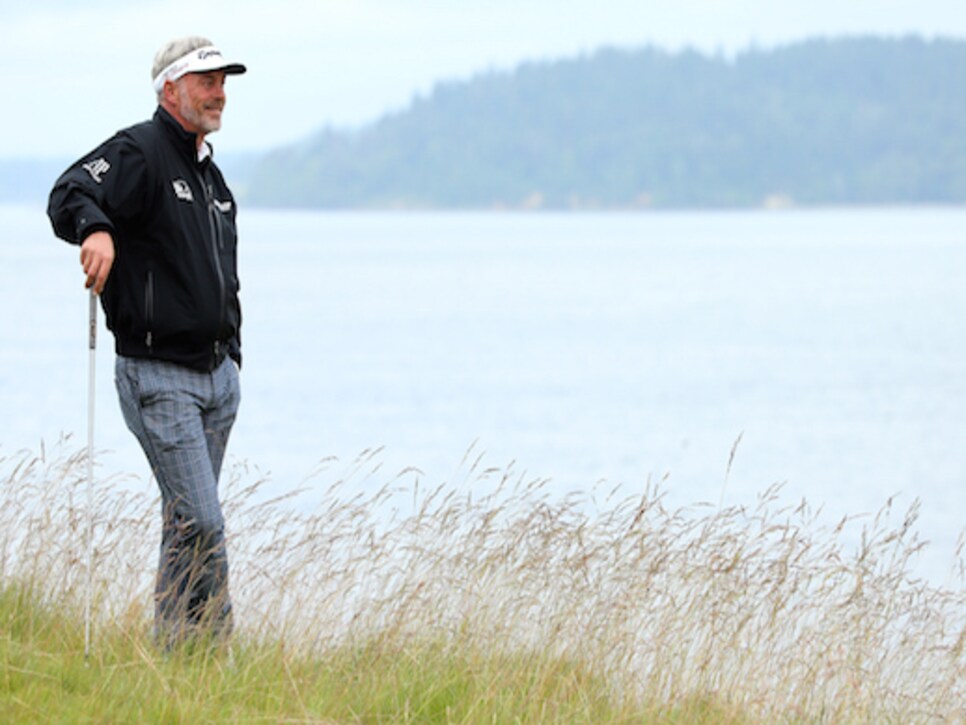 Darren Clarke waiting in the tall fescue (Getty Images)
But this is the U.S. Open and we'd be remiss not to point out a few things to look for should Chambers Bay turn into an old-school USGA horror show.
— Water crews rushing to extinguish any green, especially the first, seventh, ninth, 12th or 16th greens. Anytime a light watering of surfaces is required, it's not a good sign. But with green speeds actually slower than when Chambers hosted the 2010 U.S. Amateur (where things got away from the setup committee), you are more likely to see the hose-and-water teams called on to put out a cigarette-infused brush fire.
— The first reference to "ruining a good gravel pit." Not only would it be a creative homage to Dave Hill's old line about Robert Trent Jones ruining a good pasture at Hazeltine National, this would be the first real criticism by a player all week. Most players have remained mum in hopes of building good karma.  But give them a six-hour round and a few big numbers, and gentleman, start your grumbling!
— More than two groups on a tee. The USGA time par has been set at four hours, 45 minutes. I'll pause here to let you stop giggling. That's because all weekday major championship rounds are pushing 5 ¿ hours these days, and that's on properties much flatter than the eight-mile hiking trail that is Chambers Bay. If you see more than two groups on a tee, that's a hint one of the USGA's many course setup twists and turns is a bit too cerebral for this field.