The Loop
Chambers Bay is a test of imagination -- for observers as well as players
UNIVERSITY PLACE, Wash. -- Imagine that nuclear winter has passed. Wisps of green grass peek up from the scorched earth. The only human survivors are a golf architect and a guy with a bulldozer. They meet for lunch. "Let's do something," the architect says. Dozer guy says, "We can call it Chambers Bay."
According to my iPhone's Health meter, I walked 8,217 steps on the Chambers Bay golf course Wednesday. On maybe four or five of those steps, I actually saw a golf course. My buddy Sam kept saying, "It's so pretty," which reminded me of my mother-in-law, a farmer's wife, who once looked across 50 miles of dead-flat, barren farmland, saw a silo on the horizon, and said, "Illinois is so beautiful."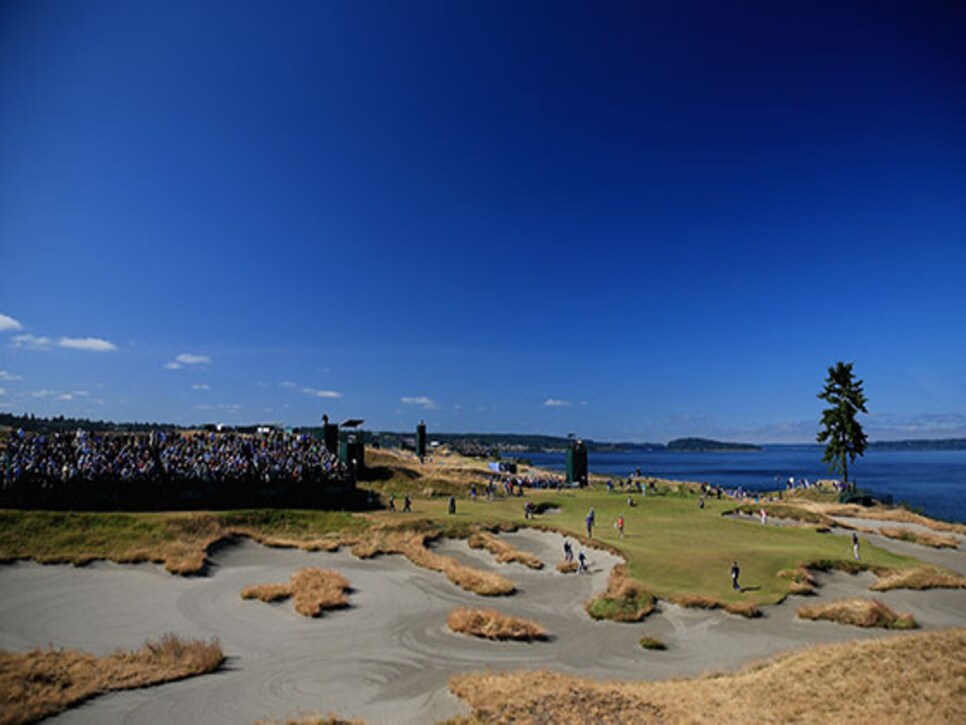 Not every golf course needs to be Augusta National. But every golf course ought to have golf holes. Chambers Bay has airplane runways with flagsticks at the end. I am not making this up. Well, yeah, I am making that up, but it's still true. At the first tee -- I say "at the first tee," but we were no closer than 100 yards, which is as close as you can get -- the first green was somewhere out there on the horizon, much like mom-in-law's silo. "It's so pretty," Sam said, and I fell silent in admiration of his ability to see the beauty of post-apocalyptic golf architecture.
We walked along the first fairway. No, we didn't. It's impossible to walk along any fairway here. So we walked around a pond. The pond was green with algae, the muck stirred slightly by two ducks who got lost on the way to Seattle. And that was the last we saw of the first hole because giant sand dunes rose between us and the players.
Look, there's Phil Mickelson! I think it was Phil. Pretty sure it was because that other tiny figure looks like Bones Mackay, his caddie. We were on top of a giant sand dune looking down at the tiny figures who seemed to be golfers if golfers were four inches tall. At Chambers Bay, by the way, you're always either on top of a giant sand dune looking into the distance at Lilliputians or you're behind a giant sand dune seeing a giant sand dune. In either case, you're better off being at home on the couch with a beer and Cheetos listening to Fox TV's Joe Buck and Greg Norman explain how the U.S. Open became, you know, a British Open.
That's what Chambers Bay is, a British Open course, only with Nathan's Famous Hot Dogs for $5. It's by water, the Puget Sound. It has wind coming from all directions. It rains a lot (though none is forecast this week). Fairways are firm and running. There's one tree, called the Lone Fir, hanging on the edge of the 15th green. And "green," as at the British courses, is a relative term here. Mike Davis, executive director of the U.S. Golf Association, called Chambers's current color "more of a tan," though, if you arrived early in the morning, when the light's just so, and you squint the tiniest bit while tilting your head, there is "actually a green hue to the golf course."
The golf course used to be a gravel pit. Men with mean machines ripped rock out of the sand. Davis said he first saw the place 10 years ago: "And looking over the fence into what was really a discarded old mine with some trash in it, some overgrown areas and big piles of sand, to think that roughly 10 years later here we are with a national Open championship really is amazing."
Amazing what you can do with a bulldozer and $20 million, which is what the architect Robert Trent Jones Jr., has said the job cost. For $20 million, the USGA has a golf course that will perplex, discombobulate, and otherwise make players clutch at their haircuts. There are elevated tees, off-camber fairways, blind shots, side-boarded greens (tans), and putting surfaces with hallucinatory undulations that will test every player's every skill, mental, physical, and prayerful. (Did I mention that the four-inch tall Phil Mickelson was putting to the 16th green from 150 feet out in the fairway?)
There's a par 3 that will play either 123 yards or 246 yards. The first and 18th holes may be par 4s one day, par 5s the next. The course will play anywhere from 7,300 yards to 7,700, all of this depending on the USGA's obsession with keeping the winner's score near par. Or, to put it in Davis' golfspeak, the Chambers Bay chamber of horrors will present "a comprehensive test of shot-making skills, course management skills, ability to handle your nerves, and I think truly anybody that's walked this, there's a bit of an endurance test as well."
Oh, who'll win? Come Sunday night, the winner will have answered most of the test's questions, though not all, for Chambers Bay will ask questions seldom heard anywhere. The winner will be a young, strong kid always in the hunt at majors, especially this Open (twice runner-up and once fourth in the last three years). He'll come in at three over par. His name will be Jason Day.