Focus on Your Faults: Chipping/Pitching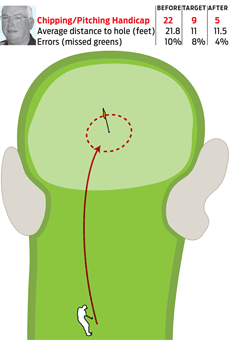 I'm a Type A personality, and I decided one day I was sick of the C Flight. I was surprised when the numbers bounced back and said chipping and pitching were the worst parts of my game. When you play with higher-handicappers, like I do, I guess you get used to mediocrity. I was below average for my handicap in two areas: average distance to the hole and percentage of shots that miss the green.
I had a 9-handicap in Putting, so I set that as the target for my Chipping/Pitching Handicap. I took a lesson on rhythm, then got custom-fit for three new wedges. Turned out I needed a lie angle that was 2 degrees flat. Because I suffer from poor depth perception, I bought a GPS device. After playing around with it, I had my 46-degree wedge bent to 48 so I would have equal distance gaps between all my wedges. Now pitching the ball close is a simple matter of selecting the right wedge for the distance and keeping my rhythm.