Players
Players 2023: Chad Ramey, owner of majestic beard and the first-round lead at Sawgrass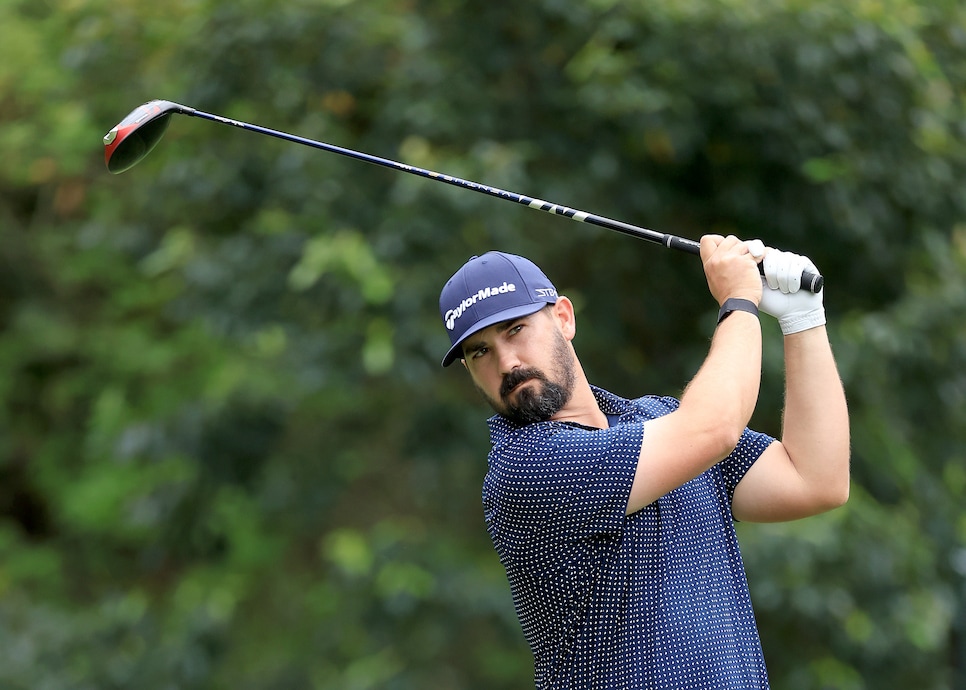 Chad Ramey plays his tee shot on the 15th hole during the first round of the Players Championship.
David Cannon
PONTE VEDRA BEACH — Chad Ramey's beard. We must talk about it. Full and thick and jet black, the love child of a Just For Men model and Civil War general. It is worthy only of men who can accomplish great feats of labor, like truck drivers and steelworkers and the pioneers who brought the spirit of Manifest Destiny to fruition.
Ramey's opening-round 64 at the Players Championship … well, it probably doesn't rank with those triumphs, at least yet. But it did give him the morning lead at TPC Sawgrass, and that's not nothing.
"Not easy. Not easy at all," Ramey said Thursday afternoon. "I might have made it look that way, but it wasn't easy at all. It was fun, first time to shoot a score on such an iconic course like this. You can't ask for any more."
Ramey is more than scruff. The 30-year-old is in his second year on tour and won the alternate-event Corales Puntacana Championship last March. He's also mired in a sophomore slump; entering this week he had missed the cut—and to be clear, we're talking about competition, not shaving—at seven of nine full-field events, and he finished 38th out of the 38-player field at the Sentry Tournament of Champions. It's hard to believe Ramey could be so cold, given that beards usually provide warmth and all.
This week hardly seemed like the venue for a turnaround. Ramey is making his tournament debut and had never seen the course until Monday. Sawgrass is notoriously unkind to first-timers, yes, and also the inaccurate. Ramey has been finding the shaggy stuff all season, ranking 189th in SG/off-the-tee.
On Thursday, however, Ramey hit 10 of 14 fairways, and he did not let those opportunities go to waste in racking up eight birdies. A lot of those red figures can be chalked up to his short game, with Ramey gaining almost six shots over the field in SG/putting. Yes, for those asking at home, Ramey uses a mallet putter. Apparently his fear of blades does not just apply to his face.
Also helping: Ramey came a whisker away from a hole-in-one at the 17th.
"Yeah, there's always nerves, but it's just they don't mean anything," Ramey said of his first go-around Sawgrass. "It kind of means you care. You've just got to deal with them. That's kind of why we play the game. It's why we're here is to have those nerves. Just kind of push past them, push them aside, and just do what you've got to do."
That's all well and good, but, we're sorry, can we get back to his beard? We can't stop staring at it. It commands your attention and demands your respect. It's at first intimidating but then comforting, like the gruff, crusty next-door neighbor with a heart of gold who wakes up before daylight during blizzards to snowplow the neighborhood cul-de-sac. Ramey lives in Mississippi so he probably doesn't get much snow, but if he did you damn well bet he'd be out there with shovel in hand.
Also, flannel. Ramey must own flannel, yes? You have to have a lot of flannel in your closet with a beard like that. And his offseason workouts likely consist of chopping wood and running with bison.
It's just, you don't see many unshaven faces on tour. Shane Lowry's is pretty good. Ditto Cam Young and Chris Kirk. Max Homa's isn't bad, although it looks more like a freshman at college who's away from home for the first time. Tony Finau usually goes with a goatee, which is just spitting in the face of whatever god is the god of facial hair. Tommy Fleetwood doesn't necessarily have a beard as much as he owns overgrown peach fuzz. Sahith Theegala and Jon Rahm have had beards in the past but are currently rocking manicured stubble, and that's a damn shame to keep beasts so beautiful locked in a cage.
That's about it in the league of clean-shaven choir boys. Scheffler, Cantlay, Schauffele, Thomas, Spieth, Zalatoris, Fitzpatrick, Hovland, not a bristle among them. Same with Rory McIlroy. It's unclear if McIlroy can grow a beard. Ramey beat McIlroy by 12 shots on Thursday. Coincidence, we think not.
Granted, it's just 18 holes, with 54 to go. Ramey has never been in this situation before, and things tend to get hairy (no pun intended) around here come the weekend. Of course, there are more important matters to attend to: Ramey became a father last week and was looking forward to face-timing his newborn son after the round.
"Obviously golf is a lot less important now, and you never know, maybe that's why I played better today," Ramey said. "It's a lot less important now that I have a child, and hate I'm not there with him, but just glad to be here and to at least play well."
Go figure. The only thing that could undo the best beard in golf is a baby face.