The Loop
CentreCup: 'Automatically puts you into...correct position'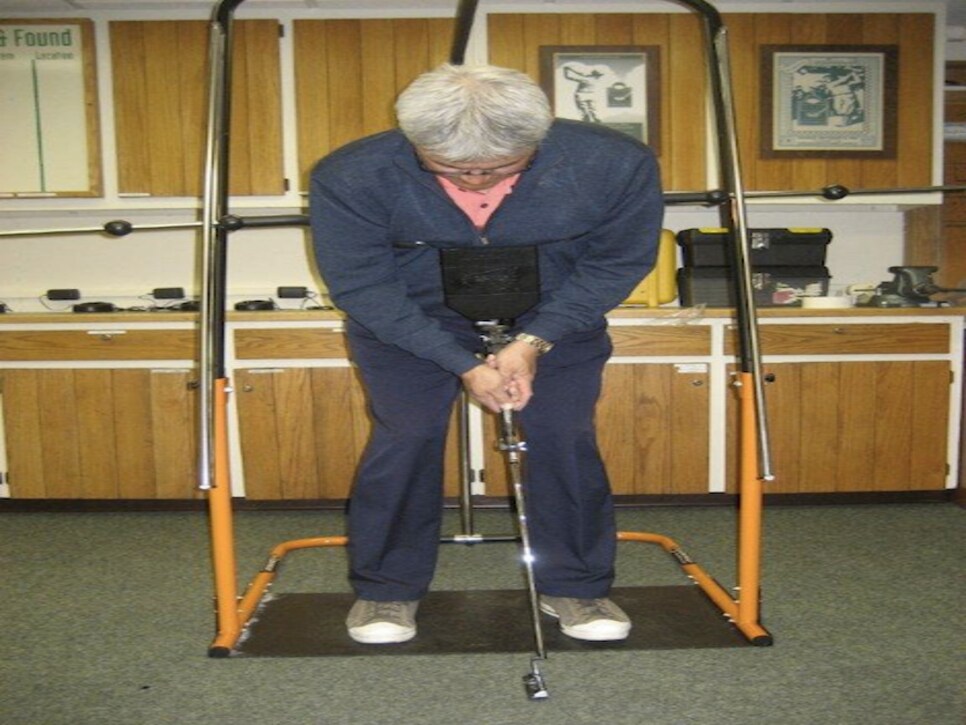 There are probably thousands of training aids available, some of them even useful. One such device might be the CentreCup, a contraption designed to build muscle memory into your stroke.
It came to our attention through Don Hurter, the head pro at Castle Pines Golf Club in Castle Rock, Colo. Hurter is a former U.S. Junior Amateur champion who has been ranked on Golf Digest's list of America's 50 Best Teachers.
"I found this at the PGA Merchandise Show [in January]," he said of the CentreCup. "It's a putting device that you get into and it shows you what your stroke is or should be. It doesn't need any supervision. Once you put it on and stroke it, it automatically puts you into the correct postiion.
"It looked intriguing. I've been in other machines that never felt quite right. This one takes your hands out of the stroke...and makes sure your shoulders are square."
Hurter ordered one and is shown above demonstrating it. CentreCup was developed by a European teaching pro, Ian Melville. He is a proponent of the straight-back, straight-through method of putting, and the CentreCup was designed to replicate that movement.
He advises using it 10 minutes a day to build muscle memory."
Incidentally, there is a CentreCup Pro available, that can be inclined to accommodate the inside-to-square-to-inside stroke that many tour players use.
The CentreCup is not cheap and no doubt not for everyone. It sells for about $1,100 and can be purchased here.